Island-hopping in Nusa Penida, Bali
A cluster of diverse and dramatic natural spectacles huddled on three islands within hopping distance of one another is pretty much nature's way of saying: Knock yourself out, kid. And that's what drew us to Nusa Penida, Nusa Ceningan & Nusa Lembongan – together an archipelago about 20 km from the south-east coast of Bali. 
A 45-minute boat ride from mainland Bali, the Nusa islands are decades behind the tourism-saturated side of Bali and poised to explode on the tourism radar any moment now. For anyone disenchanted with the honk-screech-honk of Ubud and fed up of the crowded beaches of South Bali, a visit to this archipelago will blow your socks and disdain off. Expect nature at her exhibitionist best, with a side of roaring ocean always within earshot.
Unlike all my solo trips so far, I had mom with me for the first two weeks of my Bali trip. Sixty-one years young and a total brat (she has my genes after all), she was more excited than I was. In the spirit of going all out and not taking chances I booked us an all-inclusive 2-day package to visit these 3 islands. While a part of me has often looked down on package deals as the fast food of travel, this time I was thankful for the option. The Nusa islands entail a bit of rough travel, so planning is advisable and 'winging it' can be dicey. Having our local guide/driver Putu (Whatsapp +62 812-4636-3898) arrange everything for us made things way simpler than if we were going to make all the separate arrangements and attempt to string them together into a coherent plan. The cost was IDR 2 million (roughly INR 10,000 or 150 USD) per head. Which is a lot more than what we would have paid if we made all the arrangements ourselves, but that was a hassle we wanted to avoid. From driving us from our hotel in Sanur to the ferry, all our meals, coffee breaks, accommodation, bike rides, boat rides, first-aid kits, even taking great photographs and having a bunch of snacks always waiting for us in the car – it was all sorted. I love being self-reliant and taking charge of my plans, but once in a while it's such a giant relief when someone else handles all the logistics of your travel. And all you have to do is go along for the ride and enjoy it.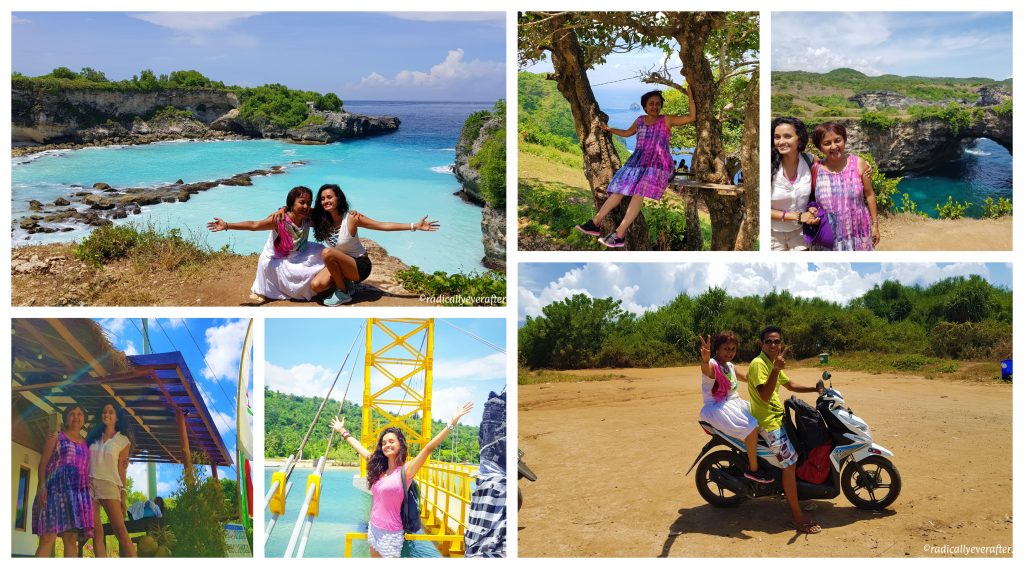 Here are the highlights of our two-day scramble over Nusa Penida, Nusa Ceningan, & Nusa Lembongan:
Kelingking Beach, Nusa Penida
The jaw-dropping beauty of nature in full swing at KelingKing. Quite the life-affirming testament to nature's raw power and beauty for an island named after black magic and known for evil spirits in the local legend. The cliff is also known as the T-Rex cliff for its dinosaur head resemblance. Glad this one isn't extinct despite mankind (yet!) I had seen pictures but none can compare to the real thing. Takes a precarious descent to reach the secluded white sandy beach below, heralded by a sign that warns against it.
Blue Lagoon, Nusa Ceningan
A huge rocky cove into which the ocean keeps churning massive waves which invented the color aquamarine and will not stop flaunting it. I could gladly spend a few forevers watching these waters make everything else irrelevant.
Angel's Billabong, Nusa Penida
A natural infinity pool on the southwest coastline of Nusa Penida. Formed by high waves that crashed and decided to stay over for the view. If you go looking, the water is deep enough for a dip alongside the cutest tiny yellow fish. Mornings here are way less crowded than afternoons. At high tide, standing on or near the ledge (separating this rock pool from the ocean) is dangerous because all it takes is one rogue wave to knock you over and into the ocean. We heard that people have died from this, and it's easy to imagine how. If you're keen on taking a dip in this rock pool and standing on the ledge, be sure that it's a low tide. There are enough apps/websites these days to predict the tides, so you could plan your visit here during a low tide time of day.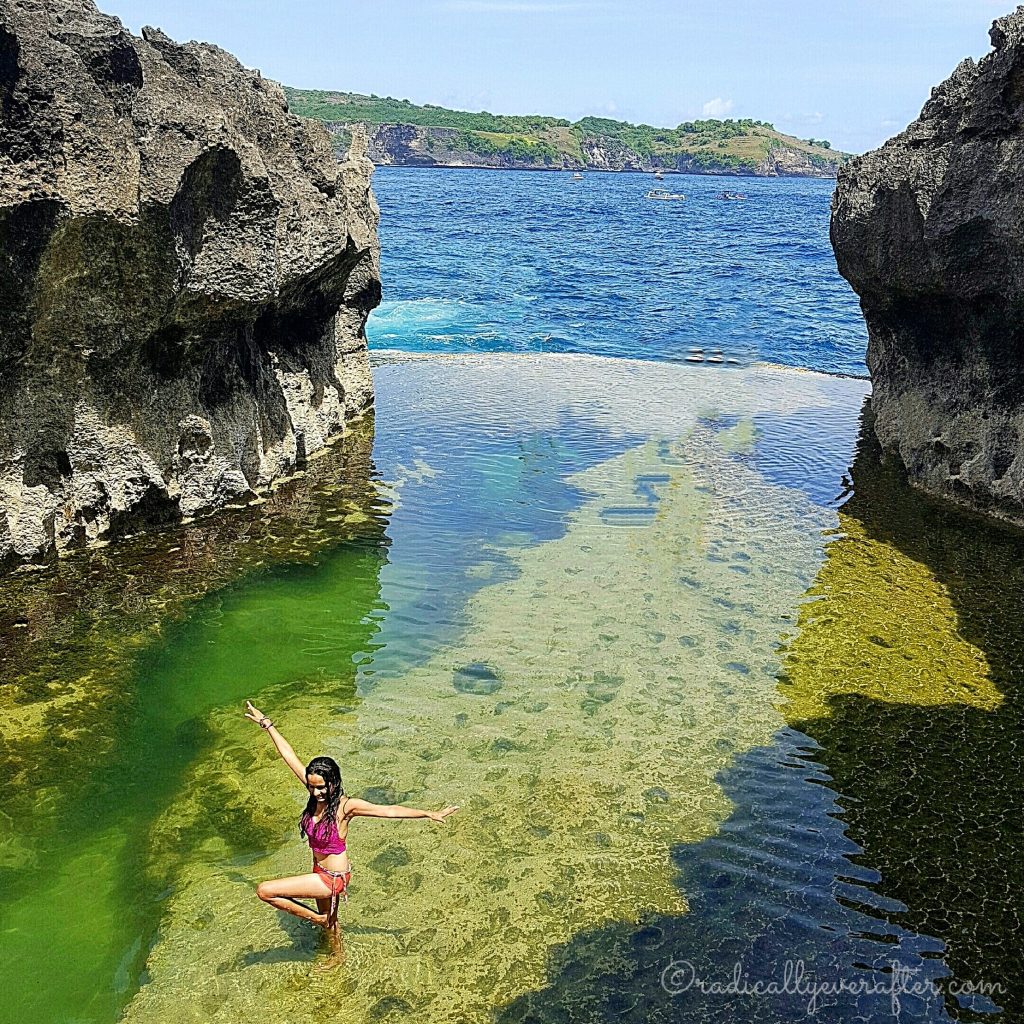 Broken Beach, Nusa Penida
As is the way with broken things, broken beach has an unexpectable beauty. Also called Pasih Uug beach, Balinese for damaged beach, this is just a 5-minute walk from Angel's Billabong. Not actually a beach, but broken in the most scenic way by the crashing waves of the Indian ocean. The water was deep turquoise in a shade too intense for cameras to stay true to. Standing near the edge and gawking at that water is something I'll cherish forever. You might even spot some Manta rays in the waters as you peer down the cliffs here.
Devil's Tears, Nusa Lembongan
Every bit as dramatic as it sounds. The ocean crashing into rocks somehow never gets old, and this is a great place to watch the action from up close and get drenched. You might spot a rainbow or a turtle here, if the elements so conspire. 
Dream Beach, Nusa Ceningan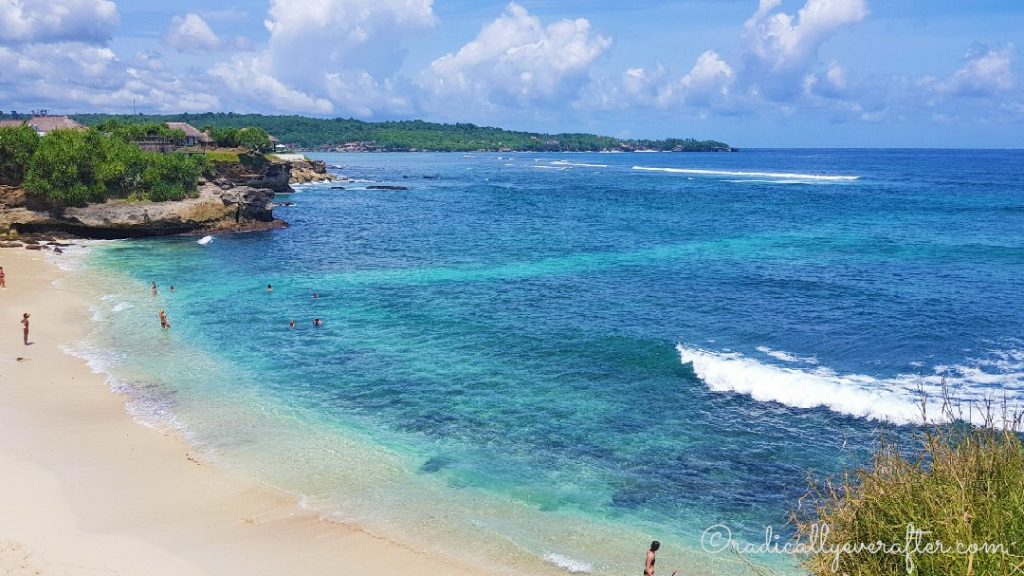 Barely a 5-minute walk from its drama queen neighbour Devil's Tears, Dream Beach is a great spot to spend the day sunning yourself and refuelling at a restaurant nearby.
Respecting the Nusa Islands
Rugged, tucked away, and developed just enough for those who like their travels rough, the Nusa islands have a mellow air despite their growing popularity. Construction sites were abuzz with activity in quite a few spots when we visited a few months ago, and the islands have tourism potential writ all over them. Seems a good idea to visit them before the rest of the world washes ashore and does its number on them. The least we can bring as travellers is the decency and common sense to not wreck the place and destroy its ecosystems. As a small step toward that decency and common sense, use handheld water filters instead of bottled water, metal/bamboo straws instead of plastic ones, biodegradable and reusable items instead of single use plastic wherever possible.
As Annie Leonard, the creator of The Story of Stuff explains, "There is no such thing as 'away'. When you throw something away, it must go somewhere. All over the world, people and businesses are waking up to the dangers created by single-use plastic. Now, we must demand a new era that prioritizes people and planet over profit and convenience."  
Practical Tips for visiting Nusa Penida, Nusa Ceningan & Nusa Lembongan
Most roads are way more mud-and-rocks than asphalt, so the rides/drives might have you missing your friendly roller-coaster back home. Don't forget your meds if you're prone to motion sickness.

Carry enough cash as the lone ATM on Nusa Lembongan is often overworked and out-of-cash. Card payments are not accepted in most places.

The heat is relentless in summer months and the air-conditioning in our car seemed no match to the sun beating down on the windows. Hats, sunglasses, scarves, any other sun-protection paraphernalia are highly advisable.

I would recommend carrying your own helmets as well, because they're nowhere to be found here and some of the best parts can only be reached via bikes.

Boat rides are usually way calmer in the mornings than any other time, so unless you enjoy being tossed up on choppy waters, pick a morning ferry.

Download the offline Google Maps of the three islands on your phone so that you can get your bearings in the absence of networks, while saving battery on airplane mode.

Mosquito repellent spray, a flashlight and comfortable walking shoes are always a good idea.

Getting there: Book your Bali flights at least a month or two in advance to score a good deal. I booked the flights 2 months in advance and return fares on AirAsia (Bangalore – Denpasar) began at INR 14,000 with long layovers in Kuala Lumpur, Malaysia. I paid a little more (about INR 17,000 per head) for flights with shorter layovers.
Hope that helps you plan your visit, let me know in the comments if you have any questions 🙂
For more pics and updates, find me on Instagram @radicallyeverafter
Happy and responsible travels! 
Liked this post? Pin it for later!