The Valley of Flowers Yoga Retreat, August 21-26, 2019

Ever wondered what it's like to wake up on a mountain and walk into a Yoga class under a blue sky instead of driving to a studio in the city? To actually take in a sunrise and full breaths of crisp mountain air while you move through your sun salutations? To recognize yourself as a part of nature, instead of being a separate observer? This August, join me on a one-of-a-kind 6-day adventure with Trip360 where we blend the benefits of Yoga with the breathtaking natural beauty of the Himalayas.
Camp in Swiss tents surrounded by mountains and breathe like you mean it as you begin each day with an hour of sunrise Yoga and meditation. Spend the days trekking across scenic trails, exploring quaint villages and walking along carpets of blooming flowers. Before sleeping under the stars, relax with an hour of Restorative Yoga, guided meditations and Yoga Nidra (Yogic sleep).
 Call 1800 266 1360 or whatsapp/call +91 9665811235 or +91 9712941304
Note: For non-Indians, price is 598 USD, inclusive of all the necessary permits and not inclusive of travel insurance. 
What kind of Yoga will be practiced here?
I teach Hatha Yoga founded on the Heart of Yoga principles, thanks to my Advanced Teacher Training with Mark Whitwell, a direct student of T. Krishnamacharya – the father of modern Yoga. I've also clocked 610 hours of Yoga Alliance certified training over 9 years of teaching and completed a Pranayama Intensive with B.N.S. Iyengar in Mysore, where I live.
Guiding participants to experience Asana as breath-centred moving meditations, the idea is to make the Yoga suit every individual and to make their trekking experience more enjoyable.
Is the trekking & Yoga combination suitable for beginners?
Yes, the Valley of Flowers trek is known to be one of the best treks for those new to trekking. As for the Yoga, I'm all about teaching people not poses so you can fully expect the classes to meet you where you are in terms of your unique fitness levels, health goals and requirements. You will be required to fill in a simple questionnaire to give us an idea of these factors before the trip begins, and if you have any medical conditions a doctor's written approval of your participation in both trekking and Yoga will be required.
Where will we be staying?
Swiss tents at the base of the mountains in Ghangria and Himalayan Eco Lodge, Auli. Comfort, great views and great food make for some great memories here!
We ran this retreat 2 years ago, and here are some travel tips gleaned from that experience:
Dress in layers. The weather gods up here are fickle as ever. And while the trekking heats you up, the nip in the air shoots a chilly breeze at you. With layers you have some say in how bundled up or ventilated you'd like to be at various points of the trek. A neck warmer and a beanie will prove useful.
Healthy snacks to refuel on the climb. They will be your only sustenance all through the trek, so make them count.
Trekking shoes are an absolute must. The ankle support is crucial on the slippery and rocky terrain throughout. We passed by a few fellow trekkers somehow making their way in regular sneakers and even flip-flops, and I wouldn't wish that fate on you.
Gloves better be waterproof. Hypothermic fingers inside rain-soaked gloves do not make great trekking companions.
Skip the plastic water bottles (for good). The water from the streams up here is as 'mineral' and pure as it gets, and if you want to be extra sure, use a handheld filter or water purifying tablets. Any bottle that is reusable and doesn't hurt the environment is after your mountain-goat heart, I shall hope.
You don't need to buy a standard trekking pole, unless you're absolutely sure you want/need one. In my (and fellow trekkers') experience, the bamboo sticks sold every few steps in Govindghat and Ghangria do a swell job. They cost a fraction (about 30 INR), are perfectly biodegradable and do not need to be strapped onto your backpack when you're not using them. You can just cast them aside and be sure to find another one when you need it. So that's one thing less to pack.
The only semblance of cellphone reception you'll find up here is BSNL. Otherwise the PCO's are a good bet to keep you in conversation with people back home. In any case, a little digital detox is good for the soul.
This one's straight out of Yoga – Go no faster than you can stay connected to feeling. Of course you want to make your way down before it gets too dark, so set off as early as possible (the Valley gates open at 7 am) and take your time drinking in the fresh air, the rolling hills, the mineral-rich water, the ridiculous variety of flowers and plants and whatever else your perception can expand around. Savour the moments!
 Here are some memories from the first time we ran this retreat back in 2017, to give you a small preview of what's in store! Here's to seeing your Asana on the mountains! It's going to be a small group of a dozen participants, so hurry and Book your slot here!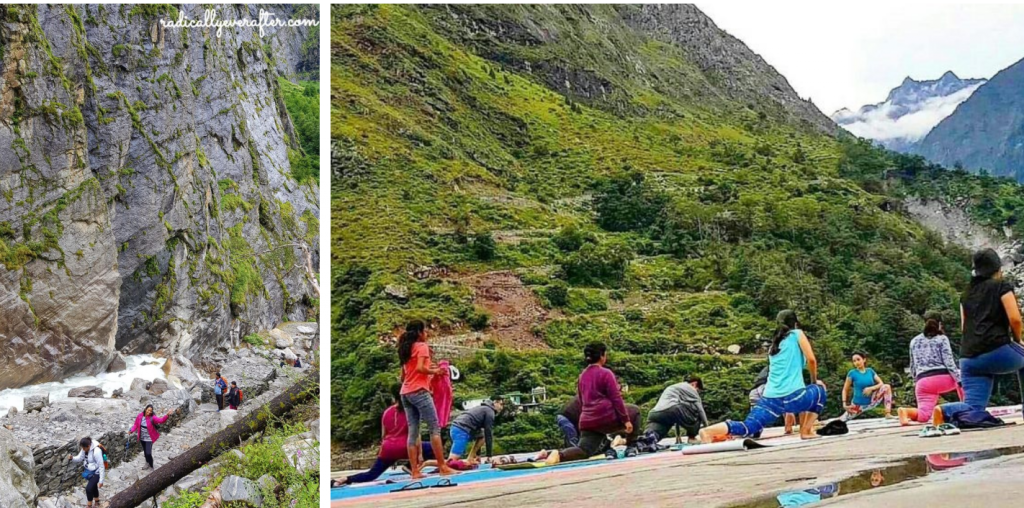 If you have any questions, feel free to drop a comment below or write me at namitayoga@gmail.com 🙂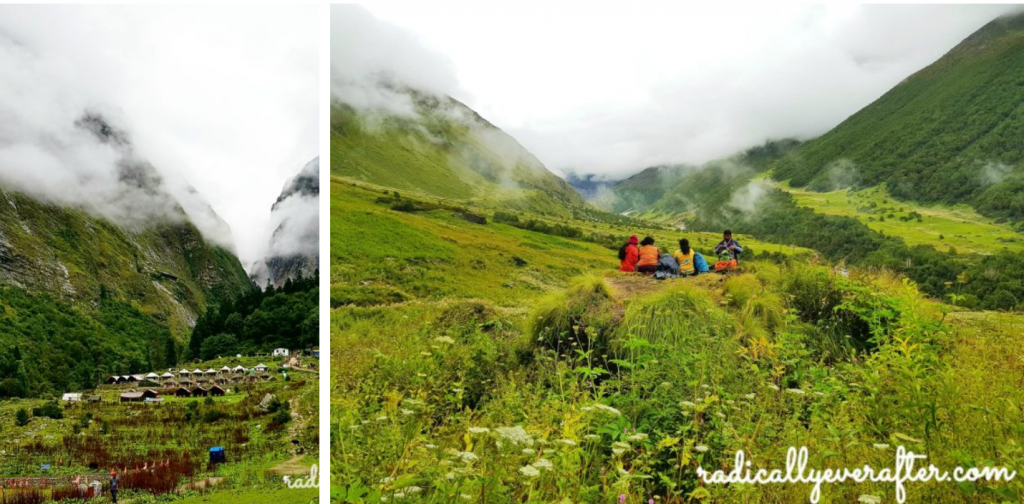 Liked this post? PIN it for later!