Heart of Yoga with Mark Whitwell in Mysore, India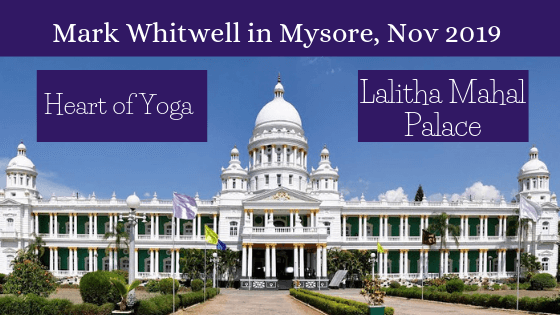 Nov 6-18, 2019 at Lalitha Mahal Palace, Mysore, India
Yoga teacher trainings are so many and so varied these days, it can be daunting to wade through the options. If you're looking for one, or even just curious, this post is here to help. Feel free to leave a comment below or write me at namitayoga @gmail.com if you have further questions 🙂 
First, a bit about my personal history with Yoga teacher trainings: In my 9 years as a Yoga teacher, I've completed 4 teacher training courses (with Sivananda Ashram, Aayana Yoga Academy & Heart of Yoga), several workshops and a few online courses with teachers  who resonated with me. 
My latest teacher training was the Heart of Yoga Teacher Training with Mark Whitwell in Bali last September. I'd walked into Mark's classes at the Bali Spirit Festival last April and been surprised at his unique message and way of teaching. Always open to questions, interested in each person's experience, and dropping truth bombs about the patriarchy and the Yoga industry. Raising eyebrows and questions across the room, both met with sensitivity and humor. I was predictably glad to attend his teacher training a few months later. It gave me a new clarity on my role as a Yoga teacher and the whole point of the practice (Hint: not handstands, not enlightenment, not self-improvement, not even "spirituality" with all its haloes of superiority and presumed separation from the material world). 
Heart of Yoga in Mysore, November 2019
I'm thrilled to share the news that the Heart of Yoga Teacher Training is coming to Mysore this November. Inside the Lalith Mahal Palace no less!
Full details here: Yoga East West, 100 hr TTC Mark Whitwell, Mysore
If you'd like to explore more Yoga Teacher Trainings in various parts of the world, have a look at yogaeastwest.com
In case you're wondering if you're "ready" for a Yoga teacher training or you feel daunted by the variety of courses out there, it helps to: 
Have your own practice, experiment with it and observe its effects. Notice if and how it spills over into other areas of your life, what resonates with you and what you feel resistance to. 

Experience firsthand what a Yoga practice does to you, so you don't have to take anyone's word for it. And if you decide to teach, you can teach from the authenticity of your own experience.

Let your own intelligence and experience have their say and be heard by you, instead of hoping to be told what to think or be given loads of information by even the world's best teachers. 
 Also read: How to Find a Good Yoga Teacher & What Teaching Yoga Teaches Me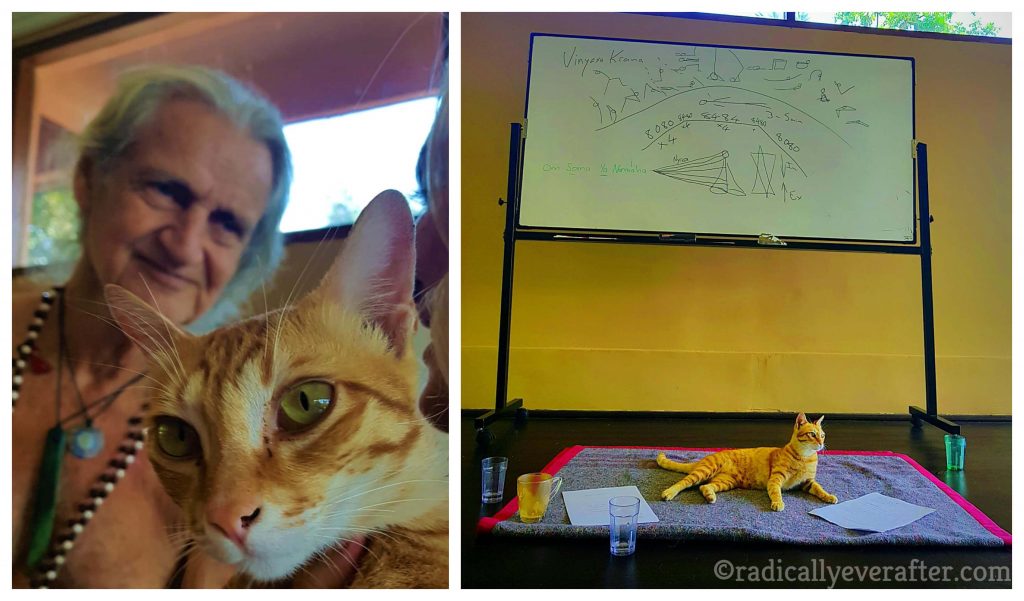 When people ask who my favorite teachers are
Heart of Yoga Teacher Training: What to Expect
Mark is one of those rare teachers who teach in a non-intimidating, non-hierarchical, get-the-fundamentals-right way, as taught to him by the father of modern Yoga, T. Krishnamacharya. So many Yoga teachers and so-called 'gurus' today build their careers by instilling deficiency stories in the minds of students and creating power structures out of the teacher-student relationship. In Mark's words: "The guru model of one person's superiority has been imposed on us by the patriarchy. Not only is it not needed, it has to go." I love that this is a huge part of Mark's message and work around the world, and something I wish more Yoga teachers would stand for and convey.  
Also read: An Interview with Mark Whitwell: Yoga as Direct Intimacy with Life
Heart of Yoga is founded on the 5 basic principles of Yoga, which can be applied in any non-obsessive practice. They can (and ought to) be incorporated into the various styles/brands of Yoga – all traceable to Krishnamacharya, though many left out these crucial principles. An oversight that often leads to bullying the body and breath instead of befriending them. 
Taught by Krishnamacharya, these 5 principles form the basis of the Heart of Yoga Teacher Training:
Breath is movement. The body movement IS the breath movement. The movement of the body is consciously linked to the movement of the breath and felt to be the same movement.
The breath envelops the movement. Breath starts slightly before and finishes slightly after the movement. The breath initiates the body movement.
The inhalation is from above as receptivity, the exhalation is from below as strength.
Asana creates bandha, and bandha serves the breath. Bandha exists naturally & not in isolation from Asana/Pranayama.
Asana, pranayama and meditation are a seamless process. Asana allows for pranayama, and pranayama allows for meditation. Meditation arises as siddhi, a gift, and cannot be forcefully practiced.
A few of several takeaways from my Heart of Yoga TTC in Bali, 2018:
🦋 The teacher is no more than a friend and no less than a friend. The guru model of one person's superiority has been imposed on us by the patriarchy. Not only is it not needed, it has to go.
 🦋 There's no shred of need to look for anything. The looking for something proposes that you don't have what you are looking for. The looking is the problem put into us by patriarchal doctrines of every kind. Yoga is simply connection to what is, to reality itself and all tangible natural harmonies of our cosmos. Your direct intimacy with life. 
🦋 Nature's male-female collaboration is enacted in the inhale & exhale. One empowering the other endlessly. The intrinsic harmony of male-female collaboration is the nurturing force of life. Society has been constructed as if that doesn't exist. 
🦋 The body is always flowing and life flows through a body. An Asana practice puts you in that flow, makes you realize you are in the flow and not separate from it. No longer in denial of the plain flesh and wonder that is you. Not treating the body as a meat package to be manipulated for some future goal set by the patriarchy. 
🦋 Asana is the participation in the union of the strength that is receptive, of the inhale with the exhale, which is the union of the male-female polarities of life. Lack of receptivity makes all kinds of problems in our lives that we associate with imbalanced masculinity: everything from trouble listening through to all kinds of violence.
🦋 Let your inhale be half the Asana. The breath is the gauge and the guru of the Asana. When you are with the breath, you are with that which is breathing you. 
🦋 Yoga is not a manipulation of the pranas, but participation in them. The pranas flow in the absence of manipulation of pranas. Asana is moving Pranayama that prepares you for stationary Pranayama.
🦋 Yoga is not a project to get somewhere as if you are not somewhere. Do the Yoga as a return to the natural state, not as a self-improvement program or a struggle for a future result.
One of my big lessons from Heart of Yoga was a newfound certainty that if I'm not living from the heart, all my intellectual analysis/opinions/arguments are just mental gymnastics on loop, disconnected from life and draining my energies. There's a 'stuckness' that comes with living in the head and refusing to be moved at the level of the heart. The mind's proper function is to serve the heart, not to keep spinning its own mental webs to protect against feeling. Relating to anything in the world/life/ people is not an arena to flex your mental muscles, but an invitation to live from the heart. If you allow it, any relationship is a chance for the heart to come out to play – for the joy of connection. Not to hoist the flag of "being right" or "figuring out" the other.  Perceiving a fellow human from a purely intellectual standpoint and trying to relate to them intellectually is a lot like throwing books at them and calling that a 'conversation'. No matter how brilliant those books are, they're going to land with a thud and not communicate a thing. There's no heart-to-heart connection to be found when the mind is seen as superior and feelings as somehow less valid/intelligent than thought structures.
 As someone who studied to be a lawyer (menacing, I know) and had fairly decent analytical and reasoning skills (I did win a gold medal in my final year, much as one hates to brag LOL), I'd racked up a stack of mental lawsuits against people/situations/the-planet-as-a-whole for being unpleasant/vicious/anything-in-between to me. I could let those undeniable grievances dictate my perception of me and the others, or I could be willing to drop all those cases with all their incisive arguments and begin to lean into a heart-centered awareness of whoever/whatever I was perceiving an adversary in. And then the mental Olympics of lawyering and judging are requested to take a back seat, so one can see right into the heart of the matter – the real facts of the case. 
Yoga is relationship – This is a big part of what Mark teaches. In a manner rich with humor, humility, anecdotes and the nuances of the practice. To quote Mark: "The only reason we choose to do Yoga is for the pleasure – the literal pleasure – of our systems relaxing and filling with energy. It is not some struggle to enjoy a future result."
Join us this November in Mysore's Lalith Mahal Palace for the 100-hour Teacher Training Course with Mark Whitwell. An auspicious gathering which represents a great turning of the wheel all the way back to Mysore, where Krishnamacharya first taught his young male students in the Maharaj's palace. Hope to see you there!
More details here:  Yoga East West, 100 hr TTC Mark Whitwell, Mysore
And a day before the course begins, a 2-hour session with Mark on November 5 in Mysore Mandala 🕸🌞🕸 For those who aren't sure about investing in a teacher training but would like to interact with Mark & talk about all things Yoga/Krishnamacharya/life/what-have-you. Just 500 INR per head, comment below or mail me to register 🙂 
Feel free to comment below or connect with me on Instagram @radicallyeverafter for more 🙂
Liked this post? PIN it for later!