Utsava Maa – A Celebration of Sisterhood & Shakti in the Thar Desert, Rajasthan
If bringing in the new decade with a 7-day celebration of creativity, sisterhood and Shakti sounds fun to you, I have great news for you: 
Join me – and women from all over – in this one-of-a-kind festival this December, inside a 16th century medieval fort in the Thar Desert, Rajasthan, India. Dec 28, 2019 – Jan 4, 2020

What is Utsava Maa?
An all-women festival in the Thar Desert, where women from all over join hands under the stars in a communal celebration of sisterhood & Shakti. In its third year now, the festival is designed to facilitate personal exploration, growth & creativity through a vibrant program of daily yoga, talks, workshops, ceremonies, documentaries, traditional and contemporary arts, warmed by nightly artistic performances, live music, dance, Puja & fire dancing ceremonies.⠀
Full program schedule here: https://utsavamaa.org/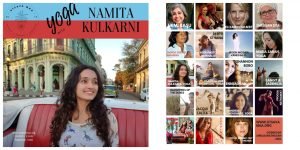 So glad to be one of the Yoga teachers in this awesome lineup! Just sharing flyer space with all these wonderful women is such an honour 🌞 One of whom happens to be the no-intro-needed wonderful Elizabeth Gilbert and another is the unstoppable Urmi Basu, founder of the non-profit organization New Light where she works to save girls from sexual exploitation and to improve lives of the children of sex workers. Also on offer is Gilbert's  full-day workshop on unleashing creativity. Talk about a creative high!! 😁 If you haven't read her latest book City of Girls yet, do yourself a favor and get on it asap! So many hilariously relatable female-bonding moments and just as many to stir the soul.
Shreejan Sita, Founder Utsava Maa & Director Shridev Yoga Institute
Veteran Yoga therapist and Ayurveda practitioner, Shree will open the festival with brief history of the goddess, the purpose of Shakti in the world, the story behind the founding of Utsava Maa, and the founding of Shri Jasnath Asan.⠀⠀⠀
These and many other massively inspiring women bringing their fires to this huge celebration of the Goddess sounds like just the way to stride into 2020 🌞⠀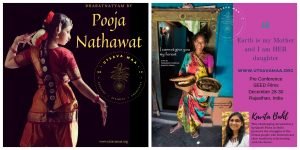 ⠀⠀⠀⠀⠀⠀⠀⠀ ⠀⠀⠀⠀⠀⠀⠀⠀⠀⠀⠀⠀ ⠀⠀⠀⠀⠀⠀⠀⠀⠀⠀⠀⠀⠀⠀⠀⠀⠀⠀⠀⠀⠀⠀⠀⠀⠀⠀⠀⠀⠀ ⠀⠀⠀⠀⠀
🔥 Looking forward to tons of new & old friends, firing up creative energies, igniting our Shakti to new levels, and refueling our selves for all our challenges 🙌 Hope to see you there! 
TICKETS
🔥 Full details & tickets at utsavamaa.org. For Indians, tickets will be sold at the gate at a special lower price of INR 3,500-5,000 with tent accommodations. Hope to see you there!