Celebrating the Goddess with Utsava Maa in Rajasthan, India
On one of the last mornings of Utsava Maa in Rajasthan, India. Prema, a musician from Hawaii (@premalovemusic) on her guitar while Liz Gilbert, Yoga teacher Amanda Eller and the rest of us take in the magic of her music. 
"The way of the feminine is the way of connecting. Our way, the way of the feminine, is to find out what everyone is good at and praise them for it and get them to teach it to one another. It will be chaotic, all this community building, but your cooperation will save the world. Besides, it will be fun."
Lines from Mirabai Starr's Wild Mercy. Don't you just love it when a book you're reading somehow has a way of describing exactly what's been unfolding in front of you before you've even found the words? 
"Women soothe each other's nervous systems, make it safe to open our hearts, create a listening vessel for our pain and a cheering squad for our accomplishments. (And sometimes we call each other on our shit, which we endeavor to do with tenderness and courage, humour and humility.)"

And when this happens several times in several ways over the course of seven days – in ways both deliberate and spontaneous – on sunny patches of grass and inside red tents, between movie screenings and Yoga/Ayurveda sessions, before barely knowing each other and after feeling like you've always known each other – you're probably at a women's festival in an ashram on the outskirts of Rajasthan's Thar Desert. Every shared story, joy, grief, dream, astonishment, goal, idea, inspiration, fear and strength weaving itself into a giant web of heartfelt connections and friendships worth cherishing for life.

Look around. Your allies are everywhere. And they love you 
Last month I was part of an annual celebration called Utsava Maa, where I was volunteering as a Yoga teacher. A week-long all-women festival celebrated inside Shri Jasnath Asan in Rajasthan, the festival is now in its third year. A 500-year-old ashram inside a 16th-century medieval fort was quite the historic venue for seven days of workshops, talks, artistic performances, live music, dancing, Ayurveda and Yoga. The festival was built around the theme of the Mother Goddess, the Shakti that lives in and as each woman.
Shri Jasnath Asan falls within the Hatha Yoga lineage and conducts various Yoga programs in its Rajasthan Hatha Yoga Institute. The Ashram welcomes long term stays from Karma Yogis from around the world every winter. In fact the festival staff was made up entirely of Karma Yogis!
I've lost count of how many inspiring women I met in the span of one week. Not easy to summarize such a rich, condensed and immersive experience but here are some snippets – in no particular order. 
Shreejan Sita, Founder Utsava Maa & Director Rajasthan Hatha Yoga Institute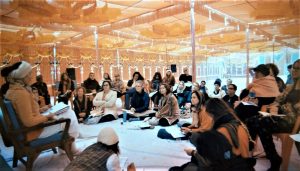 Veteran Yoga therapist and Ayurveda practitioner, Shreejan Sita opened the festival with a brief history of the Goddess, the purpose of Shakti in the world, the story behind the founding of Utsava Maa and the founding of Shri Jasnath Asan. This ashram is a 16th century medieval fort built by the king of Udaipur and blessed by the Yogis of the Nath tradition. Quite the setting for a festival that draws in women from all over the world to combine their strengths. 
Urmi Basu, recipient of Nari Shakti Puraskar – India's highest honor for civilian women.

Urmi shared with us her life's journey, from being a survivor of child sexual abuse to establishing her non-profit New Light in Kolkata's biggest red light area back in 1998.
New Light works to save girls from sexual exploitation and to take care of the children of sex workers. Actor and activist Tiffani Brooke Fest (pictured above) volunteered at New Light a couple years ago. After meeting Urmi and attending her workshop I'm inspired to do the same. I had the honor of translating Urmi's workshop and she left all of us mind-blown with her stories. A survivor of child sexual abuse from the age of 8 to 18, she says her way out of the darkness was helping others survive and escape their hell. She says in her 20 years of running New Light, she hasn't met a single woman who became a sex worker out of her own free choice. Always a matter of survival.
Rumour has it that Urmi carries a gun on her person all the time (though she decidedly doesn't, I checked) because of the level of gumption she's been showing for decades now. She doesn't want any money from the government because that would mean having to sing their tune. Death threats, social stigmas, ostracization for taking a stand, and starting New Light with just INR 5000 back in 1998. Phew. Whatever this woman is made of, I want some of that.
If you'd like to volunteer at New Light, have a look here: Volunteer at New Light, Kolkata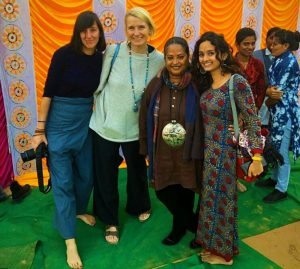 This was right after I had the honor of translating Sneh Gupta's session where she interviewed children of SKSN, a residential school in Jodhpur for physically challenged children. As the founder of Indiability, an organization that works for the inclusion of physically challenged children, Sneh says the children do not see themselves as disabled or less capable in any way but society is stuck in its perception of them as incapable and inferior to the rest of us. And that is their biggest obstacle in inclusion. I remember being mindblown at the level of brightness and self-reliance of these kids while I tried to stay on track as their translator. One of the girls said disability is of the mind, not the body. And another spoke of how she walked out of a bad marriage and made a name for herself as an athlete winning medals around the world (@athlete_sangita_vishnoi) Even after jumping through hoops and proving their capabilities in awe-inspiring ways, the dominant culture so often fails to accord even basic respect to these individuals. Instead lumping them into a "less than human" category. I hope that begins to change. I just sent some art supplies over to the SKSN school because Sneh said that would be a great way to help. If you'd like to help in any way, leave a comment below 🙂
Meeting – and hanging out(!) – with Elizabeth Gilbert on all 7 days of Utsava Maa

The world knows she has a way with words, but what we found out is that she has an even better way with her quiet empathy, impromptu hugs, sharing her vulnerability and making everyone around her want to live a life steered by curiosity and enchantment.
If you'd told me ten years ago while I was reading Eat Pray Love (or even City of Girls last June) that I would be teaching Liz Gilbert one day in an ashram in the middle of a desert in Rajasthan, I might just have believed you a teensy little bit – being grandly delusional is one of my strengths. One of my favorite authors, I've read six of Liz's books and I cannot pick a favorite. Her all-day creativity workshop had us all engrossed in various exercises that we paired up with each other for. I'd love to get into it in detail, but that would require a whole other blogpost! Wouldn't that be nice though? 
Gajra Choudhary, Deputy Director of Secondary Education in Rajasthan's largest school district
Imagine being married off at the age of 4 and growing up into this powerhouse of a woman. With enough obstacles to fill a novel, Gajra Choudhary fought hard against them all to complete her education, acquire a doctorate and take up the post of Deputy Director of the largest school district in Rajasthan. I loved seeing her in my Yoga classes where I was teaching in Hindi and she would supply the odd word when I couldn't recall it. As down-to-earth as she is accomplished, we were honoured to have her share her wit and wisdom with us.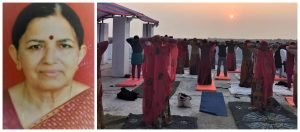 Storytelling workshops with the local women by Dr. Kristen Ali Eglinton's Footage Project

I loved being part of this interesting workshop conducted by Dr. Kristen Ali Eglinton, Executive Director of Footage Foundation @kaeglinton. Here's what she has to say: "During Utsava Maa I worked with local girls and women running Footage workshops. The aim was to simply support them in sharing their feelings, experiences, hopes and needs — to increase their sense of self-compassion and connection by linking their experiences to the experiences of the global network of women we work with. Rajasthan is one of the most oppressive states for girls and women and so we wanted to start with the simple act of sharing and supporting them in seeing the power of their own experiences. My time with the local girls and women was some of the most blessed of my work thus far — as stories and experiences were shared the universal themes of, for example, resilience and trust surfaced — and all of us, I believe, began to feel more deeply connected to our shared humanity. It is in this space of connectedness that we can begin to transform. I met incredible humans at the festival, and as an outcome we have new partnerships forming to carry ideas forward. In fact, I had the privilege to run a similar workshop with young people and Sneh Gupta at Indiability Foundation before leaving India, and this would not have happened without this phenomenal gathering of hearts at Utsava Maa— I am indebted to have been able to participate." Read more about The Footage Project on Instagram @footageproject

Lilya Sabatier – Yoga teacher, Bodyworker and Women's circle Facilitator
Lilya Sabatier says Utsava Maa happened to her at just the right time. "When I saw the promotion, I knew I had to go. Why? No idea! But my body knew! After a challenging 2019, I needed a breath of fresh air! And it was that

(literally, it was so cold)

and much more. Spending a week with a hundred women in an ashram in a desert ranks among one of the most memorable, warm and beautiful experiences I've ever had. This festival was a deep healing of the feminine for me and I think for many women who attended the festival.

Just being in each other's presence in a safe environment allowed us to let go and heal many wounds. To be surrounded by so much love and nurturing energy, by so many women from all around the world, helped me make peace with women and my womanhood. It was so liberating to be among sisters. To allow ourselves to relax, to be unkempt, imperfect. To share stories, meals, painting sessions, yoga, ceremonies, workshops, rooms, bathrooms, colds and toilet paper. It was liberating to laugh and cry together. It was a profound vision of what our world could look like if more women around the world unite and heal…and more men too. It was remarkable to be among women who are all walking their path, growing and learning along the way.

It was inspiring and comforting for me to see that there are other women

"like me"

around the world and that I'm not alone in the vision I hold for my life and this world. I have met women who I know will be friends for a long time, some of which I intend to co-create with. The world truly needs more spaces and places where people can come together to envision new ways of being and living, and cooperate in making them materialize. I feel forever grateful and blessed to have been part of this magical experience and very happy that I could share my practice of yoga every morning as well as hold space for the healing of other women, whether through conversations, hugs, simply listening, making tea, smiling or ceremony space.
Find Lilya on her
Instagram @lilyasabatier
.
Kathak Performance by Vishaka Saraf & her Dance Troupe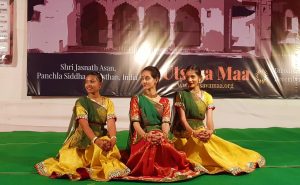 Takes an enormous amount of skill, strength and grace to dance the way these young women did on the coldest night of the festival. Vishaka teaches Kathak in Jodhpur and can be reached on her Instagram @vishakasaraf. I was enjoying the performance too much to make a video but here they are on YouTube  in one of my favorite videos ever! 
Nanda Huneman – Author of Widows Don't Fall in Love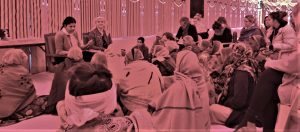 "Talking about my book Widows don't fall in love – Encounters with Single Women in India was really powerful. It felt like we were sitting in a multi-cultural mandala of women, all struggling with this same theme of being alone/together, without losing their own female Shakti. Sharing the extraordinary stories of the brave single women in my book, stories that normally are hidden away, opened a door for women – Indian and Western – to tell their personal stories in an honest and deep way. I felt there was a web of connection and felt thankful my book had a place in this process." Find Nanda sharing her thoughts on her Instagram @nandahuneman
Shannon Nicole Bobo – Enneagram Experience Creator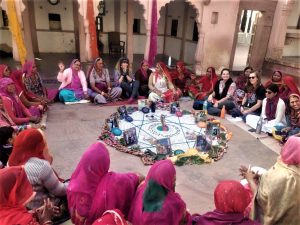 "Utsava Maa was a beautiful gathering of women from across the globe. It was my honor to be asked to share the Enneagram Experience™ Ceremony during the festival. The Enneagram is an ancient mandala that holds wisdom from both Eastern and Western spiritual, philosophical and psychological traditions. It provides pathways for self-discovery and collective understanding. Holding space for this kind of work is so important in our modern world where people have lost their connection to self, each other and the world. I was particularly touched by my workshop that was attended by the local women. Creating a sacred circle for them to connect to their inner child was priceless. These women give so much in their community. It was an honor to give back to them." 
Shannon can be reached on her Instagram @sunshinetree75
Lisa Milnor – Trauma Release Exercise 
Lisa shared with us the practice of Trauma/Tension Release Exercise (TRE) at Utsava Maa.  She says, "As I explained how the practice helps to release tension in the body created by stress and trauma there was often an instant 'body yes' for people that it might be a tool to help them on their healing journey. We found a space and a time slot and I was able to run an introduction to TRE and 3 group sessions over 3 days. What became evident was the significant number of women who had experienced sexual abuse, quite often as a child, and I was extremely grateful to be able to hold the space for these women and others.  It's always a privilege to share this powerful tool, that can be used to help release the emotional baggage that is held within the body. I continue to be humbled by people's courage to explore new ways to heal from trauma and this experience at Utsava Maa has shown me that doors will open to allow me to continue to share this practice even whilst I am traveling. One lady commented how the invitation to be playful with the practice had really resonated with her and to approach trauma in this way was a revelation – to hold what feels serious and dark in a gentle, playful way and with a touch of lightness felt very healing for her." Find Lisa on Instagram @shapingclarity.
Clarissa Mae Thompson – Yoga Teacher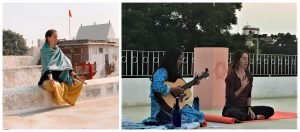 In Clarissa's words, "Imagine stepping foot in an Ashram with 500 years of history.  Being in awe of the energy of a place and then having a chance to teach Yoga in such a place? This winter I had the opportunity to teach Yoga classes as part of the Utsava Maa Global Women's Festival.  I felt a deep reverence and connection to the centuries of teaching before me. I also felt amazing energy from the women who came together for this event. Meeting them, having them be a part of classes and share their energy was amazing! Each class had a different feel, flow and vibe and that's a testament to the women who showed up! Whenever I teach it's an honor & to be a part of this event was definitely just that!" Find Clarissa sharing her Yoga adventures on Instagram @clarissa_mae_
One of my fondest memories – and a personal milestone no less – is the way I managed to teach Yoga in Hindi for the first time in my ten years as a Yoga teacher.

Ironic, I know. An Indian yoga teacher who had never taught in an Indian language. I'm thankful to Utsava Maa for throwing this challenge at me. I massively enjoyed teaching the local women in Hindi and I think they did too, as you can see in this

Instagram video

. And in one of the most expressive gestures I've ever received right after a class, one of the women picked me up high above the ground and spun me around. And this on a rooftop, so in case I was missing any adrenaline… 🙂
Teaching in Hindi felt daunting and strange at first (how do I not know what's an elbow in Hindi? Can I lead a guided meditation in Hindi without sounding like I've channeled a Doordarshan newsreader and without breaking the flow? How do you convey the idea of grounding in Hindi?) but doesn't take long to get into the groove when people bring so much enthusiasm to the class. And inside jokes that they kindly let me in on 😆 I'm glad my brain came up with enough ideas and humour (so important in Yoga!) to convey what I needed to: That Yoga is not another self-improvement program and it has everything to do with enjoying the movement of life inside your own embodiment. So much of sharing Yoga has to do with connecting with people and helping them connect with their own breath and body – and in my experience, a lot of good old "winging it" 😁 They especially enjoyed this last bit of the class where I had them pair up to give each other a back massage. Just as the sun went down and the laughter went up. I loved that a few Western women were in the class specifically to dive into the local vibe and have a new cultural experience while getting their Yoga. One of them told me that she wanted to know what it feels like to be the minority in a setting full of people who look and talk different from what she's always known. I found that really interesting.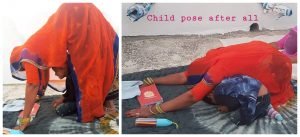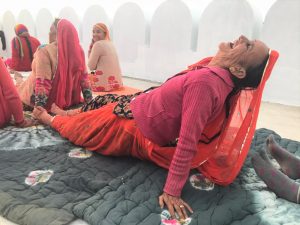 You know it's been a wholesome Yoga class and festival when THIS is one of the outcomes 😀
Pictured here: Nanu Devi. Photo courtesy Maria Merle
@mitchymerle
So that was my attempt to give you a little peek into the Utsava Maa festival. So much more happened, all of which I could not have squeezed into a blogpost. Oh well, I did what I could 🙂
Some things just have to be experienced. Who knows, maybe I'll see you at Utsava Maa next year!
LIKED THIS POST? PIN IT FOR LATER!