Lake Bohinj, Slovenia – At the End of the World
Some things are too apt to be random – the restaurant radio singing 'Heaven is a place on earth'  beside this crystal clear lake within a sprinkle of villages in eastern Gorenjska, Slovenia. The radio gods and their uncanny ways. I would've sung along but hunger had me attacking my 6 EUR lunch instead.
At the elegant restaurant Pod Skalco, meaning 'under the rock'. The rock being that tall-dark-handsome glacial boulder standing there with the sole agenda of making everything else seem miniature.
Bohinjsko Jezero to the locals, Lake Bohinj was formed by glacial snowmelt and is Slovenia's largest permanent lake. The Julian Alps on three sides of the emerald-turquoise waters make for views that at once humble and elevate. The kind of place where imagination goes for a refreshing swim and hope goes to refuel. An old Bohinj legend goes that it holds enough water to fill a bucket, if the bucket is large enough.
Really large…
A 10th century Gothic church (Church of Sveti Janez Krstnik) taking a customary dip
Legend has it…
Once upon the beginning of time, when the creator was distributing land among the people, he forgot about one group of people who were standing around silently awaiting their turn. Not demanding like the others. Moved by their humility and patience, he gifted them the most ethereal land of all. The land he had set aside for his own retirement. Hence the name Bohinj, Boh meaning God. The guide on the boat enacted this tale with all the conviction of a true Slovene. Looking around, it didn't seem far-fetched at all.
A 10 EUR boat ride to the 'End of the World'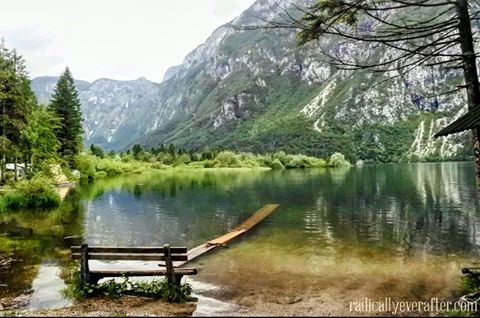 At Ukanc, meaning 'the end of the world' in Slovene, because the locals once believed this was the furthest anyone could ever get, there being a huge wall of mountains all around that no one could cross over. Of course everyone knows better now, but there's still that innocence in the air. Untouched by the centuries, for now and hopefully forever. In any case, there's something highly reassuring about a park bench with that view at 'the end of the world'. Have a seat  🙂
Flitting between realms, it perhaps never intended to have a real, tangible existence within our walls of time and space. But at some point accidentally spilled into reality as we know it and decided to stay on for the weather.
Ducks plaiting the water. Some here for the rush, some glad to stop and stare. If you're a nature person, you will surrender at first sight and if you're not, that will change.
The earth says much to those who listen – Rumi
Looking back on Lake Bohinj
Some places dig a trench in your spirit with the raw power of nature and make themselves a home there. One that quietly awaits your knock. Where you leave the dust of disbelief and doubt at the door, and a warm nostalgia wraps you in her embrace the second you walk in. Where you don't have to search long before the views jump out and grab you, real as rain. As if the miles mean nothing and not a moment has passed since you stood there in the flesh, awestruck as ever. Memories made a shade more touchable with every reliving. Until you realize they've been hiding all along in the back of your eyelids, waiting to ambush you into that gratitude-drenched awe again. Anytime you forget that heaven is, indeed, a place on earth.