Slow Down in Slovenia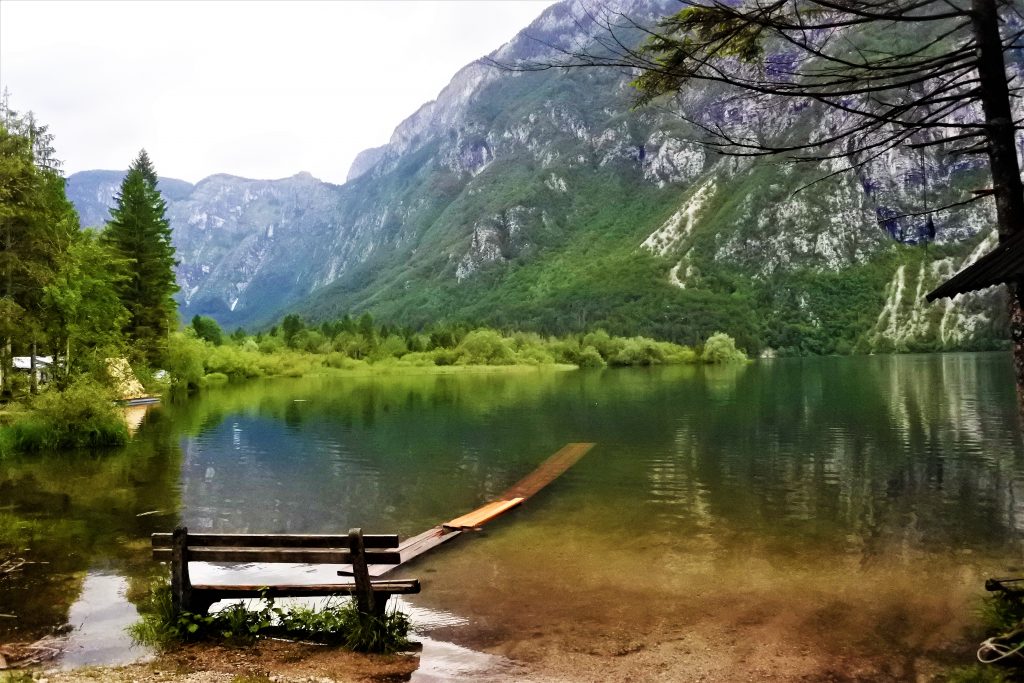 At Ukanc, meaning 'the end of the world' in Slovene. Locals once believed this was the furthest anyone could ever reach, there being an insurmountable wall of mountains ahead. Everyone knows better now, but the innocence still hangs in the air, untouched by the centuries. For now and (let's hope) forever. In any case, there's something highly reassuring about a park bench with that view at 'the end of the world'.   
On a long work-meets-wanderlust trip in Italy last year, I had one of those weekends that call for a dramatic, impulsive detour. I wondered which of Italy's neighbours to hop on a bus for. Austria, France, Switzerland or Slovenia? The latter being the one I knew the least about, piqued my curiosity the most. It seemed uniquely exciting to go where my preconceptions hadn't already been. The small less-touted country holding the kind of sway only the low-profile and unassuming exude.
From Milan it took me 8 hours on a Flixbus to alight at the Slovene capital, Ljubljana. Declared the European Green Capital for 2016, it is also one of the smallest capital cities in Europe. No wonder I found it to be one of the simplest cities to navigate by foot and even give (correct enough) directions to lost tourists.
Ljubljana is a city that loves its pedestrian squares, farmers' markets, engaging architecture, canopies, cycles, dragon sculptures, and its great poet France Persener who wrote the national anthem as a drinking song. I'd raise a toast to that!
In the city centre I was handed a postcard directing me to their Library under the Treetops, where deckchairs invite you to sink into books under warm canopies. Trust the Slovenes to ensure that even a trip to the library is an outdoor event. This is perhaps how books want to be read, close to their source and their insides warmed by the sun. Bookworms (literal and otherwise) would agree.  
 The glacial Lake Bled as seen from the 11th century Bled castle
Two most well-loved glacial lakes skirting Ljubljana are Lake Bled and Lake Bohinj, a 2-hour and 8 EUR bus ride from the city. While Lake Bled is the glamourous well-googled face of Slovenia, Lake Bohinj is the quiet timeless beauty that didn't bother with the PR. It also happens to be Slovenia's largest permanent lake. The kind of place where it takes a long time to believe your eyes, and even longer to walk away. Spare yourselves the fate of having to leave these lakes to catch the last bus back to the city, and find a lakeside stay.
The great outdoors in Slovenia, making you offers you cannot refuse. You've been warned
With more than half the country covered in forest, and huge expanses of emerald lakes, turquoise rivers and unending mountains, the outdoors here beckon like they mean it.  If you are a nature person, expect to knock yourself out here – many times over. And if you're not, that's about to change.
For a holiday full of wilderness wonders, warm people and a spacious sense of life, the end of the world is a great place to begin.
For more on Bohinj, Slovenia: A Lake Like No Other
A version of this article was published in Ritz Magazine, May 2017.
Connect with me on Instagram @radicallyeverafter & Facebook Radically Ever After for updates on my everyday shenanigans and more travel & art inspiration 
PIN IT!!