Valley of Flowers – A Trek to Remember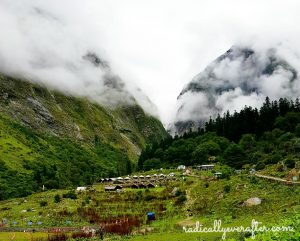 Those mountains you are carrying, you were only supposed to camp between 
The campsite in Ghangria, a small hamlet which comes alive from June to October every year. We got here after a 14 km trek from Govindghat, the starting point of the Valley of Flowers trek. With beginnings so picturesque, the rest of the trek had a lot to live up to. And it did. In so many ways: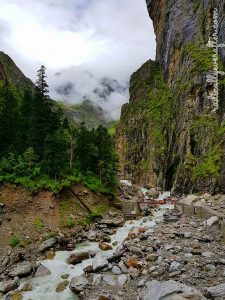 Shivering Bridge on River Pushpawati
That iron bridge signals the start of the ascent. With the roaring waterfall, it makes quite the preview for everything else in store.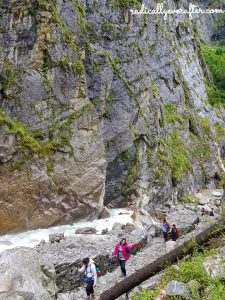 Just 3 rocky uphill kilometres to go until we meet the Valley of Flowers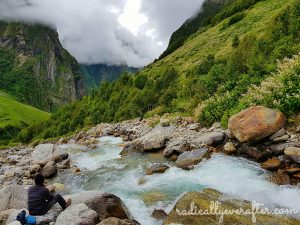 My kinda livestream. A short walk into the Valley and the show has begun. Have a seat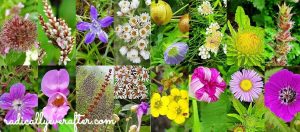 "Do you suppose she's a wildflower?"
Speaking of flowers, here are some of the beauties I was glad to stop and stare at. Way more colours and fragrances in the Valley than can be counted on one trek. Over 300 species of wildflowers dot the valley, with June and July being the most colourful months. Though the end of August is said to be a lot less 'colourful' than the preceding months, there is no shortage of flora to seek out.
Variety lies in the eyes of the beholder. The more your enthusiasm and respect for nature, the more she reveals her gifts to you. Might be a good idea to treat the trek as an exploration and slow down enough for the details to find you. Ask this caterpillar.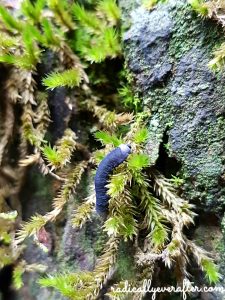 Is it just me or is there someone staring out mysteriously from that tree trunk?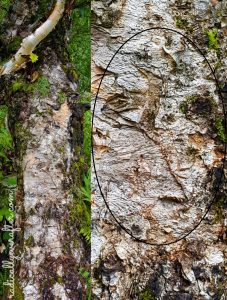 The world is full of magic things, patiently waiting for our senses to grow sharper – W.B. Yeats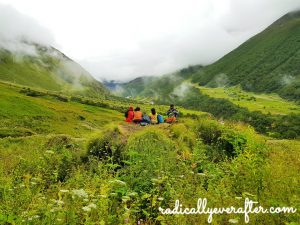 Thank goodness for friends & fellow mountain goats, and lunch breaks on big rocks between long treks 🙂 And for Yoga classes in the mountains!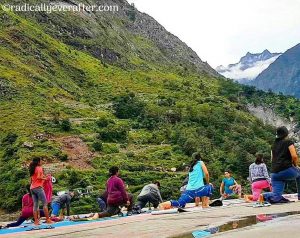 If you've ever tried a Walking Meditation, you can well imagine how great a setting the Valley of Flowers is for this practice. In a nutshell, it entails being present to all the sensations that arise in the body with every step and every breath. Like listening to every instrument in an orchestra. Watching your thoughts come and go instead of identifying with and holding onto them. Meditation is a practice of presence, where one is open to everything and chasing nothing. Lucky for us, nature has a way of bringing one into the Here and Now, out of mental chatter and into the experience of being alive in one's own skin. Between all those wispy clouds and wildflowers, and the rocky terrain that demands presence in every step, we couldn't have asked for a better meditation teacher. 
On the way down, this flower growing out of a leaf caught my eye. Gotta love how little nature cares for rules and expectations 🙂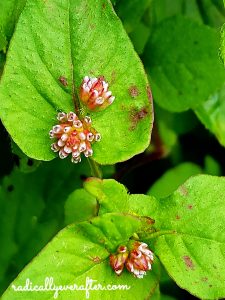 Who made the rules? 
If you're heading to the Valley, here are some of my suggestions: 
Dress in layers. The weather gods up here are fickle as ever. And while the trekking heats you up, the nip in the air shoots a chilly breeze at you. With layers you have some say in how bundled up or ventilated you'd like to be at various points of the trek. A neck warmer and a beanie will prove useful.
Carry snacks to refuel on the climb. They will be your only sustenance all through the trek, so make them count. 
Trekking shoes are an absolute must. The ankle support is crucial on the slippery and rocky terrain throughout. We passed by a few fellow trekkers somehow making their way in regular sneakers and even flip-flops, and I wouldn't wish that on you. 
Gloves better be waterproof. Hypothermic fingers inside rain-soaked gloves do not make great trekking companions.
Skip the packaged water bottles (for good). The water from the streams up here is as 'mineral' as it gets, and if you want to be extra sure, use a handheld filter such as a Lifestraw. Any bottle that is reusable and cannot hurt the environment is after your mountain-goat heart, I shall hope. 
Do not bother buying a standard trekking pole. In my experience, the bamboo sticks sold every few steps in Govindghat and Ghangria do a swell job. They cost a fraction (about 30 INR), are perfectly biodegradable and do not need to be strapped onto your backpack when you're not using them. You can just cast them aside and be sure to find another one when you need it. So that's one thing less to pack. 
The only semblance of cellphone network you'll find up here is BSNL. Otherwise the PCO's are a good bet to keep you in conversation with people back home. In any case, a little digital detox is always good for the soul. 
This one's straight out of my Yoga classes – Go no faster than you can stay connected to feeling. Of course you want to make your way down before it gets too dark, so set off as early as possible (the Valley gates open at 7 am) and take your time drinking in the fresh air, the rolling hills, the mineral-rich water, the ridiculous variety of flowers and plants and whatever else your perception can expand around. Savour the moment. 
A big thank you to everyone who was part of this trek and Trip 360 for organizing it !
For more on the rest of the treks, the Yoga and everything in between, hit the follow button. Connect with me on Instagram @radicallyeverafter. 
To join me on the second Valley of Flowers Yoga Retreat – August 11-16, 2019 – drop me a line at namitayoga@gmail.com. The details are here
See you on the mountains this August!