Forgotten Slices of History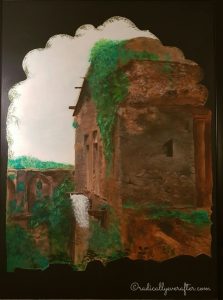 A visit to an ancient palace near Dhar, a town in Madhya Pradesh (Central India) inspired me enough to capture the moment in paint. Walking under the palace's bat-occupied arches, it felt strange yet accurate to imagine its past as an abode of royals. Centuries of dust and neglect had yet to rob it of its demure glory. There weren't any peacocks around but my imagination insisted on this one. 
Without so much as a signboard around, we were lucky to have chanced upon this palace on our way from Kanha National Park to Indore. Our driver, a local, told us it was called Rani Mahal (Queen's Palace) – quite the generic name as far as ancient Indian palaces go. That and the lack of any signage acknowledging the palace – no wonder all my online hunts haven't yielded any image or information about this well-kept secret of history.
Makes one wonder how many such timeless gems lie scattered across our vast country, their historical and aesthetic value ignored into oblivion and their tourism potential unrecognized.
Have you been to any such places/structures? Let me know in the comments or drop me an email if you'd like to share an image. With a good amount of help from readers and fellow travellers, I'm looking forward to compiling a list of ancient architectural gems across India that have been overlooked by the history textbooks, travel media and perhaps even by their own locals/neighbours. Full credit to each contributor. Let's bite into some forgotten slices of history, shall we?