Meditating in Watercolor
I hope you've been well. It's been a while since I wrote here. Thought I'd share a little of what I've been upto and what's been nourishing me in the last few months. I've been working on an art project I won a grant for back in December (yayyy!) thanks to ICAAD (International Center for Advocates Against Discrimination), a human rights advocacy center based in New York. The subject I decided on for this project has to do with colonialism being the driving force of the climate crisis, and how indigenous wisdom can bring us back to our role as a custodial species on the planet. Here are more details about my project and the other artists working with ICAAD on various human rights themed art projects on this link.  For a self-taught artist with no formal training in art (I studied law), it's been quite the wild adventure to be working on this project, and an experience I'm grateful for.
And now, back to the topic. Meditation can seem tricky and watercolors even more so with their fluidity, but combining the two has opened up a whole new world for me in the last couple years. I wasn't looking to get "good" or even consistent at either of them, but the possibilities suggested themselves during the lockdowns when having a creative outlet felt more necessary than ever. Creativity and play of any kind are essential for spiritual sustenance and in my experience, they are medicine. Helps that the level of play seeping into any process involving water and color draws you back into it over and over again. The way certain foods work best in combination (being more bioavailable together, e.g. pepper and turmeric), watercolors and meditation work a whole new magic when combined. You may say I'm gushing, but I'm not the only one. There's a ton of articles online about the rise in popularity of watercolors in the last 2 years, color me shocked 🙂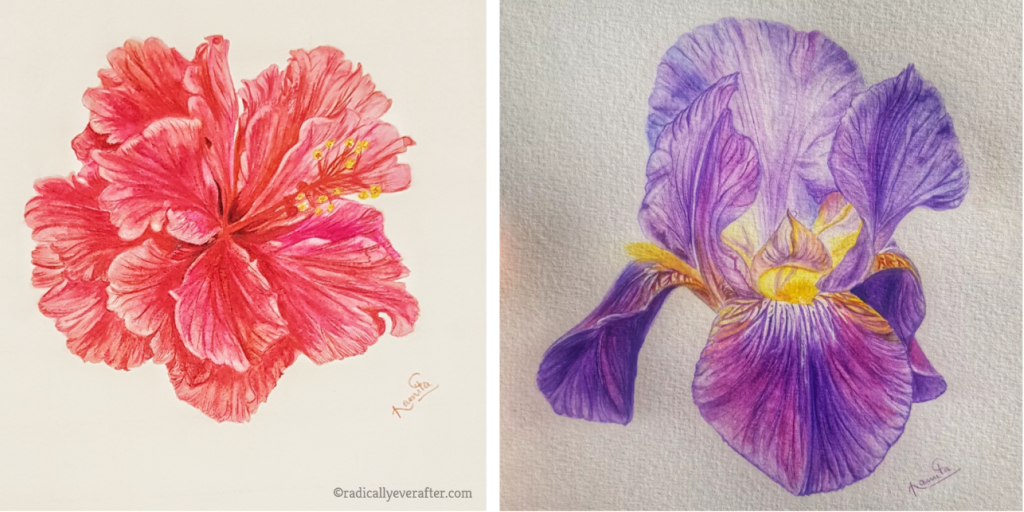 Two of my recent watercolor flower portraits, a double Hibiscus and a Siberian Iris.
Few things have slowed me down and taught me to really see and observe as much as watercoloring. Flowers, cat eyes, wine bottles have been some of fondest subjects. If you're wondering what to paint, I highly recommend picking anything you'd love to lose yourself in the details of. Pick any subject, do it for the process 🙂

The sensory appeal of watercolors in a screen-saturated world is undeniable. So many people around the world continue to find comfort and joy in this medium through all the lockdowns and social/travel restrictions we've had over the last two years. I suspect that has a lot to do with the just-add-water minimalism of the medium (unless you plunge into the added paraphernalia such as masking fluids, granulation medium, iridescent medium and so on) and also the surprise and novelty it offers each time. It's been a rewarding rabbit hole, the more I get a hang of the medium there's more surprises to stumble into. In a culture that insists on chasing fixed outcomes and being violently practical in the pursuit of those outcomes, making art can seem frivolous. But this quote by Clarissa Pinkola Estes makes a strong argument for creativity: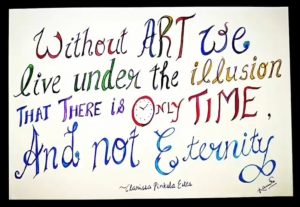 If you're at all interested in watercolors/meditation/both, I'm here to tell you that you're in for a TREAT when you mash up the two. There's something so fundamentally human about playing with water and colors and losing track of time. Immersing in the beauty of color pigments as they flow the way only water can make them.
And if you think you're new to watercolors, I have news for you. 
If you've ever thrown a pebble into a lake and watched the ripples it spins out, you've dabbled in the magic of watercolors.
If you've doodled in a notebook, letting patterns and images spill out of ink and impulsiveness, you know there's something so soothing about making images – the process of creating with no fixed outcome.
If you've watched an ocean – the waves variously lit up by the sun/moon/both – you've admired the oldest, largest, the wildest – or as the kids might say, the OG watercolor.
If your body is 70 percent water – as science insists – you ARE a watercolor. I hope we've established by now that you're a lot more familiar with watercolors than you might think.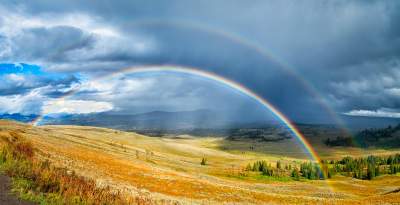 If you like rainbows – I think you know where I'm going with this – those are some massive watercolors in the sky you've been enjoying.

Watercolors are often relegated to the difficult end of the spectrum of art materials. 'Unforgiving' is a word I've often heard when people describe them. Entire videos on Youtube have artists listing out the reasons they "hate" watercolors. Tricky as they are, with water having a mind of its own, watercolors offer flow, spontaneity and transparency like no other medium. Never a dull moment in the process, given the way water has a mind of her own and being predictable is just not her jam. You're on your toes with this one. I don't have photos of the messes I made with watercolors when I began, but boy did I have fun with every one of those messes. The photos here are more recent, taken after I'd gotten a hang of the medium.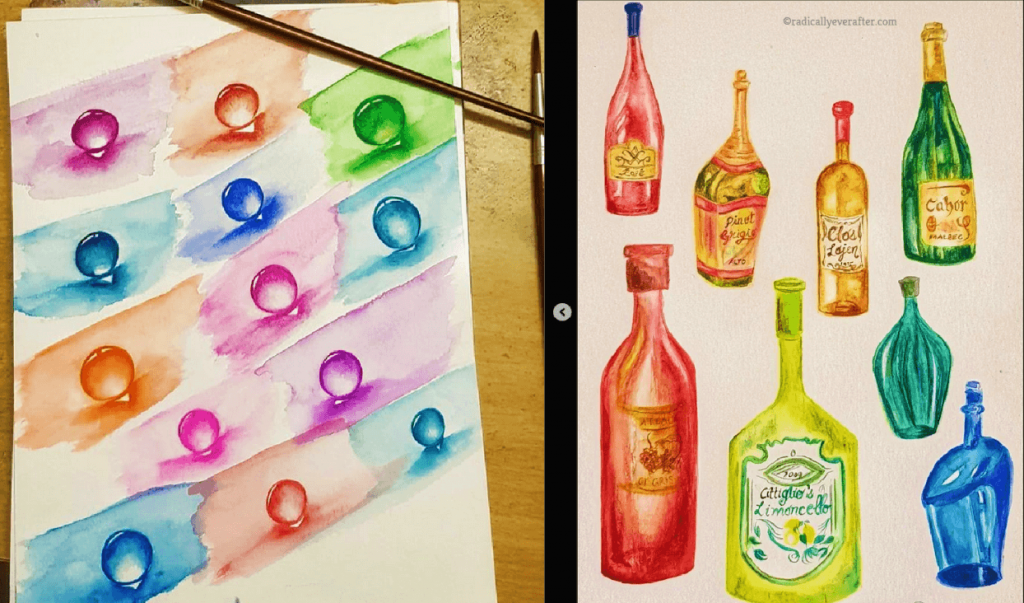 Highlights versus shadows and highlights within shadows when painting transparent subjects in a transparent medium.
No wonder it feels like playing with light while painting with watercolors. For the water drops I followed this wonderful tutorial by Sandra Schultz

So how exactly do you meditate in watercolor? 
As one of my teachers described, meditation is a way of touching the infinite by honoring the ordinary. Creative outlets offer an always-open doorway into that experience. Water and color are 2 things we take for granted everyday, and yet they can blow your mind if you let them. Being utterly humbled by the mystery is what I consider to be the foundation of any spiritual practice. And creative expression has been a doorway I bow my head into before I walk into the space of that total humility. Settling into a deeper place in me than I'm used to operating from.

The deliberate directing of your attention, your life force, your eros, your passion into a creative process that promises no fixed outcome and about as much delight and wonder as you're open to – that is a large part of the magic of watercolors, and what makes the process meditative.

So much has been said and written about meditation on these internet streets, though one key point is almost always left out: Meditation is FUN. 
I've experimented with several meditation techniques over the years, as a yoga teacher and practitioner. One of the ways that meditation has been immensely enjoyable for me is through the medium of watercolors. The first lockdown in 2020 (back when we thought the pandemic would be done and dusted in a few weeks… how cute) was when I began using watercolors. Just to see how water behaves with all that pigment and paper, and if there was any chance I could "control" the water. Spoiler alert: There's no "controlling" the water, only coaxing and improvising and going with the flow in the most literal sense. For about a decade, my favorite medium had been oil pastels,where things are solid and predictable, the colors go where you put them and do what you make them do. One learns quickly in watercolors that there is no "controlling" water, only coaxing and hoping for the least 'untoward' outcome. It's a lot more enjoyable when you're in it for the process rather than the outcome.

One reason (out of mannyyy) I don't recommend meditation apps is that they sell meditation and mindfulness as a way to be "more productive" aka a better cog in the wheels of late stage capitalism. As if there isn't enough pressure already from all directions to serve capitalism better everyday. For me, a practice of any kind better be fun if I'm going to make anything a regular part of my life. I meditate so I can bring a greater presence, emotional capacity and intentionality to immerse myself into the material realities of life, not to run away from them. And the latter is what most of patriarchal spirituality is pointed at, but that's a whole other blogpost for another day. 
In this Healthline article, I share a few line about watercolors as a self-soothing technique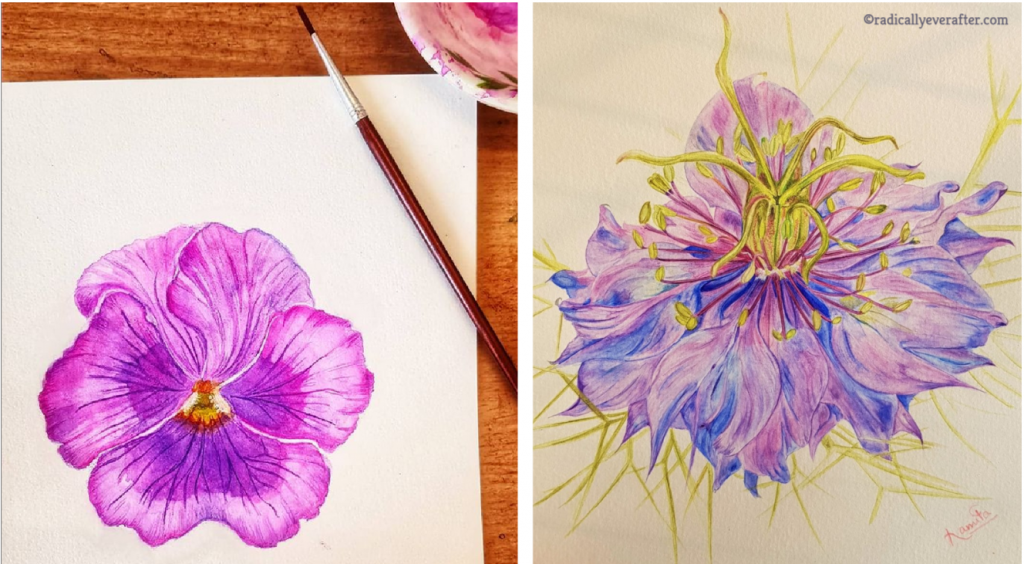 This pansy portrait from June 2021 and Love-in-a-mist or Nigella Damascena from February 2022. It's a dance between going with the fluidity of the water and being "in control" and precise. You'd be surprised at how much you can defy that fluidity if you'd like to 🙂
What creativity & meditation have in common
One way to describe meditation is any practice that makes you feel at home in your self, welcoming all of you and rejecting no part of you. Integrating all aspects of you and shunning none. Meditation offers you access to parts of you that have been suppressed or hidden out of your own view. The same can be said about art or any creative practice. The parts of us that everyday life and social patterning suppress, art gives space to be seen and known. So when you show up to the material conditions of your life, you're playing with a full deck and not a censored, society-approved, abridged one. 
"Entering the current of your life force" is another description of meditation I find to be quite on the nose, and it holds true for a creativity practice just as well. There's an aliveness that creative expression and fulfillment bring, which only personal experience can confirm. Like one of my teachers used to say, don't let the questions delay you, go directly for the experience. Good advice as far as creativity and meditation are concerned.
Now if you're wondering where to begin with all this watercolor practice I've been going on about, here are a few pointers that will help: 
Paper: Look for a minimum of 300 gsm thickness in paper, preferably 100% cotton. Gsm expands to grams per square meter and thicker paper has a way of absorbing the water without buckling or tearing up.  So often people use thin paper when they're starting out and are left disappointed when the paper doesn't hold up. I recommend cold-pressed paper to start with, because the valleys and ridges in the paper add a lot of surprise to the process. If you're into really smooth paper to get all the details just right, then hot-pressed would be the way to go. Strathmore and Canson are two brands I've been using.
Paints: You may want to start with less expensive paints, to see if the medium tickles your fancy before you splurge on the top-shelf brands. There are many small businesses online who make and sell good quality watercolors at low prices, such as Theory Shop and Luminosa Colors. You'll find so many of these on Etsy and Instagram. White nights is also a good set to start with, they are said to be the least expensive artist-grade watercolors. With watercolors a little goes a loooong way, so I highly recommend getting dot cards. These are exactly what they sound like – cards with dots or coin-sized quantities of various colors on them. The Daniel Smith dot cards are easily available in India, and at roughly 500 INR for 66 dots of the smoothest watercolors – you won't regret getting these. #Notanad.
Palette: White ceramic serving trays lend themselves beautifully as palettes for watercolor painting. Avoid plastic like the plague. They take the fun out of the mixing process. Some watercolor sets come in tin sets with built-in palettes, and they're alright too. I made myself a fancy little seashell palette using a few seashells I stole from beaches around the world. My favorite option would have to be my ceramic plates I picked up at a pottery factory.
Water: Well, duh. We're going to need water and I love using two little glass jars – one for the clean water and one to rinse off extra pigment and get messy in. Glass allows you to keep an eye on how clear or not the water is.
Brushes: Brush quality can make all the difference in your watercoloring experience. Having a few good brushes instead of several mediocre ones is the way to go. You don't have to splurge on the more expensive brushes as a beginner, just look for round synthetic brushes in sizes 4 and/or 6 to start with. Mop brushes are also popular for making paper-wide washes and for larger brush strokes in general. And oh, if you want your brushes to last, don't let them sit in the water between painting sessions. Always leave the brushes out of the water once you're done painting.
With all of the above equipment, the idea is to start off with simple, good quality materials in small quantities. So you can enjoy the process without feeling pressured to "justify" the costs incurred. Once you know for sure that you're into watercolors, believe me, you'll have quite the challenge in resisting the allure of all the exquisite and indulgent watercolor supplies out there. Don't say you weren't warned.

I'm going to leave with you this insight from a book I'm currently reading – Orwell's Roses by Rebecca Solnit. It was just what I needed to read and re-affirm for myself, and my guess it will resonate with you as well. For anyone wondering about the point of making art in these mad, dark, challenging (to say the least) times, I hope these words help.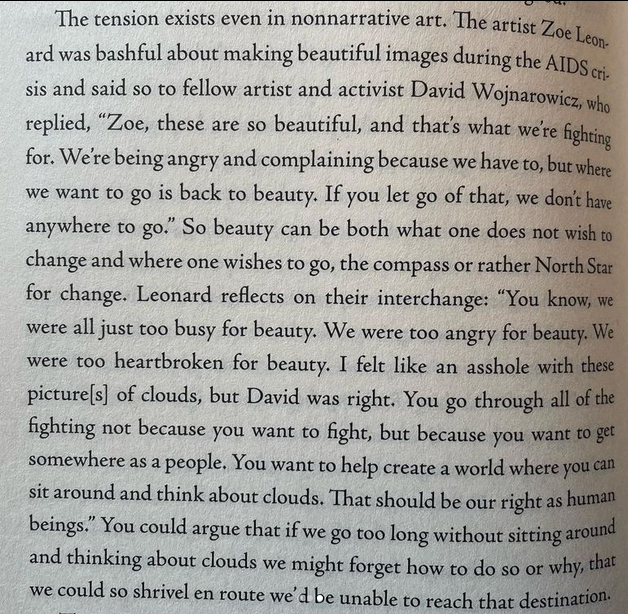 As always, feel free to leave a comment below to share your thoughts, or email me at namitayoga@gmail.com. You can also connect with me on that old demon Instagram, my handle is @radicallyeverafter, if you'd like to find me there. Stay creative 🙂