Bodoland, India – A Land Untouched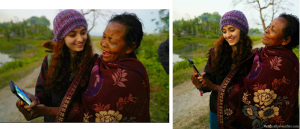 Not a cellphone ad, despite all appearances 
On our walk with the elephants through a Bodo village this woman stepped out of her home and made an announcement in Assamese, her hands gesturing all over to drive home the point. Not knowing a word of Assamese, I thought she was trying to shoo us away (these damn tourists) but luckily we had an Assamese Youtuber @alfred_basumatary among us. He said she was demanding that we take her photos and of course we gladly obliged when she broke into a song and dance the next minute. Here she's admiring her own moves as she watches herself on my phone. Gotta love the glee 🤩 Thank you for capturing these moments @worthashott and thank you @bodoland.ambassadors for planning this trip in a way that left enough room for the unplanned.
2019 began with this out-of-the-blue trip to a place I'd never heard of with a group I knew nothing of. An assortment of apprehensions raised their hands but they could hardly keep up with the string of interesting experiences this trip brought. In no particular order: Meeting hardcore poachers-turned-conservationists, hopping over the borders into Bhutan, the vibrant Dwijing festival by the River Aie, a 7-hour jeep safari in Manas National Park that involved a close call with an angry elephant, visiting a Bodo village home, drinking unending cups of lal cha (red tea) and rice beer, watching the making of said rice beer while digging into the local staple of rice cakes called Pitha, and getting to know my 11 fellow travellers. Bodoland Ambassadors did a great job organizing and planning the trip in a way that left enough room for the unplanned.
What/where is Bodoland?
Bodoland is an autonomous territory in the extreme north of the Brahmaputra river's north bank, within the state of Assam and north-east region of India. It skirts the foothills of Bhutan and Arunachal Pradesh. The main languages spoken here are Bodo and Assamese. The nearest airport is in Guwahati, Assam. 
What can you expect?
Life lived at a human pace, for starters. Predominantly inhabited by the indigenous Bodo people, this is one of those lesser known off-the-tourist-circuit places where you're far more likely to run into a dozen impromptu adventures than plan one and see it through. 
Where the words "cultural immersion" feel redundant because culture is intrinsic to all aspects of life here. Even with modern day conveniences such as electricity, plumbing and cellphones in the typical Bodo village home we visited, the people have an unmistakable sense of being rooted to their land, their traditions, and the ways of life passed down to them from their ancestors. A lot of travel today can seem stripped of its mystery due to over-exposure of every last detail on the internet, so if you like that thrill of the unknown and the joy of discovery without any online spoilers – this is just the place for you. Just make sure you respect the place enough to leave it as undisturbed and clean as you found it.
Best Time to Visit Bodoland
The Dwijing River Festival celebrated for 12 days (Dec – Jan) is a great event to plan your trip around. We spent about 3 days at this festival, mostly the evenings and nights – getting lost and found a dozen times in the chaos. Grab a gazebo by the river around dinner time and blend in with the ambience. 
Everyone here seemed to be on the verge of breaking into a song and dance at any moment – if they weren't already singing/dancing/both, that is. Dwi meaning river and jing meaning bank, this is the annual riverbank festival that is celebrated in Assam's Chirang district near Bongaigaon, on the banks of River Aie and along Hagrama bridge.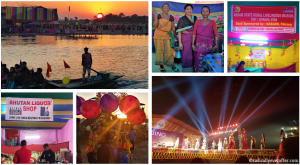 Organized by Bodoland Tourism and Assam Tourism, it is a colourful display of ethnic traditions with several musicians, dancers and singers of all ages performing every evening/night. Adventure sports on the river, food stalls bustling with various cuisines, and artisans selling  handicrafts make it a well-rounded representation of Bodo culture.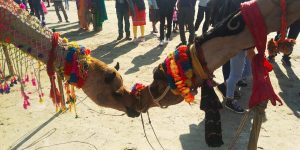 Camels these days (Photo Credit: K.A. Shaji)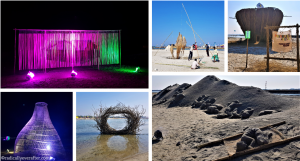 A large section of the festival was dedicated to art installations made by local artists using local materials. Titled Blurred Perimeters, this was curated by Wahida Ahmed. One of the installations called The Weathering House depicted the transience of the homes made along the riverbank, as the floods wash them away every year. The river changes its course every year, adding to the uncertainty of the locals who live on little more than hope and acceptance. 
Bodo Village Homes
We were hosted by a Bodo family one afternoon to give us a peek into the everyday Bodo life. The homes here are built in a rectangular arrangement, the rooms in all 4 directions pointing to an open space in the center where children play. On the afternoon we visited, we were treated to more local delicacies than we could pronounce, let alone eat. Even as a vegetarian I had a good deal to choose from and could barely do justice to the preparation. It's a well-worn myth that vegetarians cannot get by in these parts. As I mentioned in my earlier post about Majuli, as long as one isn't a diva about it, a vegetarian/vegan can get by just fine in Bodoland. The greens, rice and lentils will keep you alive and well, and there's always freshly brewed rice beer to wash it down 😉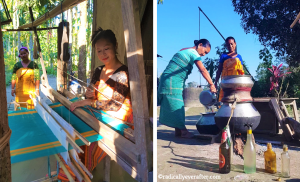 Bodo women showing us their skills and self-sufficiency. Weaving textiles and making rice beer in their homes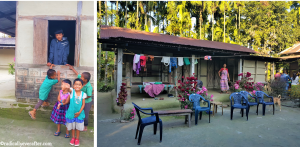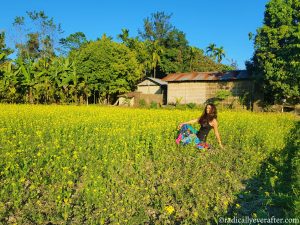 Many of these homes have mustard fields as backyards. Something I'll always envy
Manas National Park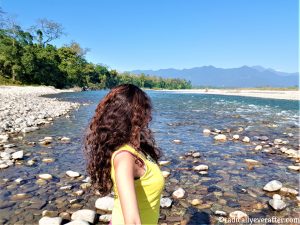 A national park, UNESCO Natural World Heritage site, a Project Tiger reserve, an elephant reserve and a biosphere reserve – A bit of a multi-tasker this one. River Manas flows into the park from the hills of Bhutan, bringing glacial water from the Eastern Himalayas and splitting into two streams.  The park extends into Bhutan where it is known as the Royal Manas National Park. Midway through a 7-hour jeep safari, the thick jungle canopies opened out into this exquisite view of the river.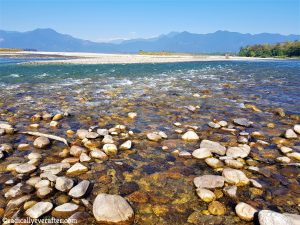 Smiling Tusker Elephant Camp
A great base for anyone exploring Manas National Park. Cottages and tents under the stars, in a rustic ambience with great food and the best lal cha (red tea). Gets pretty cold here in the nights so bring your thermals and bundle up around a bonfire.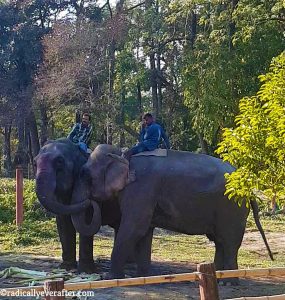 Meet Ratnamala & Jayamala, adopted by Smiling Tusker Elephant Camp. The camp is dedicated to taking care of them and giving guests an off-grid peek into life in the park. We had an unforgettable 2 days with these graceful beauties, bathing them in the lake nearby and walking with them through the tea estate and a village while they ripped off entire branches to munch on like French fries. To discourage people from riding the elephants, better ways of interacting with the elephants – such as bathing them and walking alongside them – are being encouraged at the camp.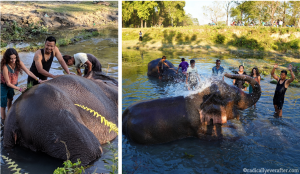 This was my fourth trip with a group I'd never met before and it always surprises me how soon strangers turn into friends and how well people can get along and share so many stories and laughs with. I'm glad bonding in the wild isn't only for elephants. 
Meet Poachers-turned-Conservationists at Manas Maozigendri Ecotourism Society (MMES)
Plot twists don't get a lot more earth-friendly than this. One of the richest biodiversity hotspots in India, Manas National Park was once a hub for poachers. Caught in the crossfire between the Bodo rebels and the state government, Manas became an easy target for poachers and the wildlife population began to dwindle at alarming levels. As is often the case, change began with a small group of locals who decided to take some action. The Chapaguri Koklabari Anchalik Committee was formed by Bodo youths to run awareness campaigns around the felling of trees and rampant poaching of wildlife in Manas. Despite initial resistance from the villagers, they managed to make a massive impact over the years. Several poachers gave up their weapons and began to work with this group. MMES was founded in December 2003 to further these efforts. Today the villagers on their own accord inform the forest guards when they suspect any poaching activity in their vicinity. We met some of these poachers-turned-protectors and spoke to them at length.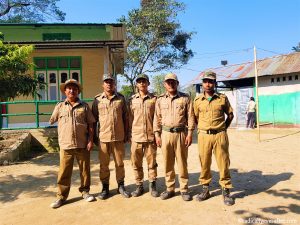 One of them is known to have killed 25 elephants in his heyday, having begun poaching at the age of 14. One of his many bloody encounters was with a wild boar, which cost him an arm. Today MMES runs 11 protection camps and several awareness campaigns in villages and educational institutions. None of the ex-poachers have reverted to their previous profession, and poaching is now almost entirely eradicated. Wildlife has grown and Manas is back to being one of the richest biodiversity hotspots in India. MMES also works with Manas Tiger Project. We left MMES inspired by the many stories of individual transformation that changed lives and re-directed the course of history, giving Manas and the locals a new lease of life.
MMES offers accommodation as well. The nearest airport is Guwahati (172 km away) and the location is Khamardwisa Lwkhibazar, Baksa, Bodoland, Assam. If you like your stays simple, earth-friendly and peppered with stories of wildlife encounters, this is just the place for you the next time you're exploring this part of the world.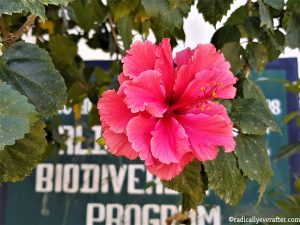 So I hope someday you will visit Bodoland and explore it at your own pace, and let all its unalloyed natural beauty inspire you to live in harmony with the natural world. In the words of Wendell Berry – Whether we and our politicians know it or not, Nature is party to all our deals and decisions, and she has more votes, a longer memory, and a sterner sense of justice than we do.
Let me know in the comments below if you have any questions/suggestions and connect with me on Instagram @radicallyeverafter for more updates on new adventures 🙂 Happy travels!
PIN THIS!