Majuli Island, Assam – Where Art is Worship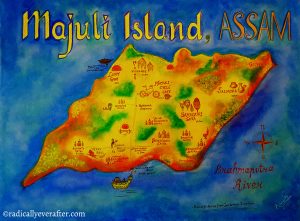 An illustrated map I made to help visitors orient themselves on this many-splendored island. Seemed fitting to pay an artistic tribute to such an artistic island. Distances mentioned are from Garamur Junction as the start point. Rented cycles from Majuli Cycle Cafe are a great way to explore the island and private vehicles can also be hired if you're not feeling too athletic. 
The world's largest river island, India's first island district and a place some say will dissolve into the river within the next twenty years – an intriguing reputation precedes Majuli. Set to become India's first carbon-neutral district, with the efforts of Majuli Tourism promoting carbon-free travel. What I loved discovering about it – apart from the many mustard fields – is the way its rich cultural history is steeped in creativity and woven into everyday life. Not relegated to a glorious past but kept alive in the hands and hearts of its people who delve into the richness of their cultural inheritance everyday. Reverence and creativity, art and devotion have never been separated here. And not having exploded on the tourist circuit (as yet), the unspoiled intrinsic character of the place shows up loud and clear. The shy-yet-friendly locals, men singing in unison as they build bridges across lakes, kids chasing and gathering piglets, bonfires outside homes on cold evenings, and cycles as a common mode of transport across the island.  
I began the year with a few days in Majuli after exploring the Bodoland region of Assam. Here are the highlights and nuggets from my jaunt around the island, which I hope will make you set foot here soon.
Not the sleepy town where nothing ever happens and not the crowded tourist hub where everything is overpriced. I like how the island is at that elusive midpoint between those two extremes right now, though one never knows how long that might last. It shows up often on lists of "disappearing destinations around the world" and yet is largely unknown to people in its own country. Majuli Sustainable Tourism Development Project is working to ensure that tourism here grows at a pace that respects nature and the needs of locals and visitors.
GETTING THERE
You know it's going to be an interesting ferry ride when the deck is open to everyone – human, animal and vehicle. And at 15 INR (0.20 USD) per human for a one hour ferry across the Brahmaputra river to a unique island, the journey feels like is a steal.

             The ferry tariff as listed on a board at Jorhat's Nimati Ghat. Noah's Ark would approve.
Once you get to Majuli, shared and private vehicles lined up at the ferry point Kamalabari Ghat will take you to your stay. As for "things to do" in Majuli, here are my best memories from my few days in Majuli:
MISING VILLAGE
   On an island such as this, you're always a stone's throw away from a impromptu cultural immersion. The non-packaged kind that is enjoyed with a generous serving of genuine human connection. Even my lunch plan turned into one when I least expected it.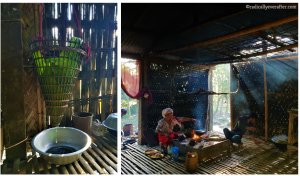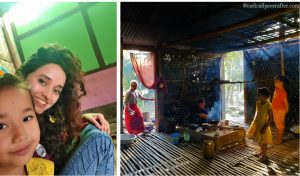 Inside a Mising village home
My hosts one afternoon were this family belonging to the Mising indigenous community which forms more than 40 per cent of Majuli's population. Said to be Indo-Mongolian in origin, the Misings are the largest indigenous community in northeast India. They make their houses out of bamboo and cane, elevated on stilts to protect from the flooding of the Brahmaputra river every year. These houses are called Chang Ghars here. Though their staple food is fish, they were kind enough to put together an exclusively vegetarian meal just for me that day. As long you're not expecting a long list of vegetarian delicacies to choose from i.e. you're not being a diva about it, vegetarians can get along just fine in this part of the country. The unpolished rice, good old lentils & greens will keep you alive and kicking 🙌 The cane funnel you see here is what they use to make their special black rice beer known as Apong. The warmth and kindness with which these locals make you feel part of their home has to be experienced to be believed. The nearest Mising village from Garamur Junction is 1.5 km away.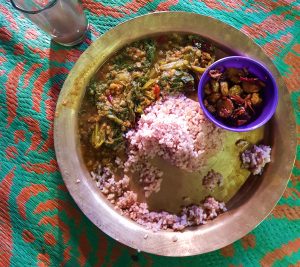 SATRAS OF MAJULI
Satras are religious and cultural institutions first established by Srimanta Sankardev, a 15th century social reformer and polymath, revered as the father of Assamese culture. Over the centuries, Satras have grown into treasure troves of cultural artifacts and creativity. There are about 900 Satras all over Assam and 22 in Majuli. 
THE MASK MAKERS IN SAMAGURI SATRA
Making masks is a 500-year-old tradition in Majuli. But the sass on display here can only be timeless.
At the Notan Samaguri Satra, visitors get to watch the craftsmen make and bring to life so many masks, transforming into mythological characters in the blink of an eye. Making masks is an artistic and spiritual expression here and they are used in Bhaona or traditional theatre, religious dance & drama. Known as Mukhas in Assamese, masks are revered as an integral part of Assamese culture. This art form has been honed for centuries here and it attracts Indian & foreign visitors interested in learning how to make masks. From my grandmother I had heard stories of the legendary Mohini way back but watching this guy bring this Mohini mask alive was just epic.
Masks are made using local materials such as bamboo, cane, cow dung, jute, potter's clay and muslin cloth. The great mask artist Hemchandra Goswami (seen seated in the video) teaches young local students and people from all over the world the art of mask making.
THE POTTERS OF SALMORA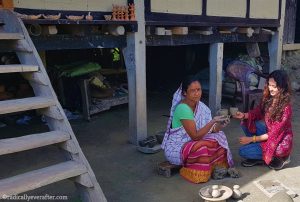 At Salmora, the part of Majuli known for its unique pottery without the potter's wheel. Using fingers, palms and even feet, the potters here shape clay from the river bank into earthenware. A traditional cottage industry, over 500 families depend on it for their livelihood. Pushpa Bhoya, the woman you see here, has been doing this since she was 17, for about 3 hours a day. Her dexterity with the clay has to be seen to be believed. My crafty hands couldn't resist digging into the clay to make a semblance of something useful out of it, but of course it's tougher than she made it look. A rather dubious looking tea cup emerged, just about usable. Salmora is a must-visit for anyone with an appreciation for creativity & traditional crafts. It begins about 22 km from the Garamur Junction. 
MAJULI CYCLE CAFE
Majuli's only cafe and your best bet for great coffee/tea and fresh meals with a view. It also multitasks as an art gallery, a library and a shop selling handicrafts made by locals. Ninety per cent of the product revenue goes to the weavers and artisans, ensuring that they are not exploited by middlemen. Cycles can be rented here for 200 INR (hardly 3 USD) a day. Less than a kilometre from the Garamur Junction, this bright sunny cafe with its orange cycles outside is hard to miss.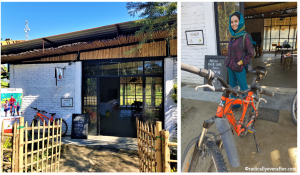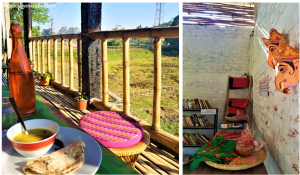 SUNSET AT LOHIT (or LUIT) GHAT)

The sun calls it a day rather early in these parts, so make sure you reach this place by 4 pm for great views all around.  My favorite sunset spot on the island, though you may well chance upon many just-as-magical sunset spots as you explore the island. The rattle of the bridge as bikes wheeled by, the calm waters, the men singing as they built more parts of the bridge, a mustard field at the end of the bridge, a few storks adding their stoic elegance to the scene – this has to be the most atmospheric sunset I've enjoyed in a long time.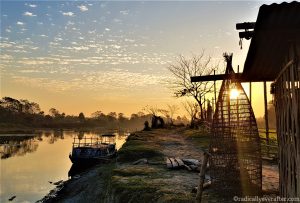 A traditional fishing net with its surprise catch of the day
MUSTARD FIELDS (not to be underrated)
I don't know about you but I can never tire of walking into yellow mustard fields and wondering how they're even real. Almost every journey in Majuli is punctuated by these yellows. So if you're as easily distracted by them as I am, you might want to plan your jaunts keeping them in mind. 
I met these beautiful young women on their way to a festival in their college which they said was called "College Day" and hence the traditional attire.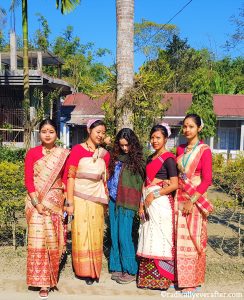 When you suddenly wonder if you're unzipped
A little later down the road, an entire procession of variously decked out men and women passed by. Some carrying climate change slogans, some with painted faces, and some wearing the kind of elaborate masks Majuli is known across the world for. I followed the procession into the gates, gatecrashing a college fest because that's responsible travelers do.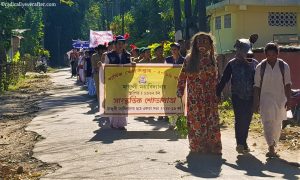 Some days you just wake up with a sense of occasion I suppose.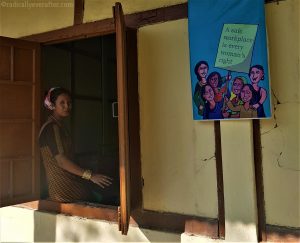 Looks like a painting, doesn't she?
BIRDS OF MAJULI 
Majuli is known a bird-watcher's paradise, its several winged locals living up to the cliché in colourful ways. Sakuli Beel and Verki Beel (marked in the map above) are great for bird-watching, and so is the Magoor Mari Beel in the northern part of the island, near the river.  The Greater racket-tailed Drongo and the Red Munia (illustrated in the map) are just two of many bird species seen in Majuli.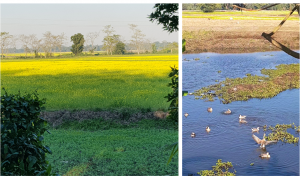 HOW TO GET TO MAJULI
Jorhat is the nearest town to hop on a ferry to Majuli. After a 7-hour bus ride from Guwahati, I stayed at a simple hotel called Hotel Dilip (great food and greater lal cha or red tea you don't want to miss out on) for the night. A ride to the ferry point Nimati Ghat cost me INR 300 the next morning. On the return leg of my journey, I caught a direct flight from Jorhat to Bangalore. Jorhat airport being well-connected to major cities makes Majuli a flight and a ferry away. 
ACCOMMODATION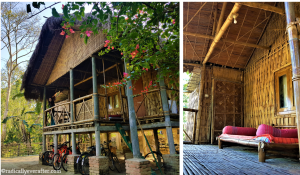 La Maison de Ananda
La Maison de Ananda (House of Joy) cottages cost INR 1500 (USD 20) a night and the Risong Family Lodges cost INR 600 (USD 8) a night. Built of bamboo and cane, these houses on stilts are a nod to the Chang Ghars or floating homes of the Mising villages. These stays come with attached bathrooms and basic electricity. A bucket of hot water is given on request, making up for the lack of a geyser. Right across the cottage pictured above, there is also a concrete room (with a geyser in its attached bathroom) if you'd like to avoid the cold seeping in through the bamboo floors and walls. That will cost you INR 1500 a night.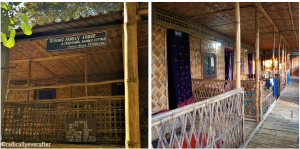 Risong Family Lodges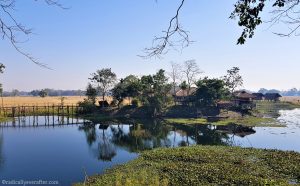 Ygdrasill Bamboo Cottage
Another great stay option is Ygdrasill Bamboo Cottage on NLK Road, Kerela Gaon. Paddy fields nearby and a natural pond make it a picturesque setting. 
So there you have it. Hope you enjoyed this little peek into this one-of-a-kind island. If you have any questions/suggestions, feel free to leave them in the comments below!
PIN THIS!