10 Days in Barcelona – Places I Loved
One of Europe's most visited cities, Barcelona got its name from the Romans who named it Iulia Augusta Faventia Paterna Barcino. The name evolved to Barcinona in the Middle Ages and later to the current Barcelona. To break it down, 'cel' is Catalan for sky and 'ona' means wave. And well – bar – of course 🙂 
A few months ago I spent 6 weeks in peak Spanish summer which several sane people advised me to avoid, but I had an event to attend and a great flight deal to nab (INR 32k return from Bangalore or USD 450). The first 10 days were spent in Barcelona, where I stayed with a local friend and his roommate. What drew me here was my role as an official blogger for the Barcelona Yoga Conference, a 5-day annual event that draws visitors from all over and had me looking forward to it for years. Day 1 of the conference turned out to be a solid leg day even before it officially began. A steep and hilly part of the city and my public transport skills being far from stellar those first few days meant my calves were threatening to quit on me by the time I found the venue.
In the days preceding the event, I was on a mission to tick off as many of my shortlisted touristy Barcelona sights (16 in all!) as I could and yet somehow get a feel of the place and enjoy the vibe of city in a relaxed manner – yes, quite the lofty goal. The latter bit was ensured by my local host and friend who showed me the Barcelona he loved through his everyday life. The touristy ambitions turned out to be just as fun and not to be looked down on, as I've realized the most "touristy" thing is deliberately trying to avoid "being touristy", skipping a city's most loved attractions in the process. Like one of my friends said, touristy spots are often touristy for good reason. It's human nature to collectively marvel at great beauty and awe-inspiring creations. 
As is the case with most popular destinations, I'd been warned about pickpockets in Barcelona several times. Fortunately I didn't get pickpocketed or scammed at any point. A cross-body handbag worn in front is highly recommendable. 
STAY
I stayed in the beautiful neighbourhood Gracia with my friend Pablo, a Barcelona local I met in Rajpur (a village near Dehradun, India) at a Yoga course 4 years ago. He happens to be a Yoga teacher, a tabla player and a great host, along with his friend Julia who surprised me with her diligent Sanskrit notes. Between his tabla skills and her Sanskrit proficiency (she's been studying Sanskrit for 3 years now), they had me feeling like the least "Indian" person in the apartment.
Gracia was once a Catalan town on the fringes of the city. A past hard to picture when you walk through its leafy streets teeming with bars and restaurants, especially near Calle Verdi and around Plaza del Sol, filled by the area's student population.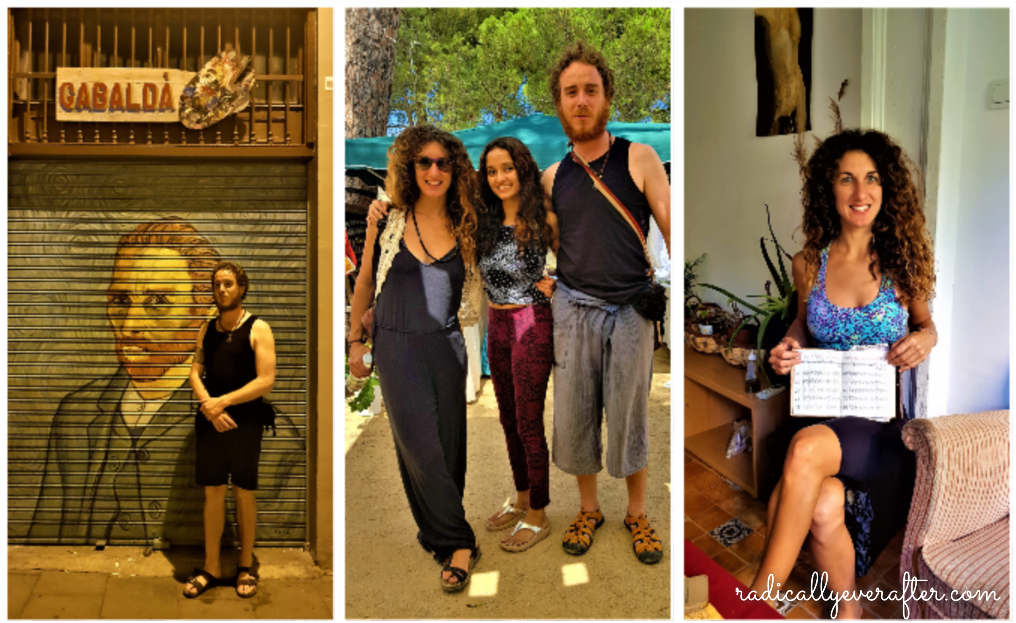 Pablo with his uncanny resemblance to Van Gogh and Julia with her Sanskrit notes
TRANSPORT
From the airport, the Aerobus is a 5 EUR ride to Plaza Catalunya in the middle of the city, from where you could take the metro or buses to various parts of Barcelona. An 8 EUR cab ride from here took me to Gracia. 
The metro and the T10 pass (gives you 10 rides for 10 EUR, including bus and train rides) are your best friends when in Barcelona. I decided against getting the popular Barcelona Pass as it included places I wasn't interested in and that was a decision that worked well for me. I prefer buses as I get to see the place, but if speed is more important to you the train is a better choice. 
On my first day out, I enjoyed a free walking tour by Sandeman. I love the open-air-classroom vibe of walking tours and more so when they're free 🙂 Of course one is expected to tip at the end of the tour, as one sees fit. I found the Sandeman tours to be rather fun and informative. These can be booked in advance on the Sandeman website. 
THINGS TO DO IN BARCELONA
It's impossible to squeeze (or even choose) the best of Barcelona into one blogpost so here are the places I loved the most, with links to some guided tours I really enjoyed and learned a lot from. To make the most of this beautiful city, this list is a great start. I booked all of these tours beforehand as I was visiting in peak season and with a city like Barcelona, it makes sense to not leave it up to chance and inevitable long lines.
Casa Battlo

 
A house like no other, packed with symbols, details and an imagination that would never take 'no' for an answer. Finished in 1907, this is one of Gaudi's most imaginative masterpieces and a remodel of an existing building to house the middle-class Battlo family. The early access tickets (8.30 a.m.) to skip the crowds are totally worth the extra Euros. The audio-video guide was full of interesting anecdotes and details, making Gaudi's creative process come alive. In Salvador Dali's words – "Gaudí drew inspiration for the house from the shapes of the sea, representing waves on a calm day. A true sculpture of the reflection of the twilight clouds on the water, from which shapes of extensive water emerge, shapes of water that stretches out, shapes of still water, shapes of shimmering water and shapes of water ripples caused by the wind."
Find out more about Casa Battlo and book your tour here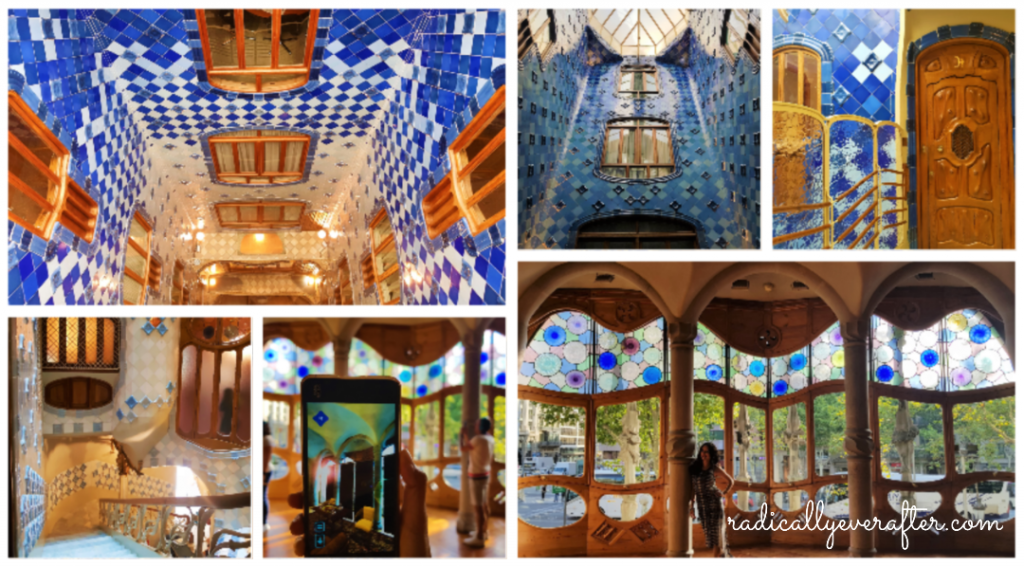 2. Los Bunkers del Carmel 
For unbeatable panoramic views of the city, to be enjoyed on warm leisurely evenings with a bottle (or two) of great wine. Bit of a long uphill walk after the bus ride, but so worth it. The relaxed vibe of the place with locals chatting and playing music – mostly youngsters and the young-at-heart – make it a great spot to while away an evening.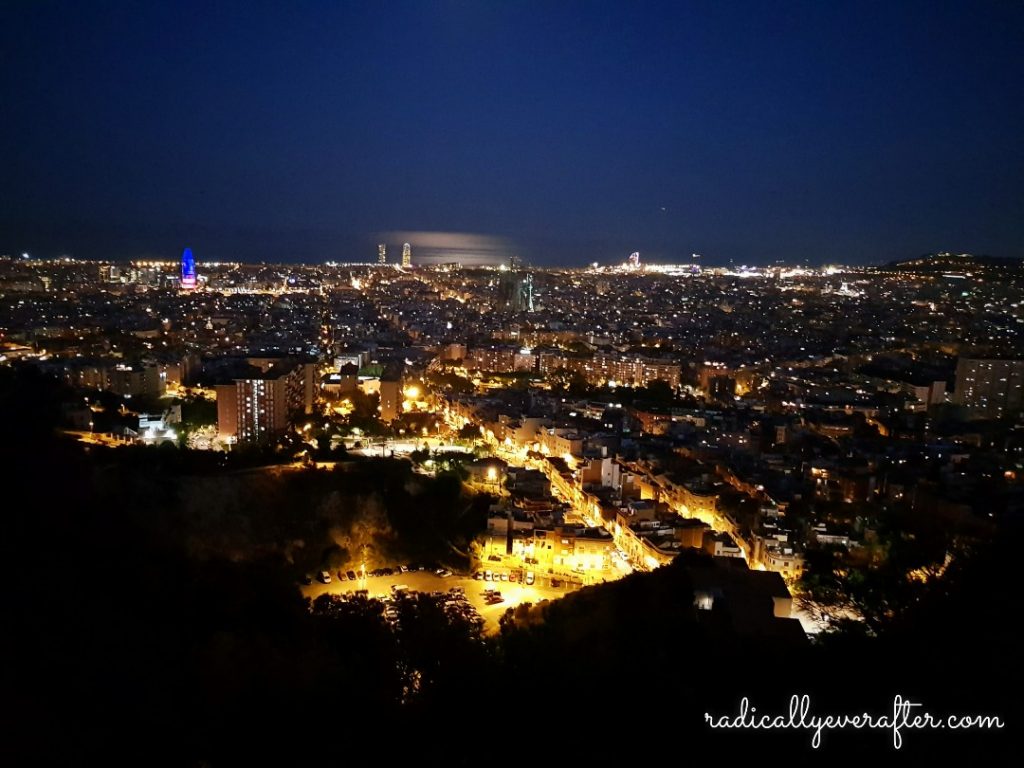 And because this place can be tricky to find, here are the directions:
Take the Metro line L4 (yellow) to station Alfons X. From Alfons X, take the exit Ronda del Guinardo. Outside the exit, cross the street in front of you and turn left as you go uphill. Keep walking uphill and you'll get there. For those with GPS, it's near Carrer de Marià Lavèrnia, 08032 Barcelona.
3. Gothic Quarter 
The oldest part of Barcelona, this is in the heart of the old city and is one of the most charming parts of the city. Several little bars, boutiques, restaurants in these Gothic buildings. For unstoppable nightlife and a vast variety of food, look no further. One of my favorite parts of the city was a charming little square called Plaça de Sant Felip Neri, named after the patron saint of joy and laughter. It features in this music video by Evanescence and also in the movie Vicky Cristina Barcelona. Find out more about the Gothic Quarter and book your tour here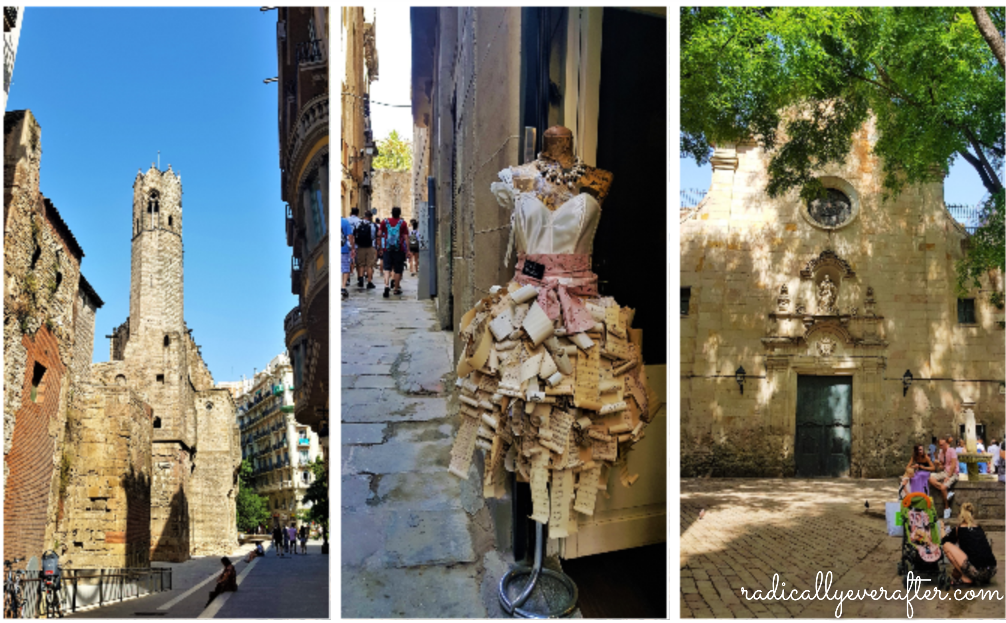 4. La Sagrada Familia 
Gaudi meant what he said when he defined architecture as "the ordering of light". Inside the famously unfinished La Sagrada Familia, the way the sun streams through the intricate art on stained glass has be seen to be believed. I was glad I'd booked the 4 pm slot because that's when the sun really does its magic through the stained glass. The first brick of this architectural marvel was laid in 1882 and it is hoped that the construction will be completed in 2026. As someone said, all the best things are always a work in progress.
When asked about the inordinate delay in building this masterpiece, Gaudi is reported to have said, pointing to the sky, 'my client is in no hurry'. Can't argue with that I suppose, and I bet his 'client' is pretty damn impressed by now 🤗
Find out more and book your tour to La Sagrada Familia here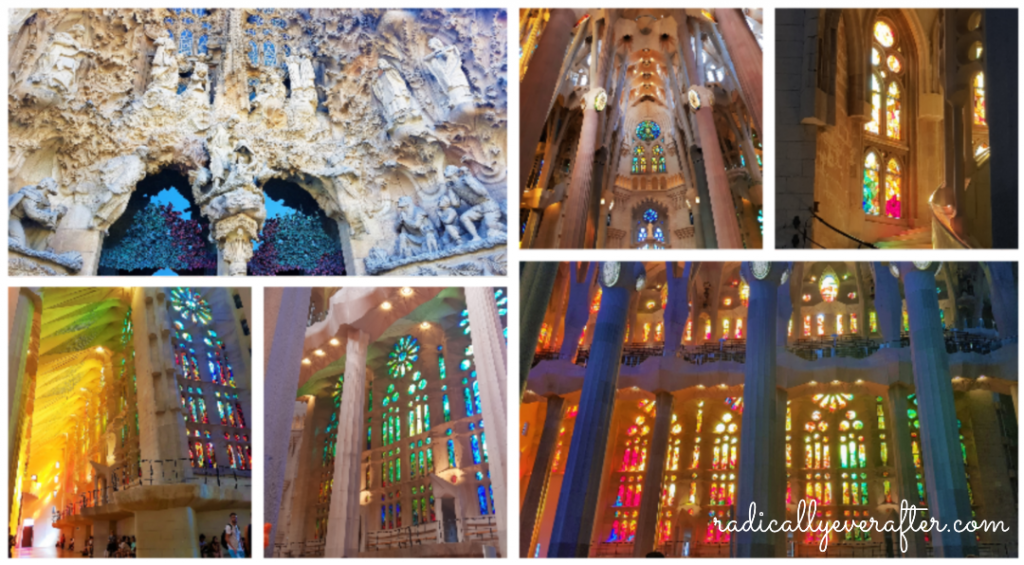 5. Palau de La Musica 
Quite the extraordinary concert hall built over a century ago, the Palau de la Musica is not to be missed. What makes it unique apart from all the endless ornamentation is the abundance of natural light. A symphony of sculpture, mosaic, wrought iron and stained glass that is sure to move you the moment you walk in. 
Find out more about Palau de la Musica and book your tour here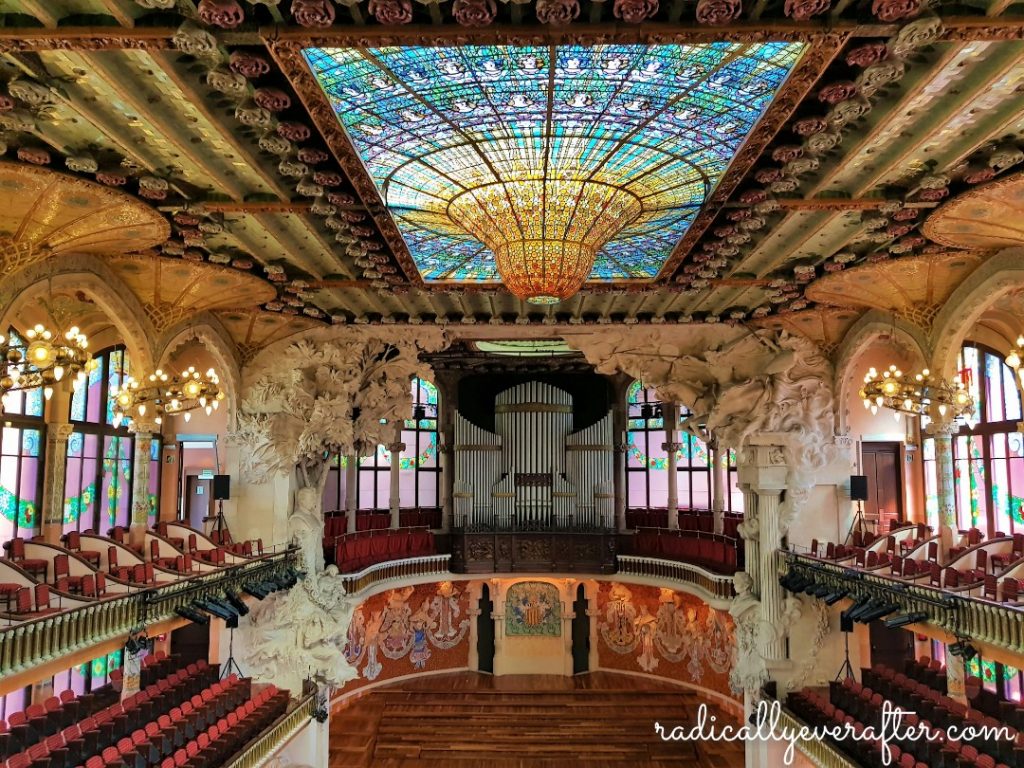 6. Casa Mila (La Pedrera or The Quarry)
At the corner of Passeig de Gràcia and Provença street, this is also known as La Pedrera (the quarry) because of the wavy facade of the building. I loved the audio guide in this monument of Catalan modernism. The way it walks you through Gaudi's creative mind and gives you a peek into the audacity of his imagination. To Gaudi, originality meant returning to the origin, which is nature. In his words, nature is the great open book that everyone must read. He believed in making his buildings out of materials that were – like nature – long-lasting, reliable and economical. Functionality of form, quality of material and the concept of sustainability were central to his architecture.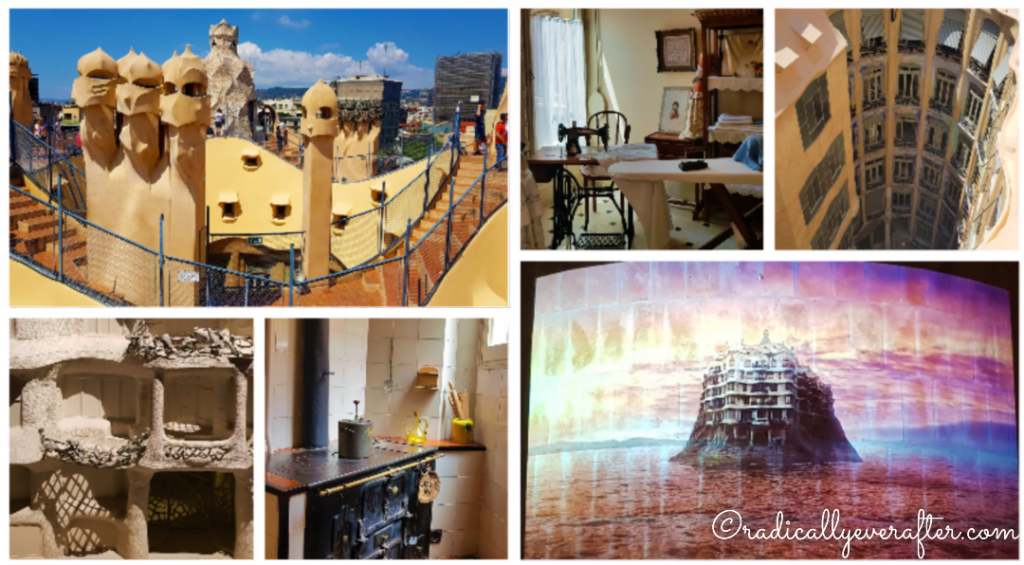 For skip-the-line tickets with an audio guide at the Casa Mila, book your tickets here
For skip-the-line tickets and a night show on the rooftop of the Casa Mila, book your tickets here
7. Parque de la Ciutadella (Citadel Park) 
Seventy acres of green in the middle of the city make this a great picnic spot. After a long leisurely walk passing by several orange trees and locals relaxing on the grass, I was pleasantly surprised by the grandeur of the waterfall and lake in the northern corner of the park. Set aside at least one afternoon for this beautiful park.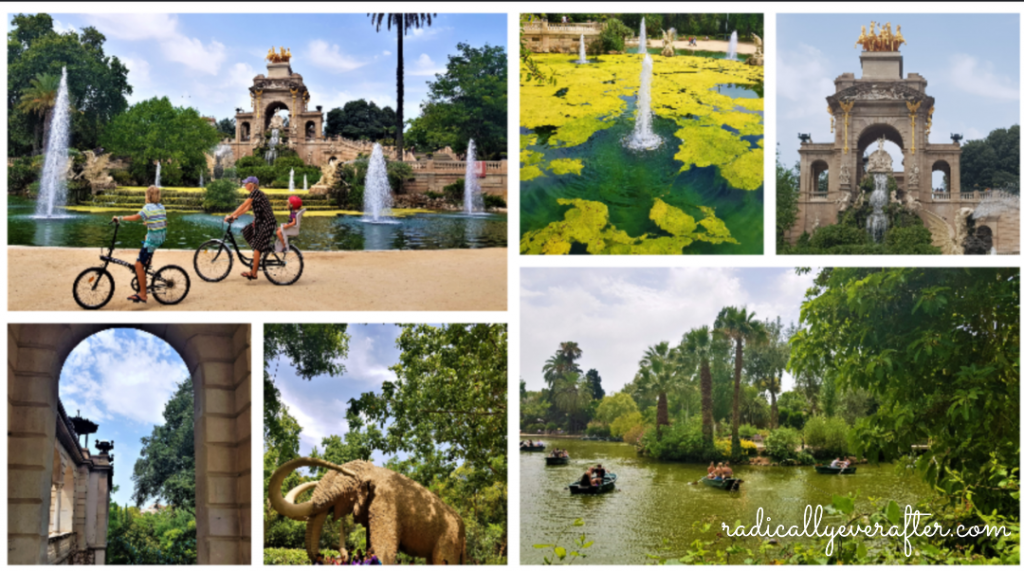 8. Parc Guell 
An urban forest that exhibits at every turn Gaudi's talent for weaving natural elements into his architectural designs. He even used broken tiles and pieces of coloured glass – waste material from demolished buildings – in the construction of this iconic park. To skip the line and enjoy a guided tour of Parc Guell, book your tickets here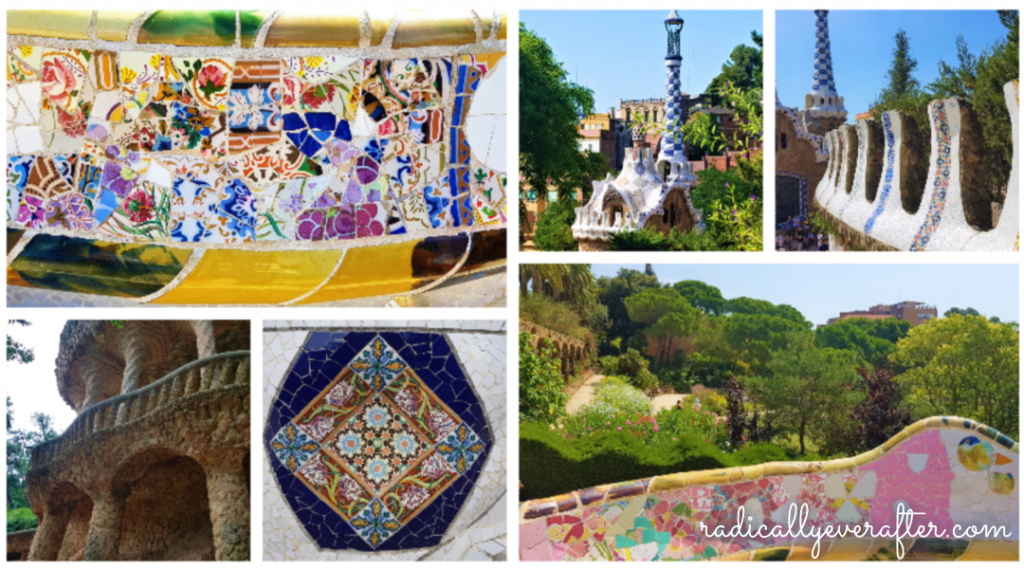 9. El Raval 
A vibrant multicultural part of the city, with an alternative vibe. True to its gritty ghetto reputation, we had the honour of witnessing a street fight break out in front of us the night we were here for dinner. Some of Barcelona's best museums are in Raval and the area is also known for a lively nightlife. Among all of Barcelona's central neighbourhoods, this one is the least expensive. For an entertaining and informative walking tour of Raval, book your tickets here.
And if you'd like to deep-dive into this interesting and unique neighbourhood, book a 3-hour walking tour here. 
10. Camp Nou
The largest stadium in Europe. Hardcore football fans will predictably love this, but for the rest of us it's a bit of a hit-and-miss. For an immersive experience of Camp Nou, book your tickets here
11. Montjuic fountain
Great to visit at night, though I missed out on that. The Montjuic castle is free to visit on Sundays after 3 pm. The cable car ride makes for an interesting way to take in the views. 
Find out more about Montjuic and book your cablecar return tickets here
12. La Rambla
Once a riverbed, this is Barcelona's most famous boulevard. Expect to run into massive crowds – and professional pickpockets and scam artists – at this tree-lined pedestrian street. Stretching for over a kilometre, it has the Gothic Quarter at one end and Raval at the other end. As someone who loves exploring on foot, I love places where pedestrians rule but the crowds here left hardly any room to walk in the peak of summer.
13. Santa Maria del Mar 
A church in the Ribera district of Barcelona, Spain, built between 1329 and 1383. As far as church constructions go, this one was built in a short span – 54 years. Tours can be booked at the entrance for about 8 Euros. After a short overview of its history, the tour moves from the nave to the rooftop where one learns of more interesting facets in the life of this beauty. From the way it survived an earthquake and a fire, and how its construction was funded by locals, this church is rich in architecture and anecdote. 
14. Sant Pau Hospital
I'd never imagined a hospital's architecture could be teeming with so many thoughtful, colourful details and imaginative flourishes, but then one cannot expect anything less from Gaudi. Underground passages that go on for more than a kilometre connect the buildings together, to serve the purpose of quick communication and distribution of food and clothes. In true Gaudi fashion, detail after thoughtful detail present themselves as you walk around the various parts of this sprawling hospital. Making it a place that seems deliberately conducive to healing.
15. Poble Espanol
 The Spanish village at the foot of Montjuic, an open-air museum that depicts rural Spain, with 117 buildings in all. I was apprehensive about how commercial and over-touristed this place might turn out to be, but it surprised me. It does have a way of taking you to another era, even with the shops every few steps. 
16. Beach Please
Beaches are a special point of pride for Barcelona and the Mediterranean climate makes memorable beach days inevitable.
Bogatell Beach – located Between Nova Icària Beach and Mar Bella Beach, this is considered the safest beach in Barcelona. The nineties witnessed the renovation of Barcelona's seafront in preparation for the 1992 Olympic Games, making Bogatell beach the favorite of locals.
Another favorite is Barceloneta Beach, which also happens to be one of the oldest neighbourhoods in the city. And at any point if clothes turn into too much of a bother, head to the nudist beach Mar Bella at the end of Rambla Poblenou.
17. A slice-of-heaven spa experience (at earthly prices)
To unwind after all that running around, you'll thank yourself for walking into Heaven Massage & Holistic Therapies. I had the great fortune of meeting the lovely and talented owner Carrie at the Barcelona Yoga Conference. She had a stall with a massage chair, on which I had a preview of her exceptional massage skills and kind spirit. Carrie runs the Heaven Spa in a couple of studios in the city, one in Gracia and another near Palau de la Musica. Between all the running around that Barcelona entails, I fully recommend a stop at her spa for some recharging.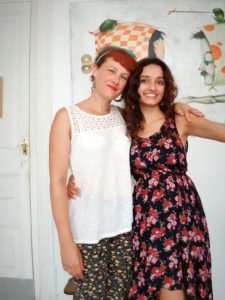 With the lovely Carrie at Heaven Spa, Barcelona 
So that was a super short summary of my 10 days in Barcelona, as impossible as it was to sum up. Ten days seemed like a really short visit for a city as full of secrets and surprises as Barcelona, so here's hoping for a longer trip some day. If you have more ideas or suggestions for this vibrant city, let me know in the comments! 
P.S. This post includes affiliate links which earn me a small commission at no extra cost to you. These links are for tours that I purchased during my trip and loved. 
Connect with me on Instagram @radicallyeverafter for updates on my everyday shenanigans and more travel inspiration 🙂 
PIN IT !!