Farmwork at Sholai School, Kodaikanal

        Some adamantly bizarre bugs I met on the organic farms at Sholai School 
Be a bug in the grass – probably the best instruction I've ever heard from a Yoga teacher. Said in the middle of Child's Pose, it has a way of taking one right into the feeling of the Asana. Nestling into a warm intersection of surrender, humility and acceptance while a mad world spins on. Taking all of one's being, folding it down to a small bundle and staying present with all the quiet significance of that smallness. Discovering power in the pause. At home in the wild, like a bug in the grass. 
And if the 'wild' happens to be a whole family of cheerful patches of peppermint, parsley, carrots, radish, broccoli, cauliflower, coriander, pineapples and everything-in-between – on the lush Palani hills of Kodaikanal – you're probably on the organic farms of Sholai School – Centre for Learning Organic Agriculture and Appropriate Technology. I doubt the bugs here know – or care – that they have a sartorial flamboyance that would shame fashion weeks around the world. Emboldened by the lack of pesticides, they show up in bizarre designs and details on the tiniest of bodies.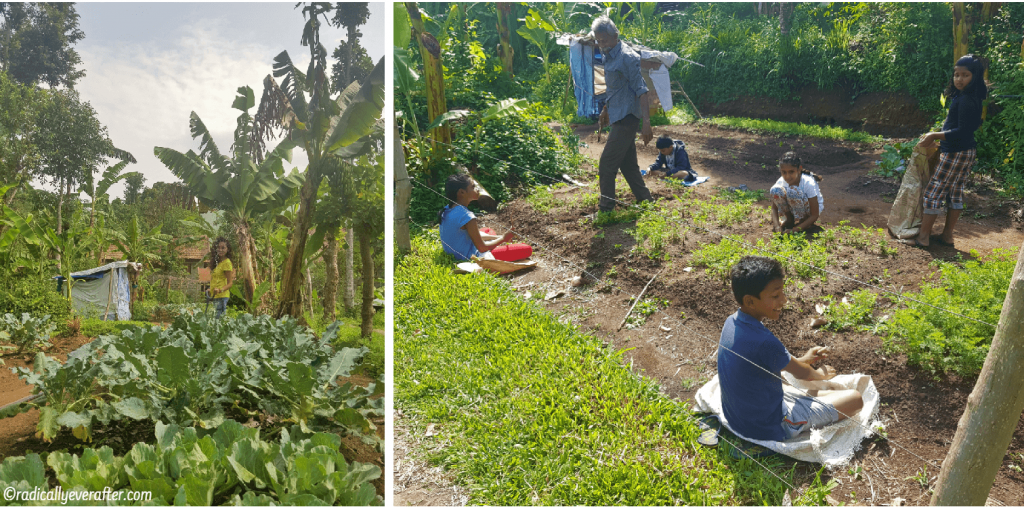 Farming class in progress – Maadasami, our gardener-in-chief teaching kids – and me – some basics of farming
The Analog Joys of Being a Human in the Mud 
For larger, messier, technology-dependant life forms (such as me) tickled by the idea of getting their hands in the mud, volunteering on an organic farm is a possibility that suggests itself loud and green. You know the feeling when years of mad urban hustle make you crave a physical sense of grounding? On actual mud-and-dirt ground, not polished Yoga studio floors that you drive through traffic to. When the analog joys of being an actual human in the mud call out like a thousand cicadas, until one day your morning alarm is actual live and bonkers cicada-meets-birdsong at 5.45 a.m. instead of an overworked smartphone. Not the docile chirpy kind that a city-dweller might imagine – but birdsong gone berserk. Because birds in the wild – in the wee hours – have a whole lot to say and they do NOT hold back. If you thought twitter was crazy, wait till you hear the original tweeters kick off their morning chat.
      Chikkoo House – Worth the little hike up the hill. Loved the jungle vibe up here with the really loud background score by cicadas   
And that's how my days began in Chikkoo House – a small white "building" up on a hill inside the forest and the school premises. Three adjacent rooms for two teachers and me. A shared kitchen, a common bathroom, a generous jackfruit tree, 3 cats for company and an I-got-here-first spider marking her territory on clothes I'd hung out to dry overnight. The tree-loving minimalist in you will rejoice at the simplicity of the living arrangements here. But if you need a whole array of standard urban trappings – consistent cellphone reception, internet (ha!), laptop charging points, running hot water, nearby ATM's, hair dryers (you diva), safety vaults, a total absence of spiders (good luck with that) and the like – this may be too much of an acquired taste for you to acquire on a busy 2-week volunteering trip.  
What Makes Sholai Unique
The Sholai community of around 120 people runs on renewable energy generated by 89 Solar Photo-Voltaic electric panels, a micro hydro-electric plant, 8 bio-gas plants & tons of human enthusiasm. Two weeks of volunteering here introduced me to many amazing humans – big & small – doing incredible work. And a variety of animals, birds & bugs to watch out for and cross paths with everyday. The school hires locals from the three neighboring villages as workers on the farms and kitchen. Being self-sufficient by generating clean energy to meet all its energy needs, Sholai is not connected to the grid.
A lot of waste segregation is done in a dedicated Recycling Room. Soft plastic is used in the laying of roads within the school. Wet biodegradable waste is fed to the bio-gas plants or sent to the vermicompost unit to turn into organic fertilizer for the farms. These are just some of the many ways this community exemplifies sustainable living. The school was founded by Brian Jenkins, a British social anthropologist, in 1989. In his words – The aim is to produce responsible citizens, who not only relish the fruits of the earth but also learn to preserve it in return.
Volunteering in Sholai School
The minimum volunteering period is 2 weeks. If you can't spare 2 weeks, you could stay as a paying visitor. The cost is INR 800 per night (approx. 11 USD) for visitors. For this you'll have to write to contact@sholaischool.in.
Work shifts are 9 a.m. to 1 p.m. & 2 p.m. to 4 p.m.with a tea break at 11 a.m. With Sundays off 🙂 Great for exploring some waterfalls and villages nearby. 
Stay & food: The stay is basic and the food is great – fresh from the earth beneath your feet. Both complimentary for volunteers.
The website has a volunteer application form for those interested, or you could also write in through Workaway.
Volunteer work involves helping in the kitchen and on the farms. I met two really fun fellow volunteers (Virag & Leonor) from Hungary and Portugal when I visited, and between the 3 of us we rotated our farm and kitchen shifts everyday. The days flew by but we squeezed in some Yoga, walks to the nearby village of Ganeshpur and a lot of interesting conversations with so many young minds.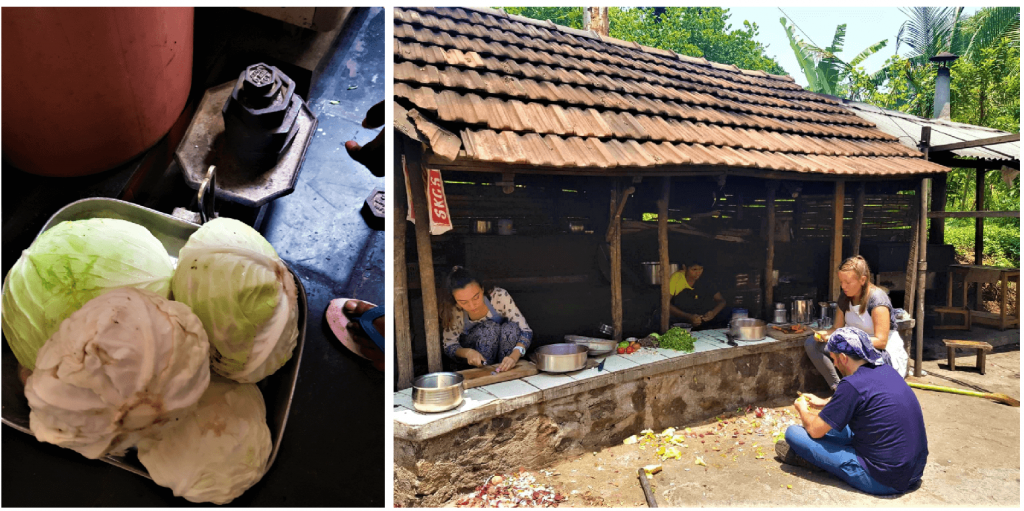 Leonor from Portugal & Virag from Hungary volunteering in the kitchen where farm-to-table meals are made everyday
Kitchen work was mostly chopping vegetables, rolling chapatis and everyday errands. I chopped more veggies every other morning than I've eaten all my life 😀 One does grow quite fond of and fluent with the knife as the hours add up. Deepens your acquaintance with a variety of local vegetables and the odd caterpillar inside a bean. While munching on some of these veggies as you chop (one needs to refuel), you might even pick up some Tamil amid all the banter between the locals working in the kitchen.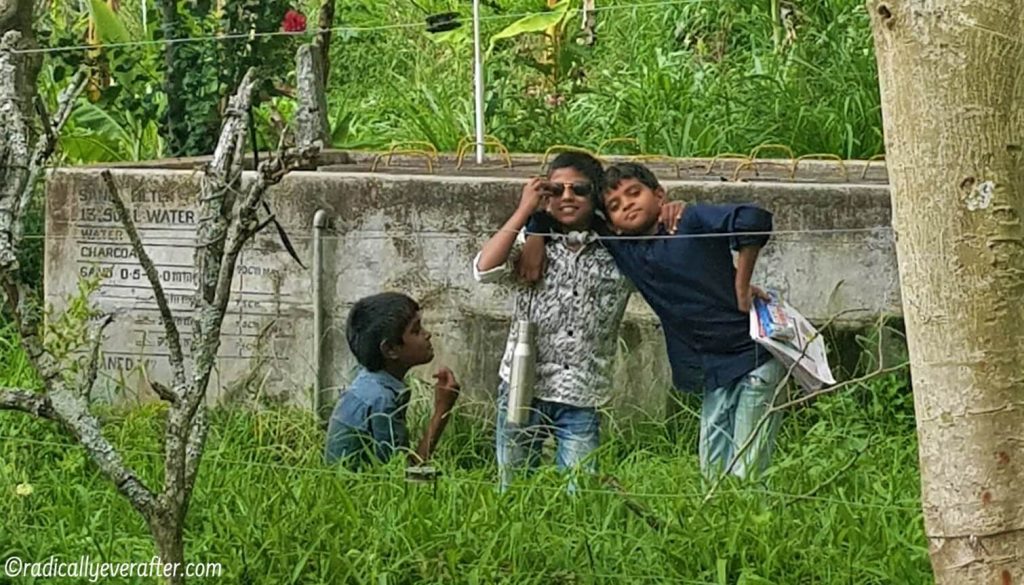 Farmwork interrupted by some local studs
Working on the Organic Farms at Sholai
Farmwork was quite the hands-on introductory lesson in growing vegetables and the various tasks and attention to detail that go into it. One of the school's in-house gardeners – Maadasami – was our teacher/supervisor/guide here and we couldn't have asked for a more unassuming human. He brings his decades of farming experience to these plants everyday – and has to deal with excited urban newbies like me trying to learn a thing or two about growing food while squealing at giant frogs and bugs. I knew in theory that farming is heavy duty hard work and toil, but even just a few hours of this everyday for 2 weeks has given me a whole new level of respect for farmers. And what an important job growing food is.
The easiest and most fun task of course is watering the plants, which we did on alternate days inside the greenhouse and on the farms. Preparing the soil for seeding is the tough part – though there's a primal kick to be savored in getting to wield an axe and a rake under a hot midday sun, hacking away at the soil until it looks ready for the seeds. Thank god – and Maadasami – for the adult supervision. Laying the compost after turning the soil, pulling out weeds, laying the seeds in neat rows were some of the other tasks. Somehow no two days on the farm were alike. New surprises everyday – just as you'd expect from nature.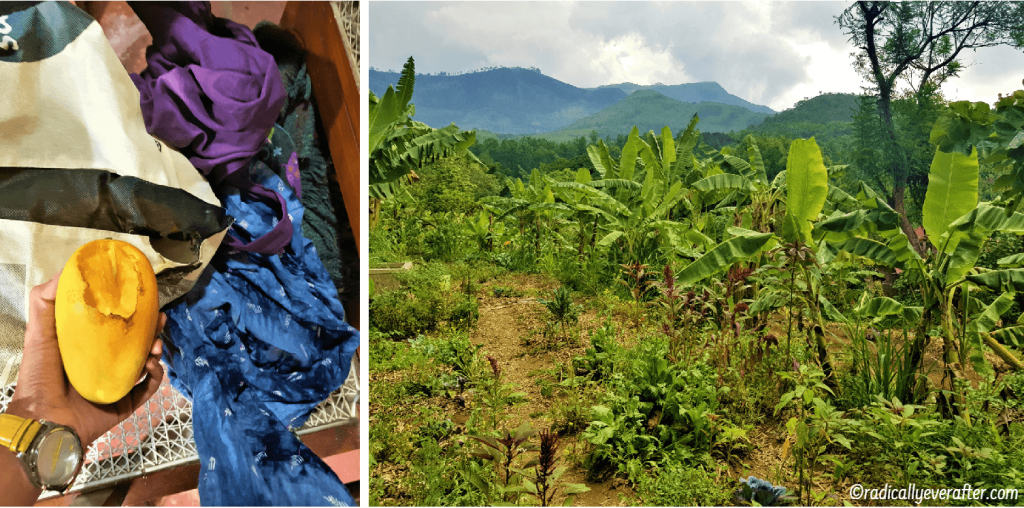 The jungle vibe feels great until your mango gets attacked by some rodent. I take that very personally #IWillFindYou

       A visit to Ganeshpur between kitchen work and painting the gunny bags that Sholai coffee gets exported far & wide
Things you might want to pack, apart from usual travel essentials:
A headlamp/torch/flashlight: Smartphones double up as flashlights but a headlamp or hand-held flashlight serves the purpose better. The absolute lack of outdoor lighting leaves the place pitch dark after sunset, except for the many fireflies. Unless one is accustomed to moonlight as the only source of light, you'll be glad to have your own source of light here at night. I was told to be careful about elephants that could be walking in the football field – after crossing the bridge over the river that runs through the school. Quite the safety instruction for someone whose regular city life casts mosquitoes as the biggest menace. Speaking of which, I didn't encounter a single mosquito in my 2 weeks here. The lack of stagnant water might have something to do with it.
A light day backpack instead of any roll-on luggage: The school lives on a valley, which means way more cardio in a day than your local gym might push you through in a week. A light backpack is way easier to carry through the rocky and winding ups & downs here than any wheeled bags. I had to deal with rolling my bag up and down the mountain trails and rocky steps on my first and last day here. When will I ever learn :/
Hat: Kodai's weather is mostly pleasant but farmwork under a midday sun can exhaust you if you aren't prepared. A broad-rimmed sun hat is something you'll thank yourself for.
Refillable water bottle: A must on every trip to any part of the world, and there's plenty of fresh clean water to be refilled here in the Sholai valley. Sholai strives to be a plastic-free zone so it's good courtesy to avoid bringing/trashing any plastic here.
If a hands-on introduction to growing food while being part of a close-knit self-sufficient community made of several bright kids & adults doing incredible work in an off-grid alternative school in the hills sounds fun to you, this is precisely the place for you. 
I'm going to leave you with a quote I love from Animal, Vegetable, Miracle – the book that first sparked my curiosity about growing food, "experiencing mud", and recognizing ourselves as part of nature and not adversaries. 
"I don't know what rituals my kids will carry into adulthood, whether they'll grow up attached to homemade pizza on Friday nights, or the scent of peppers roasting over a fire, or what. I do know that flavors work their own ways under the skin, into the heart of longing. Where my kids are concerned I find myself hoping for the simplest things: that if someday they crave orchards where their kids can climb into the branches and steal apples, the world will have trees enough with arms to receive them." – Barbara Kingsolver in Animal, Vegetable, Miracle
Connect with me on Instagram @radicallyeverafter
Liked this post? PIN IT FOR LATER!