Flamenco in Granada – 9 Shows to Celebrate the Magic
Wondering where to catch the 'best' flamenco in Granada and what the many caves of Sacromonte offer? After 2 wholesome weeks in Granada – here's my guide for anyone looking for a flamenco experience as rich and layered as the city itself! 
Sacromonte – The Heart of Flamenco in Granada
Sacromonte (meaning Sacred Mountain) is where the Romani people first carved their hillside cave dwellings a few centuries ago. Many generations of famous flamenco performers have lived here. Making it the lively artistic quarter of Granada where nights overflow with the raw power of flamenco inside so many small hillside caves. 
The most popular form of flamenco here is the Zambra – from the Arabic 'Zamra' meaning a festivity accompanied by song, dance and music. Zambra is also defined as the artistic stylization of the old rituals of the Romani wedding.
Here's a great walking tour to take in the beauty of Sacromonte and Albayzin, with generous doses of history and humour. 
The History of Flamenco & the word 'Gypsy'
Not many know that the story of flamenco – traced all the way back – begins with Indian nomads (gitanos in Spanish). Yup, not making that up because I'm Indian. I'd heard this while interviewing the incredible Maria Juncal in Madrid, one of the world's most renowned flamenco dancers, and read about this in Granada's famous flamenco museum Centro de Interpretación del Sacromonte. Migrating from India, these nomads arrived in Europe in the 1400's and Andalusia in 1462.  Europeans assumed they were from Egypt and imposed the term 'Gypsies' on them. However, the term 'Gypsy' is a racial slur and hence best avoided. Roma/Romani is the preferred term and about 50,000 Romani people live in the caves of Sacromonte today. The Romani are the largest ethnic minority in Europe, originating from northwest India. If you're curious, read these two excellent articles written by Romani women: How Gypsy Erases Romani Women & The Harmful History of Gypsy
Why this isn't another 'Best places to watch Flamenco' list
The list below is in no way an exhaustive or "top 10" list. I'm all for being led by the scent of one's own curiosity, whims and ideas so this isn't me telling you where to go, but just me sharing my experiences which might help your planning. The table below gives you the costs, times, online booking links and Google Map directions from Plaza Nueva to the show venues. 
What's strange to me is the way many travel blogs/articles offer lists of "best" places to watch flamenco and "most authentic and real" performances. I find that to be an irresponsible misrepresentation and a disservice to the art form, the culture and the artists themselves. From an audience perspective, it's not even a possibility to "rank" the performances or categorize the shows as "touristy" versus "authentic". The talent and diligence on display isn't up for quantification and ranking by tourists or people who don't even belong to the place or the culture. Regardless of how many tourist-laden buses show up at some of these venues every night, and despite all the selfies and cameras pointed at them, the power and the passion in each performance stays as real as rain. In fact, one might say the more "touristy" a venue seems, the more of a challenge it presents to a performer to stay true to the spirit of the performance – amid flashing cellphones, a dozen cameras, drunken revelry and all the consumerist vibe that often pervades over-touristed places. And the way the musicians and dancers manage to stay centered in the raw passion and power of the art is something that has to be seen to be believed. I guess that's what they call 'Duende' – the heightened state of emotion, expression and authenticity that gives flamenco its magic. 
I've sat hypnotized through hour-long shows and walked out amazed at how the Romani people created this dance form, and how humans can be such instruments of beauty, passion, grace and power if they decide so. I've had a thing for flamenco since I was eight and watched a few minutes of it in a movie, so spending a few weeks in Andalusia for an immersion in flamenco culture was a dream I'm glad I chased. 
Flamenco clubs in Granada
Before we go into the descriptions of each club, here's a table summarizing the logistical info you need to plan your flamenco outings in Granada. Prices and showtimes can vary in different seasons, so you may want to get in touch with the venue and book your tickets in advance. Some of the links here are affiliate links, meaning I will earn a small commission on bookings made through these links, at no extra cost to you, and it will help me keep this website running. An advantage of booking with Get Your Guide (as linked below) is the option to get a full refund if you cancel upto 24 hours before the show times. 
Venue
Cost
Hours
Address
Directions
Contact Info
Book
Peña la Platería
10 EUR
Thursdays only, 10 p.m.
Placeta de Toqueros, 7
Google Map
+34 958210650/ 603473228
mail@laplateria.org.es
Book here
Zambra Maria La Canastera
22 EUR
9.30 p.m.
Camino del Sacromonte, 89
Google Map
+34 958121183


Book here
La Cueva de la Rocio
20 EUR
8, 9, 10, 11 p.m.
Camino del Sacromonte, 70
Google Map
+34 958227129
info@cuevalarocio.com
Book here
Museo Cuevas del Sacromonte
20 EUR
8 p.m.
Barranco de los Negros (Access by Calle Verea de Enmedio)
Google Map
+34 958215120
info@sacromontegranada.com
Book here
Venta El Gallo
26 EUR
9.15 p.m., 10.30 p.m.
Barranco de los Negros, 5
Google Map
+34 958228476
reservas@ventaelgallo.com

Book here
Jardines de Zoraya
20 EUR
8 p.m., 10.30 p.m. weekdays & 3 p.m. on weekends
Calle Panaderos, 32
Google Map
+34 958206266
info@jardinesdezoraya.com
Book here
Casa del Arte Flamenco
18 EUR
7.30 p.m., 9 p.m.
Cuesta de Gomérez, 11
Google Map
+34 958565767
info@casadelarteflamenco.com
Book here
Tablao Flamenco La Alborea
20 EUR
7 p.m., 8.45 p.m.
Calle Pan, 3
Google Map
+34858124931
info@alboreaflamenco.com
Book here
Generalife theatre, Alhambra
General: € 34
Advance sale: € 20 (until July 17)
Tue, Wed: 2 tickets for € 34
Organized groups: € 17
10 p.m.
Calle Real de la Alhambra
Google Map
+34 958027971
oficina@alhambra.org
Book here
Most clubs have the performers in close proximity to the audience, adding to the riveting quality of the show. If you're early you get to pick a seat with views unblocked by other audience members, so you may want to factor in the time it might take you to get to Sacromonte and find the particular venue(s) you've set your sights on. 
1. Peña la Platería – Founded in 1949, this is said to be the oldest flamenco club in Granada, and "touristy" is not a word you can use to describe this private club. Known for improv performances, this is where the locals get their flamenco fix. Opens to the public only on Thursdays, so book online a few days in advance or get there as early as you can to buy your tickets in person.
2. Zambra Maria La Canastera – A traditional cave home on the Sacromonte hillside, you might recognize this as the cave Anthony Bourdain visited in his show Parts Unknown. Founded in the 1950's, this is also one of the oldest flamenco clubs in Granada. Named after the iconic dancer Maria Cortes Heredia, her son Enrique now runs the place.
What you see here is the living room used as the dance floor (because what else would any sane person do with a living room?) while two bedrooms and a kitchen stand preserved in their original state. The audience lining the walls door-to-door make it look "touristy" but that in no way diminishes the intensity, power and passion the dancers bring to every step. When you watch them in the flesh with rapt attention, expect goosebumps, an attack of feelings and consequent makeup destruction.
3. El Rocio: Founded in 1951, this is one of the first Zambra clubs. A few stairs take you to an outdoor terrace looking out to the Alhambra. Take in the views as you dig into some Salmorejo before the shows begin in the two caves around 10 pm. El Rocio is managed by the Maya family, a well-known name in the flamenco world. One of the many green chairs here has 'Michelle Obama' painted on it in memory of her visit to this cave. Book your tickets here
4. Museo Cuevas del Sacromonte: Translates to 'Museum of the cave houses of Sacromonte'. Great views of the valley from up here and a lot to discover about the Romani and the story of flamenco in the Centro de Interpretación del Sacromonte here. Enjoy an informative self-paced walk through the history of flamenco peppered with anecdotes and artefacts. Also walk into the cozy cave houses of the Romani, displaying various aspects of their everyday life. There's also a botanical garden and some wildlife information about the valley. 
Hop off the bus on the last bus stop (No. 89 or check with the driver) and after climbing up a stairway you'll find the entrance to this museum. In the summer months, you can catch a flamenco show here in the evenings so you may want to time your visit accordingly.
5. Venta El Gallo: One of the most popular flamenco shows in Granada, and it's easy to see why. Powerful performances and beautiful ambience. In close proximity to Zambra Maria La Canastera. Make sure you're early enough to be seated in the first 3 rows if you want to see the footwork. I'd been warned by several reviews online that the food is avoidable here, but as a vegetarian in Spain my food options were narrow in any case so I didn't mind the food not being stellar. The performances blew my mind and more than made up for any satiety the food may have skipped.
6. Jardines de Zoraya – Close to the famous San Nicolas viewpoint, this is one of the fancier and pricier flamenco-with-dinner venues. A beautiful restaurant with outdoor/indoor seating and an atmospheric tablao make this a good choice for a dinner-with-flamenco experience. Though I personally don't recommend combining dining with flamenco, to each his own. The shows happen in the indoor dining area and booking a week in advance will ensure you get the best seating location to watch the show. Getting here by car can be a bit of a challenge, so hop on a bus or take a taxi. Book your tickets here
7. Casa del Arte Flamenco – Powerful flamenco performances light up this tablao a few minutes' walk from Plaza Nueva. I had the great fortune of watching the incredible Gema Moneo perform here one evening. It's common for people watching to get swept up in the wave of all the raw passion, rage and power bursting forth through the dancer and be moved to tears by the end. This performance, however, gripped me on a level I can barely explain. I was a heap of tears and tissues – in the front row – by the time the show ended and I could not have helped it. When the lights came back on, that front row full of Chinese tourists erupted into a standing ovation and I sat there trying to find some composure and not be a total mess. Mid-embarrassment I caught the eye of the guitarist/singer on stage. With a nod he gave me that knowing one-human-to-another look that one gives another when they're granting them full permission and acceptance for being human. And I recognized in that moment that I was having a totally normal, understandable and legit response to what I'd just witnessed. The irony wasn't lost on me though – being completely awed and moved by another's powerful, honest expression of raw emotion but being embarrassed at one's own signs of emotion in response. Humans are a strange breed. 
I don't know about you but I seem to need periodic reminders that it's an honour to feel, even when it gets messy. Perhaps more so then. Takes you to far out places in you that being 'in control' forbids you from. And I'm all for trips to far out forbidden places, aren't you? 
8. Tablao Flamenco La Alborea – A few minutes' walk from Plaza Nueva, and close to many tapas bars nearby. A simple theater stage faces an audience seated at various elevations so everyone gets unobstructed views of the footwork. There's also the option of reserved balconies to watch the shows from above. I caught a performance by my incredible teacher Kika Quesada here one evening and she blew my mind yet again. Book your tickets here
9. Generalife Theatre, Alhambra – Surreal is the word that comes to mind when I look back on this. A grand spectacle full of intricate storytelling and elaborate, flawless performances by large groups of dancers on a huge stage under a full moon – not something I'm going to forget in a long time. Every summer (July to September) since 2002, the Andalusian Flamenco Ballet has been organizing spectacular concerts in the Generalife theatre inside the Alhambra grounds. The performances are in homage to Federico García Lorca, Granada's most loved poet. It does get cold in the nights up here so definitely layer up to stay warm.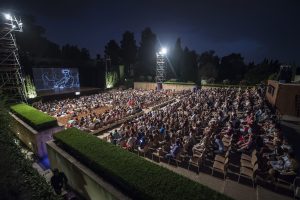 And if you'd really like to dig your heels in (literally and figuratively), I fully recommend a 2-week Flamenco Initiation course in Carmen de Las Cuevas, an incredible flamenco school inside one of the hillside caves in Sacromonte. More on that in the coming weeks, so hit the follow button at the top of the page! 
Related post: For a road trip in rural Andalusia, have a read here. Thanks to Granada Tourism for organizing my wonderful Las Alpujarras experience
Connect with me on Instagram @radicallyeverafter
Liked this post? PIN it!