Somewhere under the Blue Sky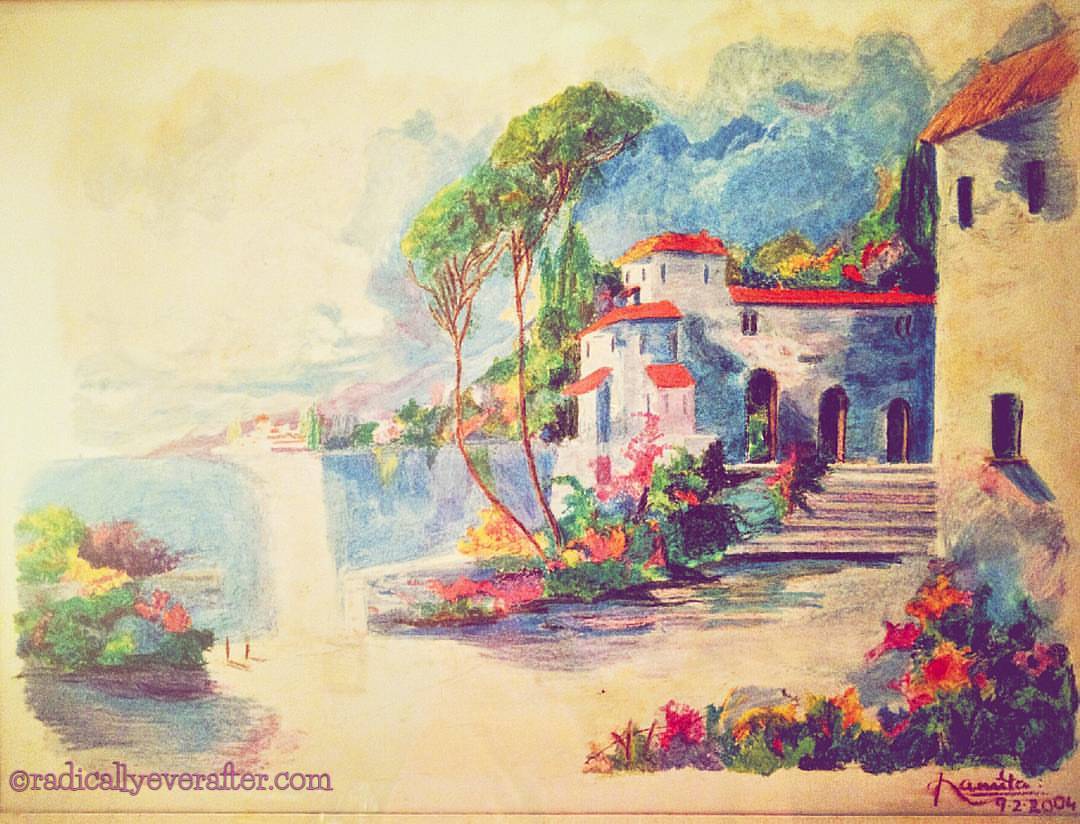 Exactly 13 years since I painted this. An oil pastel re-creation of an oil painting by an artist called C Loft, known for his Mediterranean seascapes. A raw beginner at age 19, all I had for reference was a postcard-sized greeting card with this painting printed on it. And a ton of adoration for the beauty of this scene and the magic of oil pastels.
The original had a misty feel, something of an early morning state of mind and matter. But being the bright-sider that I was as a 19-year-old steeped in more shadows than she dared count, I went on a gleeful colour rampage with this painting. About halfway through, I was to notice that the darker chalks in my box sat neatly untouched while the brighter colours looked worn out in that well-loved way that books and people sometimes do. By the end, I was to learn that the shadows were the reason the bright bits looked as bright as they did. The bright parts couldn't have come alive if I hadn't made enough space in the painting for the darker parts. Those dark murky shadows lurking right underneath all the sunlit reds and blues had an equal role to play.
Ignoring the dark side would've cost me the bright side. A lesson in contrast I would need long after colour and canvas. A lesson that still shows up for one's perusal when one ignores the shadows a little too often.
Artistic Explorations
Painting was my preferred mode of transport long before I had the means, the freedom or the adulthood to get on a plane to someplace far away on my own. With no formal training in art, I followed my excitement instead of a curriculum, and my inspiration instead of external validation. And my whims and fancies, instead of rules. Such as using mom's lipliner to sign this painting, because what could possibly make more sense?
Asking for Directions. All Help Welcome
Back in 2004 I had no idea what part of the world this might be, but it now looks rather Greek to me, off the top of my geographically challenged head. Any guesses where I might find anything like this out there in our big messy yet beautiful world? How perfect would it be to find it and get there someday?
Thirteen years and thirteen countries on, I still can't shake off the curious wanderlust that this scene first sparked in me. If I happen to find C Loft someday, he has some serious answering to do.