4 Tips for a Home Yoga Practice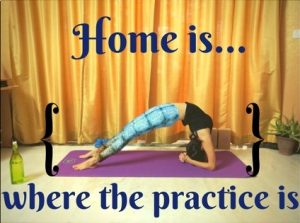 I'm often asked how one can maintain a steady home Yoga practice between work stress and tight schedules even at home. Here are 4 tips that have worked best for me over the years:
Keep your Yoga mat rolled out at ALL times
No rolling it up and storing it in a corner once you're done practicing for the day. You wouldn't dismantle your sofa and stack it in the corner once you're done sitting on it, so why not give your humble Yoga mat the same permanent, part-of-the-décor status? A Yoga mat occupies way less space than any furniture you could imagine (I dare you, Ikea) and can even brighten up a room. Keep a mat spray handy if you're concerned about it getting dirty.
An always rolled-out Yoga mat short-circuits the excuse-making process that usually precedes a home Yoga practice. Between wherever you may be and getting on the mat, stand a thousand splendid excuses. Anything from 'I've to get so much other stuff done' to 'I'd rather not coz I'm lazy/sleepy/full/hungry/tired'. Cross that ocean and you're on your magic carpet, set to soar across the chasm between the pre-Yoga you and the post-Yoga you, like this unicorn who just reclaimed her unicorn self: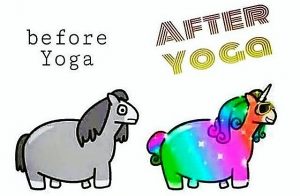 Trust unicorns to tell it like it is   (Image courtesy Yogspiration)
2. Set aside a fixed time slot everyday, however small it may be
Even 5 minutes a day makes a difference, so start with whatever little time you can carve out for yourself. A fixed time slot establishes a set rhythm and pace to swim into everyday, cementing the habit a bit more each time. Also, there's way less resistance from the to-do-list maniac in your head when you've blocked a certain time slot for a specific purpose.
3. Wear your Freedom
At least at home, make it a habit to live in clothes that let you move as free as possible in every direction, made of fabric that lets your skin breathe. You're far more likely to land up on the mat and to move more in general, if your body isn't imprisoned in restricting attire. And haven't we all heard that our bodies are about 70% water? Wouldn't you rather keep all that water moving more than stagnating?
4. Make S P A C E 
A Yoga practice has a lot to do with making space for yourself, for your body and its sensations, for old and new feelings to be felt and released, for observations and insights, and most regally – for the breath. Making space for anything – not just Yoga – is how we give permission for it to happen, unfold and leave a footprint on our lives. So look around and make space in whatever way you can, whether it's an overcrowded wardrobe, email inbox or long-held grudges jostling for precious space in your life. De-clutter and watch your spaces – both physical and beyond – expand and transform. Making space for a Yoga mat in your living space is a great first step in this direction. I'm in the process of getting myself a round Yoga mat, as I find that more spacious and movement-oriented than a rectangular one. You could even use a carpet or any thick material – as long as it feels good to your joints and steadies your stance.
     Why Maintain a Home Practice
As a Yoga teacher with a bunch of classes at various locations, I used to under-estimate the value of a steady home practice. I've noticed it's an easy pit to fall into when one teaches for a living – assuming that one gets more than the daily recommended dose of Yoga with all those classes. But that is a drastic shortchanging. A home practice offers the kind of inward-focussed, intentional, silent and deliberate nurturing of one's own being that no number of hours spent teaching can match. And no matter what you do for a living, you stand to gain a lot from such an act of nurture practiced with consistence, even if you begin with just 5 minutes a day.
     The Beauty of a Home Practice
One evening mid-Asana I noticed my movements on the mat felt like a walk on the insides of what I called 'me'. A nice leisurely walk, no breaths to be hurried and no flags to be hoisted. Enough familiarity to make one feel at home, and enough novelty to keep one curious. I'd miss out on so much if I didn't step on my mat everyday for this walk, I remember noting. Like owning a house overflowing with meticulously planned architectural details one never bothered to notice. All left undiscovered because the owner didn't care to look within what was hers. An omission that would mean the house never became a home. Wouldn't that be a pity?
Your body is your home in a way that no mansion, city or country will ever be, no matter how warm and welcoming. The home you spend all your life in, at least until you can command out-of-body experiences at will. Whether you feel confined or free within the walls of your physicality depends on how you inhabit that space. Do you marvel at it or do you complain about it? Do you appreciate all the zillion things it does without you knowing or do you deride it for not 'looking' a certain way? Do you thank it or thwart it?
Your most permanent address (all through this lifetime, anyway) awaits your knock on the door.
Follow me on Instagram @radicallyeverafter for more Yoga and travel inspiration 🙂
Let me know about your home practice adventures in the comments below 🙂
Liked this post? Pin it for later!