Road Trip through the Himalayas of Uttarakhand
A five-day road trip through five districts of Uttarakhand with six other bloggers and countless new memories. Honoured to have been part of Uttarakhand Tourism's first ever Blogger Bus with this bunch of mountain goats Upendra Swami, Amrita Das, Swati Jain, Subhadip Mukherjee, Rangan Datta & Anindya Basu. Back home now with a head full of mountain air and feet that refuse to land on concrete and routine.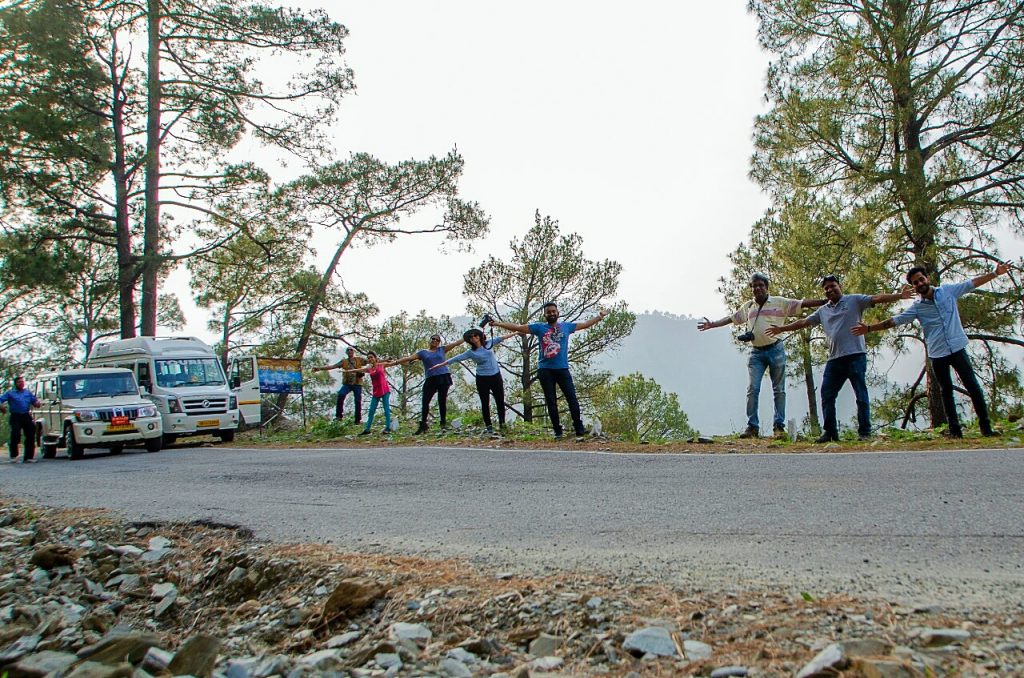 At least seven rather fast-moving heavy vehicles were dodged in the making of this pic. Auto-timer credit: Subhadip Mukherjee of Indian Vagabond.

As someone who's not a fan of organized religion, I was wary of taking on a blogging gig that revolved around two of the most religion-oriented destinations in India – Gangotri & Yamunotri – part of the famous Char Dham pilgrimage. I had my apprehensions, but the organizers assured me that the whole idea was to experience and share other dimensions of these destinations that had nothing to do with religion. Looking back, I'm glad I took their word on it and saw for myself how much more there is to these places than what they're most known for.
The idea was to explore the lesser known villages, hamlets, lakes and trekking trails enroute Yamunotri and Gangotri – 2 of the famous Char Dham destinations. We had a packed itinerary driving through the winding roads, but the mountains had their own plans for us – as is to be expected of mountains everywhere. Setting off from Rishikesh, we drove to to Sayana Chatti, Barkot, Phool Chatti, Kharsali, Yamunotri, Uttarkashi, Harshil, Dhanaulti, Gangotri and finally Raithal.
Here are some of my fondest memories from the trip:
NARAD JHARNA in Banas village, Garhwal
An unmarked waterfall tucked away like a well-kept secret in Banas village, Garhwal. Was quite the long wobbly walk over slippery boulders and wide streams, but well worth the trouble.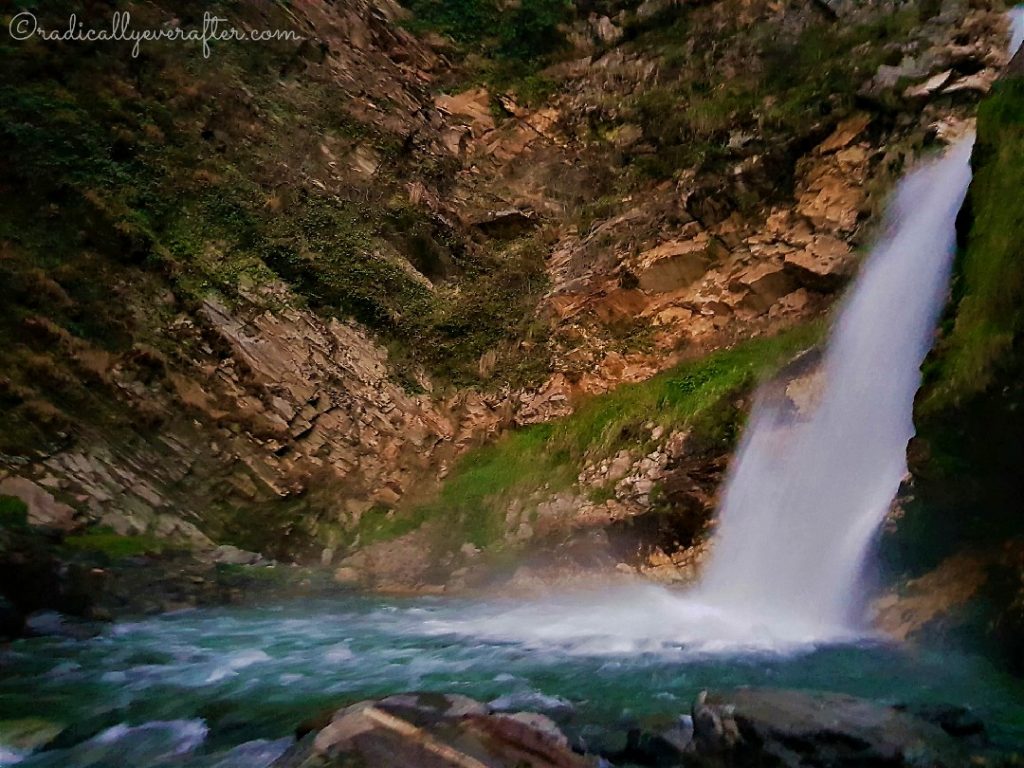 HARSHIL, a village nestled in a valley about 72 km from Uttarkashi
A hamlet where 3 rivers meet and apple trees abound amidst the deodars. Often a base camp for treks nearby, Harshil is a fulfilling destination in itself if you enjoy 100% fresh air and the idea of letting the rest of the world slip away for a few days. Don't expect cellphone reception. Only BSNL seemed to catch some signal here. Great place to go off-grid, so you may not want to connect once you get here.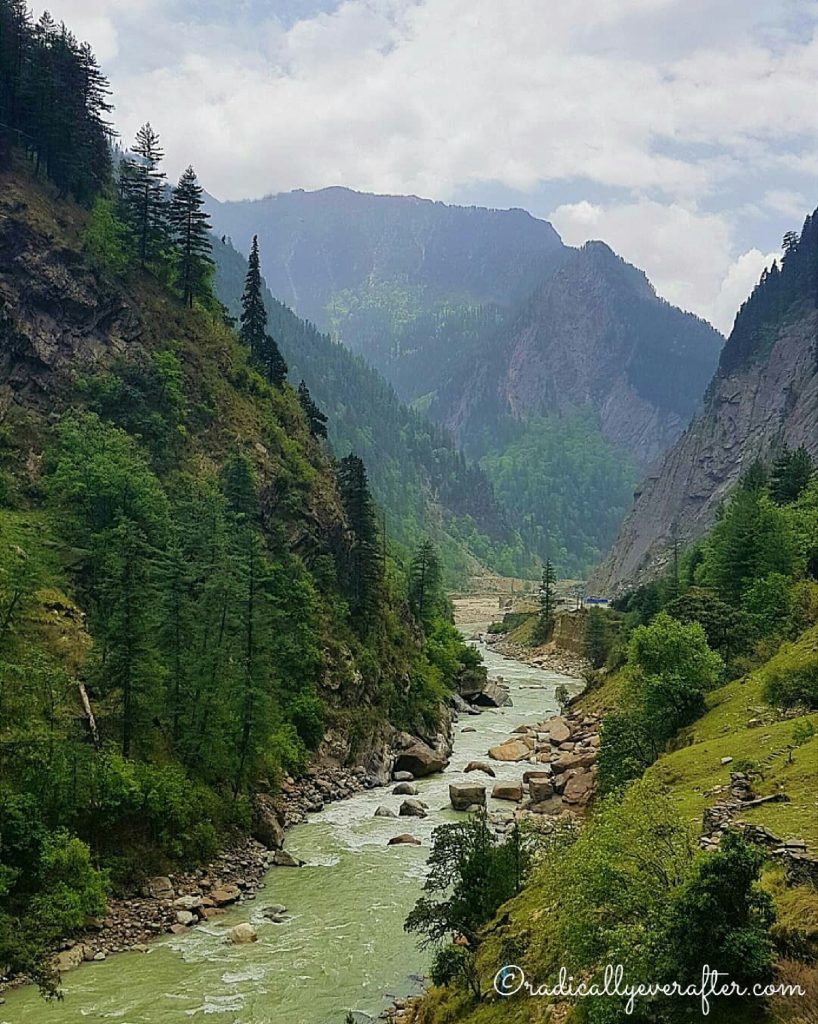 Don't ask me where exactly this is, I wouldn't know. The best views happen when you're way off the itinerary, the maps have given up and the schedule has gone for a toss. As long as you're looking out the window 🙂 
Pic Credit: Rangan Datta
  Edges are great places to hang out, in nature and in Yoga 🙂 
At Dabrani, enroute Gangotri in Uttarkashi. One of the places we just had to stop to really take in the views.. and get a quick workout in 🙂

YAMUNOTRI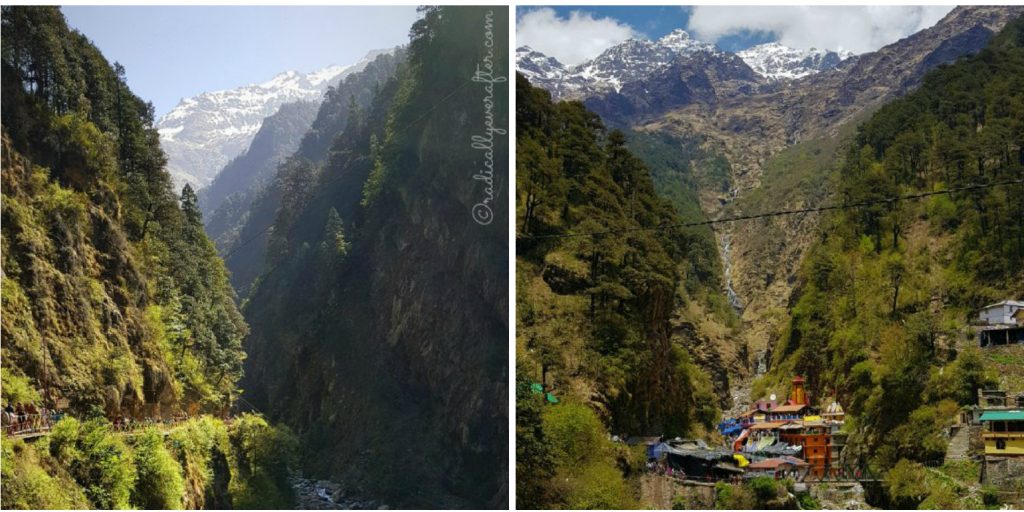 The famous Yamunotri trek hugging the mountainside and following the trail of the river Yamuna about 6 km each way. Quite the challenging trek with the sheer size of the crowd. Pretty much everyone is there on pilgrimage, paying their respects to the Goddess Yamuna enshrined at the end of the trail. As someone who has never been into religion, I was just glad I could gawk at these epic views every now and then as I made my way. To each his own, so I'll take disorganized nature over organized religion any day. Nature gives me more answers than any scripture, doctrine, priest or mythology. Nothing lights me up like nature and nothing kicks my ass like nature. Here's to more treks under sunny skies and more days spent sandwiched between mountains.
PHOOL CHATTI, near Yamunotri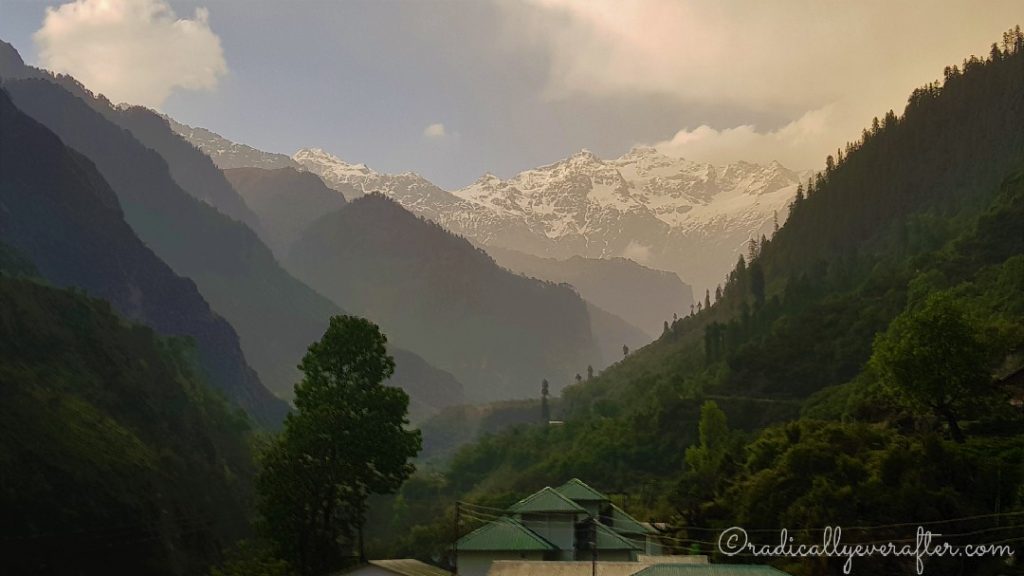 At Phool Chatti Tourist Rest House. The only thing that could beat the views here is the farm-to-table food they serve while hailstones pound the tin roofs. Great place to fuel up before treks.

RAITHAL, Uttarkashi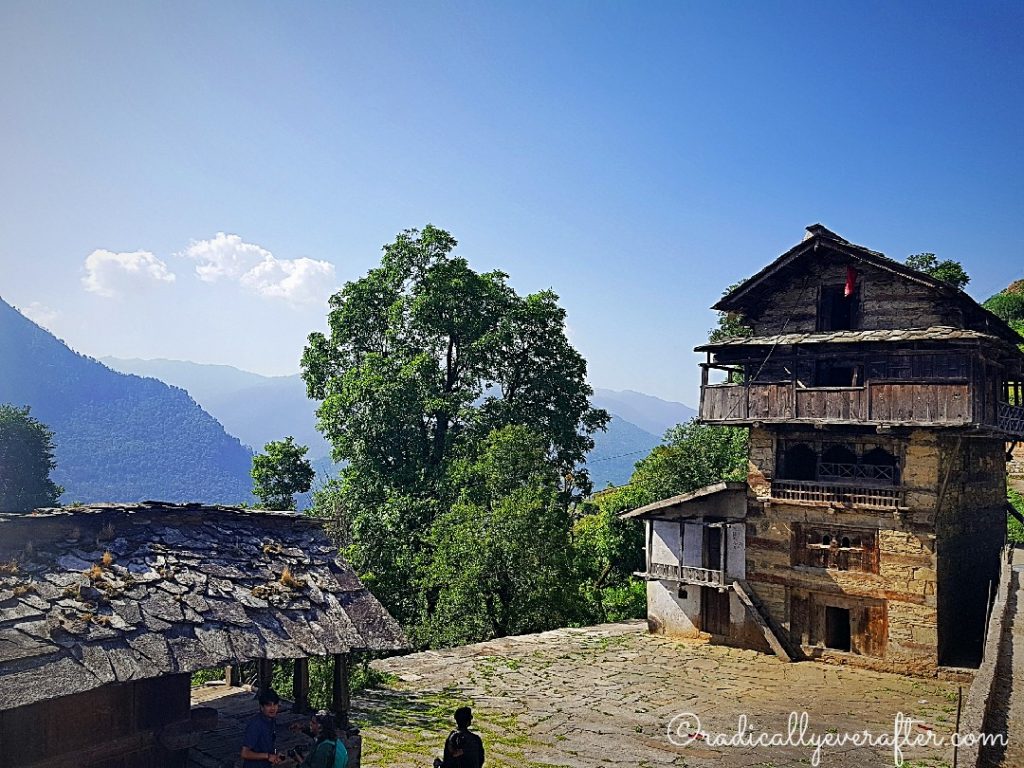 About 38 km from Uttarkashi, 1800 m above sea level, and far far away from the madding crowds, a charming slice of history in Raithal village. Thanks to 450-year-old earthquake-resistant traditional wooden homes, some of which now function as homestays. Rates as low as 600 INR a day with traditional Garhwali breakfast, and windows that open to the Himalayas at Raithal Homestay.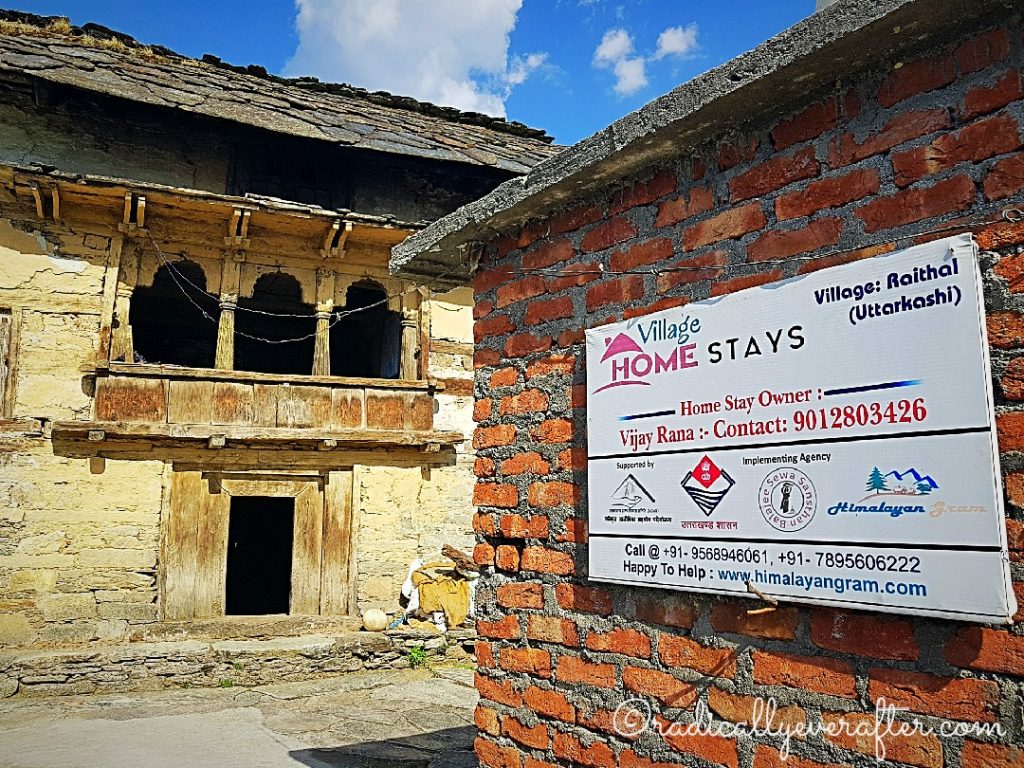 Aao Kabhi Haveli Pe ? 
   And well, how could I not inflict some Yoga on these unsuspecting souls so high up in the mountains 🙂 Was definitely in order after all the road-tripping, biking and trekking. Here's to more Yoga classes with longer Savasanas on higher mountains.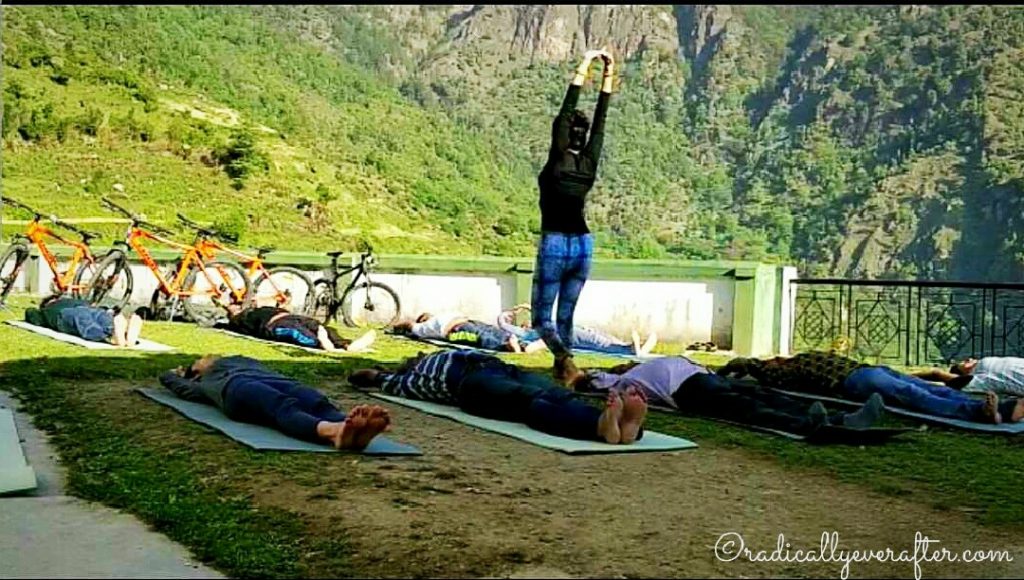 The most underestimated Asana in the most restorative of settings, at GMVN Raithal, Uttarkashi
So that was the gist of the Blogger Bus experience, and it wouldn't have been half as fun without the entertaining company of my fellow travellers. I'd love to hear your questions/comments/ideas in the comments! For more pics, follow me on Instagram @radicallyeverafter
Thank you for inviting and hosting us Uttarakhand Tourism. As always, all opinions and insanity are my own.