Cuba: 15 Things to Know Before You Go
With three weeks spent in Cuba this February, I gleaned a bunch of travel tips that will be useful for anyone considering a trip to this one-of-a-kind island. Here goes! 
My 3-Week Itinerary:
The first 4 days I spent exploring Havana mostly on foot, after which began my one-week luxury Yoga retreat at a beachfront villa thanks to my wonderful hosts at Mhai Yoga  & the Cuban Yoga Association. After a week of being spoiled rotten with next-level food and even a trip to Viñales with them, I was on my own again for about 10 days. Which I divided between Trinidad (6 days), Sancti Spiritus (1 day), and Cienfuegos (3 days)
15 Things to Know Before You Go
1. No es fácil (It's not easy): Not to discourage anyone, but this is a phrase Cubans use a lot and for good reason. Things have their own way of functioning (or not) here. In my first 4 days, I had more drama here than I do all month back home. Nothing I couldn't deal with but eventful nonetheless. I remember telling a friend back home that Cuba is to Indians what India is to a lot of Americans and Europeans. The general unpredictability and intensity that seem too much at first eventually become the things you love about the country. Type A tendencies don't stand a chance and being flexible with your plans and opinions will make all the difference between a trip that you adored and one that you just can't handle.
2. Visa: The general impression is that it is difficult to get a Cuban visa on an Indian passport. I was told by the travel agency which handles Cuban visas for Indians that being "well-travelled" and "well-educated" are two important factors in general. This is the agency you need to get in touch with for your Cuban visa in India:
Rohan Travels, 501, Competent House, F-Block, Middle Circle, Connaught Place, New Delhi-01.(M)+91-9811529464 or +91-9350059446. Contact Person: Mr Nilesh Dhamelia
As of this writing, these were the required documents: http://app.ivsource.com/app/img/forms/Tourist%20Visa%20Requirement.pdf
The Visa application form can be requested at cubavisainindia@yahoo.com. The Visa fee is INR 6400+2360 Service Charge((2000+360 GST))+ INR 500 for Courier total amount INR 9260/-
Indian passports require the Tourist Visa (A-1), not the Tourist Card, and it takes about a week to be issued.
The Tourist Card (tarjeta de turista): Seems to be a general misconception floating online that a tourist card bought at the airport for 20 USD will get you into Cuba on an Indian passport. If you are an Indian Citizen AND have permanent residency in the US and you're flying into Cuba from the US, the pink tourist card will work for you. Indians who are not permanent residents of the US will require tourist visas. If you enter Cuba with a Tourist Card, you cannot leave Cuba without showing it. If you lose it, it it will take at least a day for the card to be replaced.                                 Having an invitation from a Cuban Yoga retreat company (MHAI Yoga) that works with the Cuban Yoga association definitely helped my visa situation. Just goes to prove the benefits of Yoga really do extend way beyond the mat 🙂 It even helped me with my Bolivian visa 4 years ago when I was being refused a Visa on Arrival on account of being Indian.
3. Flights: I flew to Havana via New York because the flights cost considerably less that way. Flying from Bangalore to New York to Havana and back the same way cost me INR 72,000 (USD 1,072) in all. Whereas flying from Bangalore to Havana with a stopover in Europe would have cost me INR 1,12,000 (USD 1668) in all. I booked my flights just 2 weeks in advance, so the fares would have been presumably lower had I booked well in advance. Helped that I have a cousin who works in NYC so I didn't have to spend on accommodation for the one day that I stayed in NYC. While booking your US to Cuba flight, you will be asked for your reason to travel and given a choice of 12 government-authorized reasons. Out of these, "Support for the Cuban people" is the most common reason given by tourists going to Cuba and the one I was told to select by the agent handling my visa. When tourists stay at Cuban BnB's (Casa particulares) and eat at Paladares (privately run restaurants) it counts as support for the Cuban people. Checking my bag on the flight from NYC to Havana cost me 25 USD. 
4. Money: Cuba has a dual currency system – the Cuban Peso CUP (aka moneda nacional) and the Cuban Convertible Peso CUC. The locals earn their wages in CUP and this is what they use to buy their non-luxury items, groceries and staple goods from state-run stores. The CUC is used by tourists and was introduced in 2004 to replace the US Dollar.  1 CUC = 1 USD. Tourists can also use CUP, but apart from staple goods most of your purchases will be in CUC. Because most of the restaurants, clubs, bars and even Wifi card kiosks require payment in CUC. Locals use the CUC for things that are not sold in CUP because they are imported. 1 CUC = 25 CUP.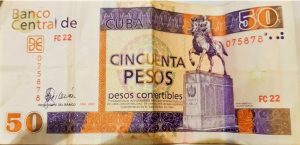 50 CUC – Convertible Pesos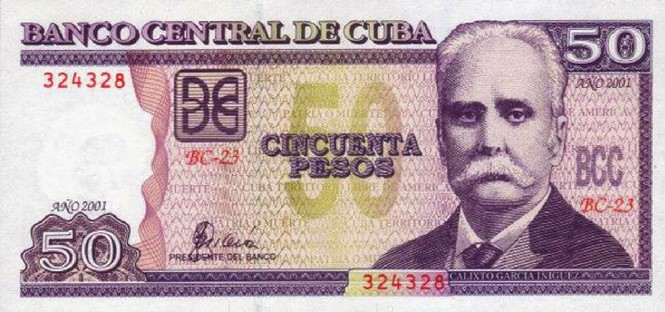 50 CUP – Cuban Pesos
Know what the two currencies look like. The CUP has faces on it, and the CUC has monuments. Make sure you aren't getting CUP in change after paying in CUC.
Both these currencies can only be bought in Cuba. Enter Cuba with Canadian Dollars, British Pounds or Euros and then exchange them for CUC's at banks, government exchange houses called Cadeca (Casas de Cambio) or large hotels. Never exchange money on the street. The CUC is pegged to the US Dollar, but there is a 13% surcharge on conversion from US Dollars to CUC, so avoid exchanging USD in Cuba.
Currency Conversion at the Airport: Unless you have someone picking you up in a prepaid taxi, you're going to need to convert some cash into CUCs for your ride to your accommodation. Costs between 25 to 30 CUC from José Martí International Airport, Havana to central Havana. To skip the long line of currency conversion at the airport, go upstairs to the departure level. A booth there offers quicker exchange for amounts not exceeding 100 USD.
Debit Cards. My Indian debit cards (VISA) worked in most of the ATM's I used in my 3 weeks. MasterCard and US-issued bank cards do not work in Cuba. Check with your bank to be sure if your card will work in Cuba and the foreign transaction fee. I used a travel card and loaded it with Euros, and I carried Canadian Dollars in cash so between these two I was covered for my expenses.
Cash is king here so don't expect to be able to swipe your card wherever you go. And bank lines are usually long, so heading to the bank (with your passport) around 8.30 a.m. when it opens saves you a lot of waiting time.
Always important to inform your banks of your international travel, and all the more when you're headed to Cuba. You don't want to be left stranded with blocked cards on this island, where the hassle level of communicating with your bank will be higher.
5. Insurance: I was told that medical insurance is mandatory for Indians visiting Cuba and that I could buy it at the airport upon landing at the cost of 2 to 5 CUC per day (depending on the category), but after landing in Havana I wasn't asked about it at all. I do, however, recommend insurance on all your travels. One of those things that you'd rather have and not need than need and not have. When I enquired about health & travel insurance from Indian providers, I was told that Cuba was one of 4 countries "banned" from many providers' insurance policies. For those flying in from the US, the boarding pass counts as proof of insurance. Because of the US-Cuba trade embargo, the airlines buy policies for travellers.
6. Transport: Taxi Collectivos are the most cost-effective way to get around in Cuba. Think of them as the Cuban version of Uber Pool (to be fair, collectivos came first). All you need to do is wave down a car and ask if they are heading where you're planning to go. They can cost you between 1 to 3 CUC. Bicycle taxis (or cycle rickshaws as we call them in India) are also common and cost between 1 to 5 CUC for short commutes within the city. There are also buses (Transtur and public) but I never got around to using them, except for a hop-on-hop-off bus ride that cost 8 CUC and took us on a guided tour of the city for about an hour. 
I used private taxis from Havana to Trinidad (35 CUC), Trinidad to Sancti Spiritus and back, Trinidad to Cienfuegos (10 CUC), and Cienfuegos to Havana. Here are the drivers' numbers, should you need one. Two of them were recommended by the Casa owners and Mhai Yoga, and the others I met while walking the streets.
José (Havana) +53033264                             Majito (Havana) +5352633663
Mario (Trinidad) +5352426010                    Maximo (Havana) +5352641651
Alfredo (Cienfuegos) +53126271                 Alexandro (Trinidad & Sancti Spiritus) +55928814
Freddy (Havana) +52926776
And if you're looking for a friendly, knowledgeable, well-read and sassy local guide, look no further than Rosbel Alpi! An art critic, graphic designer/photographer and Cuba guide who can be reached at +53019640. Email alpi12x@gmail.com. Thank me later!
7. Food: Cuban cuisine receives a lot of unfair criticism. As is true in most places, you have to know where to go. State-run restaurants and hotels are not the best options, but if you go to the paladares (privately run restaurants) the variety will surprise you – from Cuban cuisine to Italian to Sushi. The prices may seem higher than the former, but the food and service are that much better. As a thumb rule, expect to spend about 5 to 10 CUC per meal. La Guarida is one of the most well-known Paladares in Havana, Beyoncé and the Obamas having dined here. The well-known Hotel Ambos Mundos on Obispo street, famed for being Hemingway's abode, has great rooftop views of Havana to accompany the food.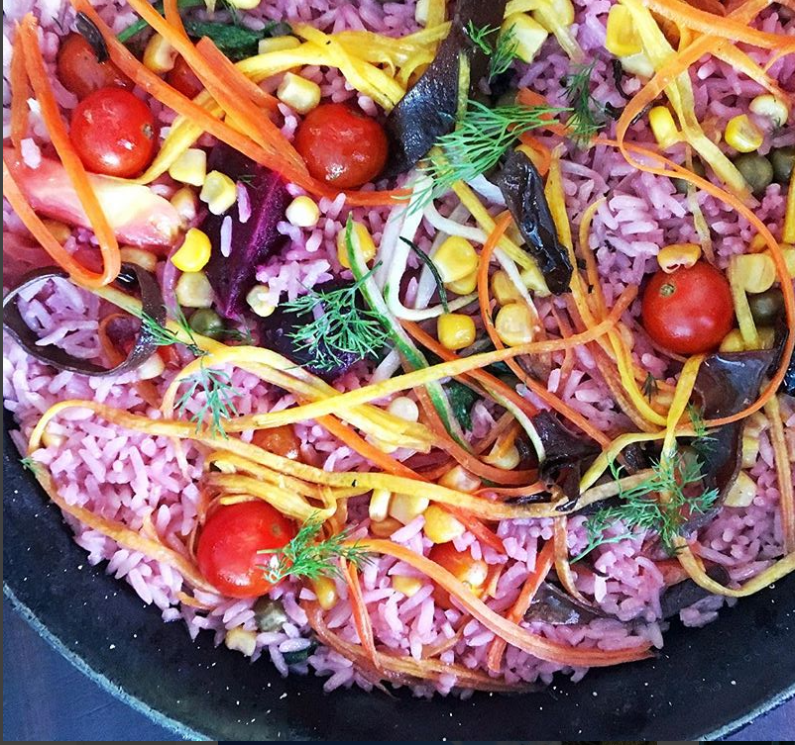 Paella made of beets! Photo Credit: Sapna Dalal @vegtourist 
One of the best meals we had was at Ivan Chefs Justo in Havana Vieja (Old Havana). The vegetarian paella above made with beets tasted as great as it looked. For dessert, I would recommend Burner Brothers Dulceria, a wonderful little bakery in Vedado, Havana that will satiate every last sweet tooth.
Black beans with rice – a dish called Congri – is a staple found on almost every menu. Root vegetables such as malanga, Yuca and sweet potato were pleasant additions to our paladar meals.
Cubans are not in favour of spicy food, so carry your sriracha or tabasco if you like heat in your food. For vegans and vegetarians, the Happy Cow app/website is a great resource. This link lists a bunch of vegan paladars/restaurants in various Cuban cities: https://www.happycow.net/north_america/cuba/
Not many know that Cuba is a world leader in organic agriculture. Organopónicos are the Cuban system of urban organic gardens that provide 90% of fruits and vegetables in the country. Born of necessity after the collapse of the Soviet Union in 1989, this was Cuba's innovative response to the food crisis.
Many smaller eateries dot the streets with prices listed in CUP. Not your healthiest option, but if low prices are your priority you may want to try them.
8. Water: All the travel advice regarding water in Cuba points to tap water being unsafe due to the poor condition of pipes, making bottled water your best bet to stay safe. To avoid inflicting more plastic on the planet, you could boil the water before drinking. This is what many locals do. Some places sell large 2-liter bottles of water as well. The Steripen and water-purifying tablets are other options. I usually use a LifeStraw on all my trips but this time it was clogged before I left India, so I had to manage without it.
9. Internet: Not something you can take for granted. Wifi is accessible only through Wifi cards which you buy at ETECSA offices or at Wifi parks, 1 hour for 1 CUC. They're sold on streets at higher prices, depending on your negotiation skills.

That's some very apt imagery on the card, demonstrating the serious levels of equanimity you need when you're trying to get and stay online in Cuba.
Buy the 5-hour Wifi cards and remember to log out everytime or else your time runs out. In Havana, I got mine at the kiosk on the corner of Parque Trillo as it was close to my stay. In Trinidad, I got them at the ETECSA (telecom company) office, your best bet for Wifi in any Cuban city. Much as we complain about the tyranny of always being connected on our smartphones, Cuba will have you rethink that. I remember feeling drunk with power after getting my hands on some Wifi cards after what seemed like ages.
Here is a list of Wifi spots in Cuba https://www.tripadvisor.co.uk/Travel-g147270-c202146/Cuba:Caribbean:Places.With.Wifi.In.Cuba.html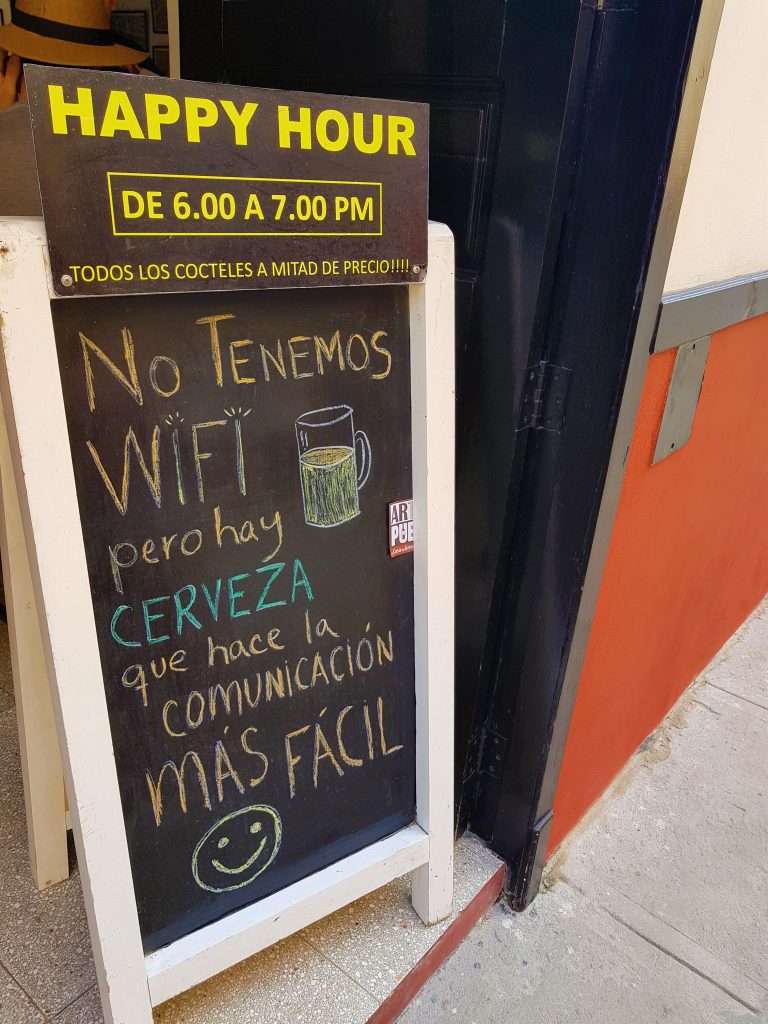 "We don't have Wifi but we have beer, which makes communication easy :)" 
                                         Can't argue with that! 
10. Stay: One of the visa requirements is booked accommodation for the first few days of your trip. I wouldn't recommend landing anywhere without your first night booked, unless you really have a thing for uncertainty.
Having looked at several AirBnb's online, I had pre-booked one in Centro Havana with a "Superhost"- a term that implies this host has had several great reviews. Little did I know that he would start yelling at me on my second day because I had some trouble with the keys while trying to unlock the door. There was also a cockroach in the room for which he took no responsibility. I left the next morning right after breakfast and took up the matter with AirBnB. I was rendered a long apology through the app and given a refund for the days that I didn't stay. I realized that the label "Superhost" is no guarantee of decent behaviour by a host and that AirBnB's are always a gamble. I should have left a review but given the scarcity of internet and my not-so-stellar organizational skills, I missed the deadline. Well, at least I learned the Spanish words for cockroach (cuckaracha) and shouting (gritto).
In my experience, staying at Casa Particulares I found (through my guidebook and word of mouth) was far more enjoyable than going the AirBnB way. These are privately owned Cuban BnB's that cost way less than most AirBnB's and give you a taste of local life. 
They usually have this sign on the door. The red one meaning it hosts only Cubans.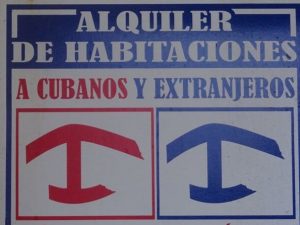 My guidebook – The Rough Guide to Cuba – had some useful recommendations of Casa particulares which came in handy in Havana (after the weird AirBnB experience) and in Cienfuegos where I stayed at Casa de Mery (details below).
Websites for pre-booking Casas: Cuba-junky.com, cubacasas.net, casaparticular.com, homestay.com, aircasaparticular.com
Accommodations I stayed at:
Havana: Casa Particular run by a kind Cuban couple Gilda (pronounced Hilda) and Jorge. In Centro Habana, right next to Parque Trillo where I bought my 5-hour Wifi cards. A private room with an attached bathroom was 25 CUC per night and 7 CUC per breakfast. Email jorge.lahabana@gmail.com & gildafs@gmail.com. Whatsapp +53451940 
Trinidad: Casa Particular El Mirador. Calle Gustavo Ezquierda. #145 Piro Guinar y Simon Bolivar. Esquina Viazul. A beautiful colonial home with a cute rooftop. A private room with an attached bathroom was 30 CUC per night and breakfast was 5 CUC. Phone: 52474250 & 41998356.
Viñales: Casa Yerandy y Yanet. Details at https://www.tripadvisor.in/Hotel_Review-g616288-d9837816-Reviews-Casa_Yerandy_y_Yanet-Vinales_Pinar_del_Rio_Province_Cuba.html
Cienfuegos: Casa de Mery run by the helpful and affable Mery. Avenue 6 no. 3509 e/ 35 y 37. A private room with an attached bathroom was 25 CUC and breakfast 5 CUC.
Email canto@jagua.cfg.sld.cu Phone 43518880
11. Apps you will need in Cuba:
Maps.me – Download the Cuba map on this. Any app that gets you a clear, well-marked offline map of Cuba is a necessity, unless you enjoy being lost. That does have its own undeniable appeal. 
Google Translate – for the many linguistic emergencies headed your way 🙂
Happy Cow – For the plant-based and for anyone with a curious palate. In my experience, being vegetarian/vegan in primarily non-vegetarian destinations often opens up a whole new lesser-known dimension of the place you'd never have met otherwise. 
Cuba Junky – For a directory of Casa Particulares and general travel info
Tinder – Don't even bother. Nowhere on the planet is this app more redundant than in Cuba. A country which is way more of an offline Tinder that spans the entire island and all demographics at all times. So keep all your interpersonal skills and flirting wits about you. You're gonna need them, as explained at length in my earlier post What Cuba taught me about Flirting & Sensuality
12. Tourist Scams: Havana is said to be one of the safest capital cities in Latin America, but like any capital city it has its share of professional scam artists. Known here as jineteros – a word you don't want to learn the hard way. These are the street hustlers who help you find accommodation/banks/restaurants only to demand money or a beer from you soon after. On my first afternoon, a woman showed me the way to the bank and then demanded money from me. Using the oldest trick in the traveller's book, I played dumb so she would lose her patience and walk away. But she proceeded to take my hand and unstrap my watch, saying she didn't have one so she would take mine. I pulled my hand away as I yelled at her and hurried inside the bank where she could not have followed me. A few days later I ran into two men who scammed me of 20 USD using sheer aggression. I did manage to chase them down and get a picture, which I showed to the cops when I made an official complaint in a police station in Havana on my last night there. That's a whole other story. 
It always helps to read up beforehand about scams in places you're visiting, as I had done, but no amount of preparation gives you a 100% safety guarantee – anywhere in the world. But that shouldn't stop you from exploring the world, should it?
13. Know some Spanish: A must in Cuba. Especially if you get into any kind of sticky situation, speaking the local language is far more likely to get you help than if you're the outlandish tourist who doesn't speak a word of the local language. This I've found to be true pretty much everywhere I've been, from Bolivia to Italy.
When it comes to learning languages, Pimsleur Audio is my go-to. These are half-hour audio lessons you can weave into your days, the first one free on Youtube. 
It did happen to me a few times that I'd get to the crucial part of a sentence and then forget the word I needed most. Have Google Translate (offline) on your phone or else a Spanish-English pocket dictionary handy. Old school and reliable, no batteries required.   
14. Packing Advice: Things we take for granted in our hyper-consumerist cities are hard to come by in Cuba. I would recommend taking with you all the medicines and personal hygiene products you need. A world travel adapter is always a good idea, as also a handheld water filter, reusable straws, toilet paper rolls, energy bars and an electric kettle. 
15. Gifts for locals: I was told by my hosts at Mhai Yoga before I arrived that they donate toys to The Institute of Oncology & Radiology in Havana. Apart from toys, stationery, menstrual hygiene products, clothing, chocolates, Yoga mats and randomly enough – chewing gum – were suggested as useful gifts to locals. If you can make space in your bags and your inclinations to carry some of these things for the locals, you'll be glad you did. 
So that's about all I could think of! If you have any questions/suggestions do let me know in the comments 🙂
For an interesting walking tour in Old Havana, click here!
For more updates, follow me on Instagram @radicallyeverafter
Liked this post? PIN IT !