Yoga Workshop on Sept 12: The Magic & Science of Ujjayi Breath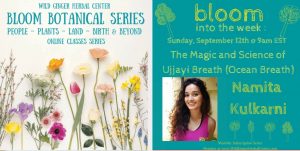 Join me in this 2-hour online workshop on Sunday, September 12 – The Magic and Science of Ujjayi breath. If you've ever been in my classes, you've likely heard me say that if there was one Yoga technique I could teach everyone everywhere, it would be Ujjayi breath. As you might know if you're into Yoga, Ujjayi breath is a powerful breathing technique that stimulates the vagus nerve, which has a key role in the parasympathetic nervous system – the rest & restore department. If you'd like to read more about this, I have an entire blogpost dedicated to it: Ujjayi Breath – For The Win
Here's what you can expect from this workshop:
We begin with a 5-point check-in, followed by a gentle breath-centered asana practice, exploring vagus nerve stimulation in various asanas. Breathing and moving for vagus nerve regulation. The practice can be done on the floor on a yoga mat or on a chair.
Conscious breathing as a way of connecting with the breath and being in relationship with it. Recognizing the breath as your personal doorway into the present moment. What it means to feel the breath inside the body rather than watch it as a detached observer.
Breathing techniques of various kinds, not as impositions of breathing patterns but as invitations to experience different aspects of the breath. 
A peek into the Polyvagal Theory (by Stephen Porges), one of the most significant recent developments in human neurobiology.
And well, a fair amount of nerding out on the science of Ujjayi breath and healthy vagal tone.
Resources and references for further reading/listening/learning on this topic.
Questions from participants, where we delve into whatever insights/questions come up for you.
The Details

This online workshop is being offered as part of a monthly subscription series called Bloom Botanical Series by the Wild Ginger Herbal Center in Costa Rica. 25 USD per month gives you access to all of the live upcoming classes, as well as all of the archived recordings, listed here. So when you sign up, you also gain access to all past Bloom Class recordings (which includes the Yoga for Creativity workshop I taught back in January this year and a whole host of workshops on the themes of herbalism, wellness, nutrition, gardening, plant medicine). The full list of archived and upcoming workshops is on the aforementioned link.

How to sign up: Head over to Wild Ginger Herbal Center to sign up. Registration will be processed within one business day of purchase date. You will receive an email with instructions on how to access the series.
Date: September 12, 2021
Time: 9 a.m. EST i.e. 6.30 p.m. IST. Convert your time zone here. 
Duration: 2 hours (with a short break in between). 
Where: Live on Zoom. You will have access to the recording for as long as you're subscribed to Bloom's monthly subscription.

Bring: A notebook, a pen, a yoga mat. And anything that adds to your comfort on these zoom sessions 🙂 Definitely bring your curiosity. This is meant to be an interactive workshop, so I'd love for you to participate.

This workshop is open to everyone, whether you're new to yoga or you've been practicing for many years.
If you have any questions about the workshop or my Yoga classes in general, please feel free to write me at namitayoga@gmail.com.
Connect with me on Instagram (if you're into social media) @radicallyeverafter
I almost forgot to mention, sign up to this blog for a free ebook on Ujjayi breath. 
Looking forward to meeting you next Sunday 🙂