Spreading the Fire of Flamenco: Maria Juncal in Madrid, Spain
While flamenco is embedded in Andalusian folk culture, not many know that its origin is traced to nomads from India who wandered into Spain a few centuries ago. This history finds a prominent mention in the Museum of Sacromonte (Museo Cuevas del Sacromonte) in Granada. Fascinated with flamenco since I was eight, I centered my Spain trip around a glimpse into the world of flamenco. Spending a month in various parts of Andalusia and completing a Flamenco Initiation course in Granada, I was blown away by the performances I watched every other night. The power, the passion and the intensity was real as rain in the traditional tablaos and inside the caves of Sacromonte as well. Granada and its delicious flamenco scene deserve a detailed post of its own, so more on that in the next one.
In Madrid, thanks to a wonderful Indian flamenco dancer Kunal Om (indianflamencoartist.com), I had the pleasure of an in-depth conversation with the legendary bailaora Maria Juncal, one of the world's most talented and famous flamenco dancers today. Performing and teaching in countries as diverse as Cuba, Finland, Japan, France, the United States and many more, she is also a teacher at Spain's flagship flamenco school Amor de Dios Center for the Art of Flamenco and Spanish Dance. Here's a video of her teaching at the school. 
I hope her words inspire you to explore the world of flamenco – or whatsoever sets your one heart on fire.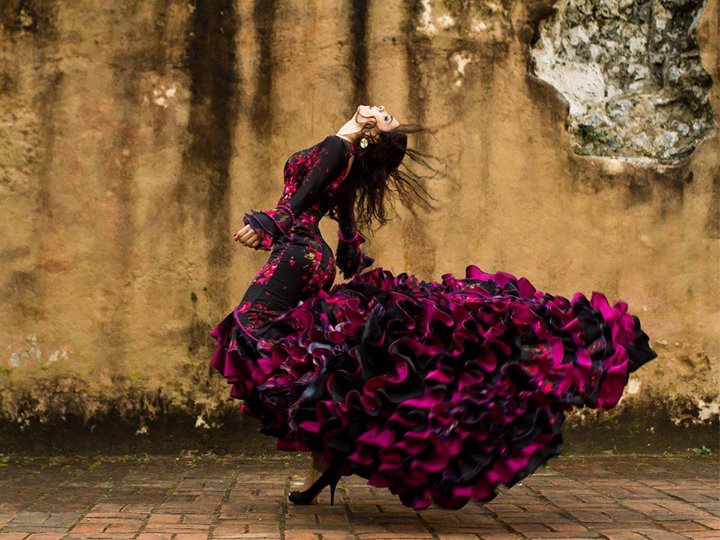 How old were you when you started dancing?
MJ: I began dancing in a dance school in the Canary Islands, but it wasn't flamenco. It was the classical Spanish dance. I was eight when I took my first class with my grand-aunt.
And she was the legendary dancer and teacher Trini Borrull
MJ: Yes, I trained with her for about 3 months and then she spoke to my parents. She told them that Maria has flamenco in her blood and she needs to leave the Canary Islands to grow her talent. My parents refused, saying she's too young so we cannot let her leave. To which I said, "If you don't let me leave, I'm not going to dance anymore." So I stopped at that point of time, and a few years later I went to another school. One day, a teacher came to the school and asked me if I would like to join her group which performed in hotels in the Canary islands. I was 15 at that point and I said yes, though I'd never thought about it earlier. I told my mother I was going to do this and she said, "Well, I know I can't stop you". A few years later I decided that I want to dance flamenco and I want to do it my own way and express my ideas. I decided to leave the Canary Islands and come to Madrid, looking for Amor de Dios because it's the biggest dance school.
It's such an intense, emotional and highly expressive dance form. And you were a child. How do children access that level of intensity?
MJ: When I came here, all that I had was the passion and the dream. I didn't know anything about flamenco in a real way. I'd been doing the Spanish classical dance, so I had no technique in flamenco. I needed to make up for a ton of lost time, because the others in the school had been learning flamenco since the age of 6 and I was 18. That really pushed me every single day.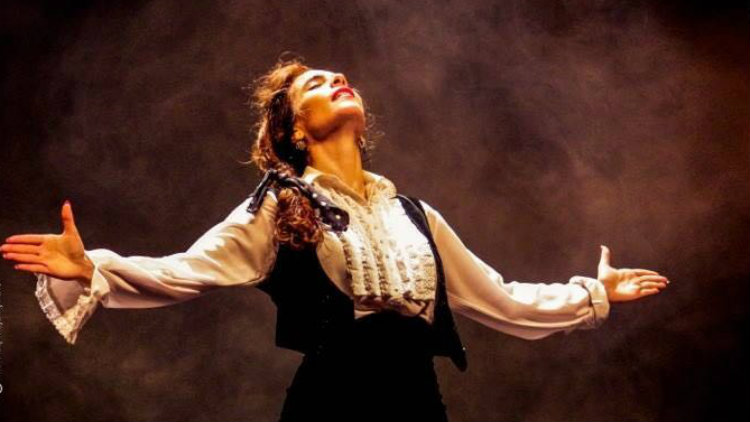 When was your first exposure to flamenco and when did you decide that it was your dream?
MJ: The teacher who came to my school and asked me to join her group was a flamenco dancer. In the show she was dancing a flamenco piece. I watched her and told myself I'm going to be a flamenco dancer and this is what I want.
Watching her you felt the connection to the dance form?
MJ: I had always felt the connection. Because in my home, we had always been listening to flamenco music. My grandmother was a flamenco dancer, so she told me a lot about it when I was a child. So all my life I had been connected with flamenco, but at the age of 18 watching this teacher, I decided I wasn't going to continue the Spanish classical dance and I chose flamenco.
I read about your grandmother's stories having a huge influence on you.
MJ: She made me be in the way always. I kept listening to her stories and I still hear her voice in my head.
She made you 'be in the way', could you elaborate?
MJ: She loves flamenco and she told me many of the family's flamenco stories. She makes me be in love with everything, always. My grandma was a very important person in my life. And she still is, I still hear her voice.
Grandmothers just have their own magic
MJ: Yes, indeed.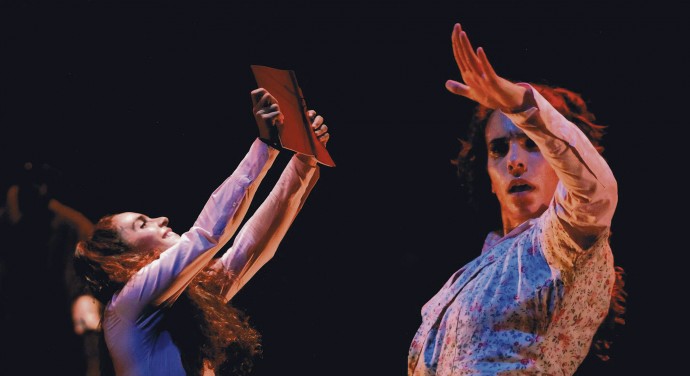 You said flamenco is "elastic" and a dancer can express any story with it. Can you tell us more about it?
MJ: Yes and I've been working on the Anne Frank story. A lot of people ask me how and why would I talk about Anne Frank in a flamenco way. I say that flamenco has very deep roots. Deep enough to connect with everything. The way flamenco was born, it was an expression of the need to survive some very harsh conditions. Not like an art, because at the very beginning it wasn't an art. It was an expression.
I see. It arose as an expression by the Indian nomads who had a really hard life.
MJ: Yes. They were in the worst conditions that you can imagine. They needed to survive and have some light in their life. They needed to sing and dance and sometimes they needed to cry. At that moment it was an expression. Over the years, it became stronger and stronger. And it became an art, something you can perform on a stage to show to other people.
With techniques and rules of its own
MJ: Yes. With music, how can one say that it is impossible to talk about something? I feel that with music you can tell everything. With the music and with your moves. I had to work hard to express the story from my flamenco, from my roots. My main expression is flamenco. It's my language and I can tell stories with dance and movement, so why not? Flamenco is an amazing energy and you can use it.
An artist using her creativity to tell the stories she wants to.
MJ: Yes. I don't always tell stories in a theatrical way. Sometimes I do shows in the flamenco way, a sweet flamenco show. I really love to be in the borderline of something that is extremely difficult for me. I want to create myself again. Be born again. Because when you do another play, you are born again, it's a shining moment.
Can you share with our readers an inkling of your next story or upcoming projects?
MJ: I'm working on 2 different projects. One is centered on women and the other is based on a book with an amazing story. I'm just writing and breathing and I'm so happy about it because the most difficult thing for me is to choose the project.
And then you give your heart and soul to it?
MJ: Yes, now that I have the projects, I just have to walk the way.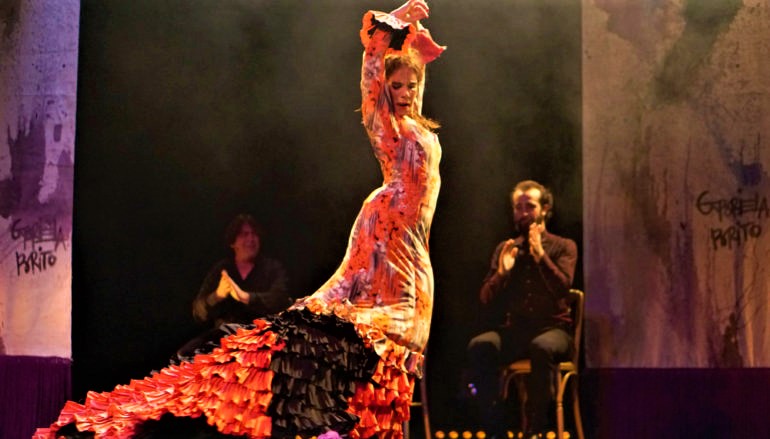 In all the flamenco performances I've seen here, what stood out for me has been the way the women claim the stage with such a powerful feminine energy. Can you tell us about that?
MJ: For a long time, the women have been fighting for their right to be in the world. I'm not going to say I want to be in the world like a man. Because if I say that I want to be in the world like you and you're a man, then I'm giving you more power. It's clear that women have an amazing energy and power to be in the world. The flamenco women on stage, they are bringing amazing shows with amazing ideas, without fear. We need to still keep fighting because it doesn't matter if I feel I'm free and I have my rights but some woman in another corner of the world is not free. This is why we need to keep fighting.
I saw some really young girls in the flamenco school Carmen de las Cuevas in Granada. What do you think the dance form instills in them?
MJ: Dance makes you effective. You need to be in front of a mirror and see yourself all the time. You need to go to all of your places. You need to be strong as a female, not strong as a male. Strength is the same but we have our way and they have another way. I don't want to be a man. I want to be strong as a woman.
There's no need to imitate a man, you have your own female strength.
MJ: Yes, that's it. And with the flamenco women need that. They are in a class and it makes them confident. Even the men. Some have many personal fears but after dance, your soul is always stronger. Just a little of it everyday makes a difference. Makes you stronger and makes you feel your feelings, and that's where strength is.
Indeed. I've noticed the performances have an intense way of compelling you to feel and face your feelings. Makes one wonder how choreography fits in. The steps are planned and yet it looks so real and spontaneous on stage that it couldn't have been planned beforehand.
MJ: In different ways. Sometimes we have everything laid out in a choreography. But we have a space where we are going to improvise. Where new things can happen all the time. But either ways, it is always different. Because you are different each time you walk onto the stage. So the same music is never going to sound the same way to you again. The guitarist could play the same note for you, but it will sound different. Because the music is alive all the time, and so is the dance. The move happens just once. It will happen now and will never be the same again.
I read about the community workshops you've been conducting in Cuba since 2009. Tell us more about that.
MJ: I'm working with a community project in a place where the children come from complicated families. Through their flamenco, they are bringing to daily life wisdom, education, dance and music while learning about the culture. The flamenco brings a structure and a set of rules in their everyday lives. That gives to them a way to live that is not limited to the class. The most amazing thing is they are dancing in a way you cannot imagine. We prepare some of them to teach the rest. I'm teaching all of them and then two or three of them teach the rest when I'm not there.
You were in Israel recently and teaching there as well?
MJ: Yes a lot of students there and a lot of schools. People with great ideas performing a lot of shows. So it's amazing how popular flamenco is in Israel.
And Japan is another country where flamenco is very popular?
MJ: Yes. In Tokyo you will find more flamenco schools than in all of Spain!
What do you think is the connect the Japanese are finding with flamenco?
MJ: I think for them it's like a door. A door to feel different things. Things that they cannot find and express in their culture. And they love and respect it a lot. They dance really well.
You say that at the age of 50 someone can start learning flamenco?
MJ: Yes, of course! My mum was 58 when she started. And I've been teaching people who are 80. Flamenco is for the soul, to feel better, to be better. They're not going to be professional dancers but they're going to feel better.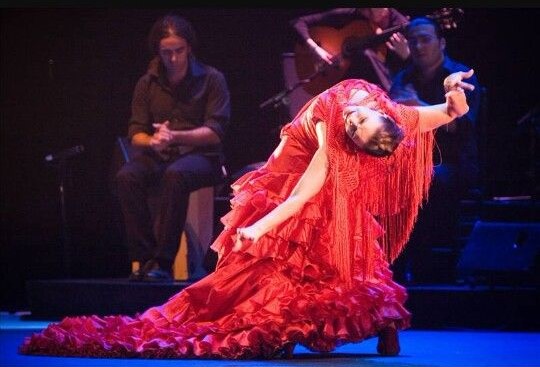 How do you describe the Spanish term duende?
MJ: The duende is the connection with the things that we cannot see. When you are dancing, you are in a kind of meditation. Because you are listening to the music and you try to get rid of every other sound around you. You connect with the music, you feel the stage and you need to be in your own special mystical world. It's an energy and the people watching can feel it. Most of the people watching the flamenco don't understand it intellectually. They don't understand what the singer is singing, they know nothing about flamenco, but they feel a connect.
It's so rooted in the feeling that it resonates with everyone?
MJ: Yes
It seems really mysterious how the Indian nomads came up with this dance form at all.
MJ: We need to travel back in time to find out how. It was an expression of the Romani people. They were travelling but they always kept their culture with them. The stories that talk about this are from 1742. That year one of the kings declared that all the Romani people from Seville need to be thrown out. So the Romanis were dealing with expulsion from society and even their clothes were taken from them. The stories say that men hung their heads in shame but the women walked with their heads held up in pride, even when they were being kicked around. The women held their heads up out of pride, even when their clothes had been taken away from them and in front of the people who were screaming terrible things at them. In the Romani culture, the women cared a lot about their clothes and appearance. So when their clothes were taken away, one would expect that they would be ashamed but they were not.
That is amazing. The way they had so much pride even in the midst of the worst suffering. I guess that's where the powerful feminine expression comes from?
MJ: All of the things that happened to the Romani are in the flamenco. That is the beauty of it. 
Anything you'd like to say to our readers?
MJ: If someone has the opportunity to be close to flamenco, just do it. It will change your life.
                                      PIN IT