10 Days in Vietnam? Jump Right In!
I just returned from a wonderful 10-day trip to Vietnam, so here I go sharing my experience with you 🙂 Vietnam wayyy surpassed my expectations. Apart from all its natural beauty, rich culture and intriguing history, the Vietnamese are the nicest people I've ever met and that's what stood out the most. That and the fact that Vietnam is pocket-friendly in a solid value-for-money way. Even the cheapest last-minute-booked rooms had impeccable cleanliness and helpful staff.  And I felt safe even late at night, returning to my hotels/homestays alone. What's not to love!
My most impulsive trip ever.  A bunch of my friends had already booked their flights & stays and I decided to jump in at the last minute. Exactly the way we jumped into the Lan Ha Bay here: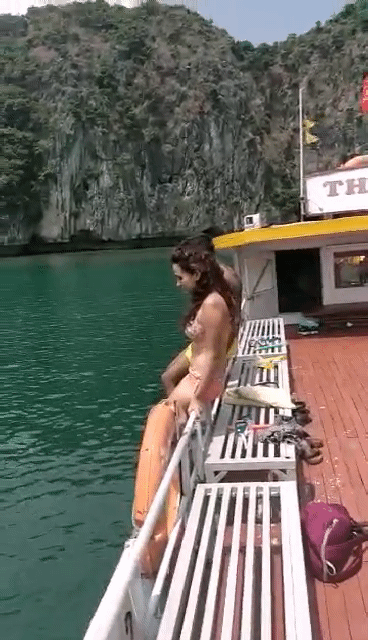 10 days in Vietnam gave us the right mix of activity and leisure to explore Ho Chi Minh City, Hoi An and Cat Ba island which was our gateway to the sorely underrated Lan Ha Bay. Had to skip Hanoi this time, but that will be my grand excuse for a second Vietnam trip someday! 
Below are my fondest memories from Ho Chi Minh City, Cat Ba Island and Lan Ha Bay. My next blogpost will be all about Hoi An, so keep an eye out for that next week! 
Ho Chi Minh City (aka Saigon) Vietnam's financial hub, this city is a live wire that will shake off your jet lag the minute you try to cross her busy streets. One of the first things that hit me about Saigon was how familiar – meaning bonkers – its traffic situation felt. Nothing like Vietnamese traffic to teach you to assert your one-human-strong presence in a big mad world. Coming from a Bangalore-traffic-survivor, that is saying a lot, isn't it? Here's Saigon's spectacular skyline. That steel-and-glass tower dwarfing everything else is said to have inspired Tony Stark's headquarters in the Avengers, giving it the moniker 'Stark Tower'. This is the 68-storey Bitexco Financial Center aka Saigon Skydeck, designed by Venezuela-born Carlos Zapata to resemble the lotus bulb. We enjoyed the 360-degree views at 230 meters from the EON Heli Bar on the 52nd floor. No entrance fee here and a drink costs about the same as the Skydeck entrance fee (200,000 VND = 600 INR or 9 USD).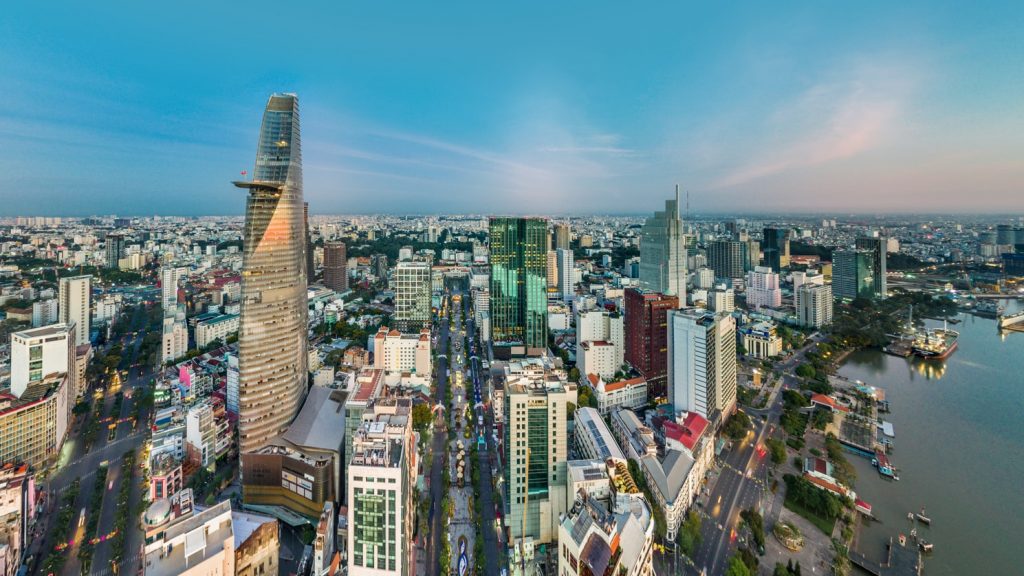 Head to the EON Heli Bar at Bitexco Financial Tower. Saigon's highest lounge bar gives you a bird's eye view of the city. PC: Peter Nguyen on Unsplash
The War Remnants Museum (Vietnamese: Bảo tàng chứng tích chiến tranh): This gut-wrenching, powerful ode to peace stays with you long after you walk out. I almost skipped this museum thinking it would depress the hell out of me, but this was too important to miss and thank heavens I went. The Vietnam War is known here as the Resistance War Against America or simply the American War. For 20 years (starting in 1955) the war ravaged Vietnam, Laos and Cambodia.  The museum houses 8 thematic exhibitions that walk you through the decades. The hell that was Agent Orange and the hope that throbbed in all the anti-war rallies, posters, books, over 300 antiwar newspapers published by and for active duty soldiers on military bases and ships. John Lennon's Imagine plays on loop in one of the exhibits documenting the various anti-war efforts. In case it isn't obvious, this museum will make you cry. It's also one of the most hope-filled places ever. A total must-visit for anyone interested in getting to know Vietnam and its people.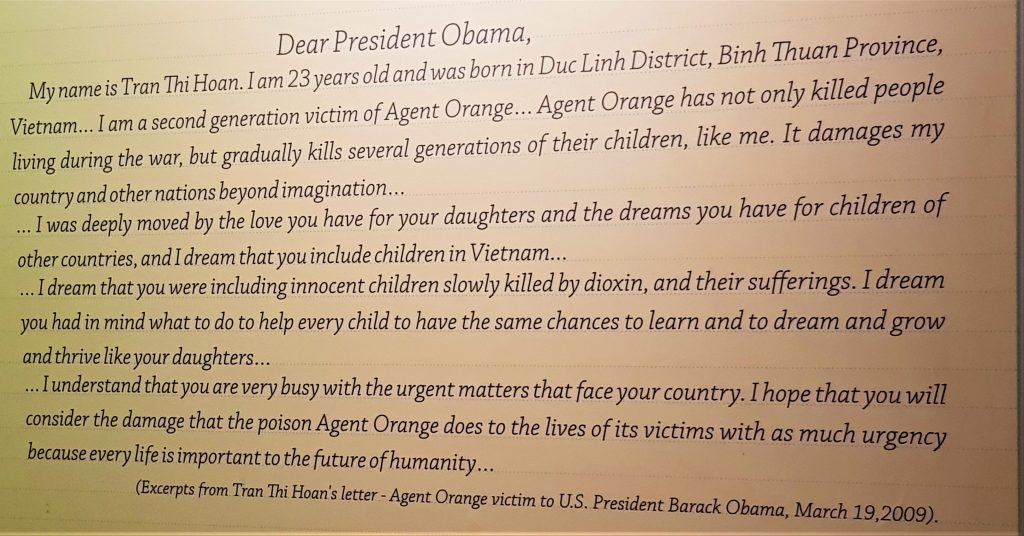 Agent Orange is still a cause of higher rates of birth defects in Vietnam – to this day
My next stop was Café BABO, Saigon's first reptile-themed café. Owned by a young reptile enthusiast Mr. Tuan who says that the pets here come from members of the reptile club in Ho Chi Minh City, with the hope of spreading the love of reptiles. Here's a fun video I managed to make on my visit to this decidedly unusual cafe:
That head tilt was such a boys-will-be-boys moment LOL. The gorgeous weirdo doing that is an iguana who happens to be the star attraction here, bringing in a lot of the young local crowd to this pocket-friendly café.  I had a satisfying plate of fried noodles with vegetables as I sat barely 3 feet away from these beauties, and it cost me all of 25,000 VND (roughly 1 USD or 75 INR). More than value-for-money with the unusual lunch views and intriguing company. Life tip: Always wash your hands after touching reptiles. You could grow scales 🦎This place is in the Phu Nhuan district and easy to miss, so be sure to ask around once you get to wherever the Google map pin leads you. And be nice to all the reptiles and one very cute dog you'll meet here 🤗
CAT BA ISLAND
The largest of the 367 islands in the Cat Ba archipelago in North Vietnam. Quite a lot of fun to be had on this island! Great beaches, roads and even better views. So tailor-made for bike rides.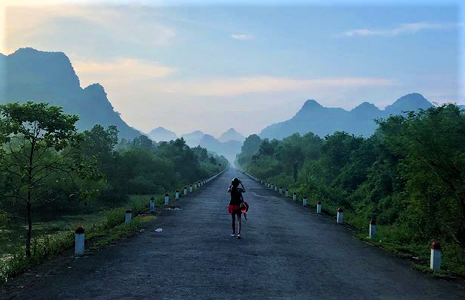 Cat Ba National Park A biosphere reserve and a World Heritage Site in North Vietnam. Closes at 5 p.m. and the entrance fee is 40,000 VND (2 USD) per head. The hike to the highest points here took us about 40 minutes with just enough breaks in between. I saw a lot of people wearing 'Save the Cat Ba Langur' shirts here and in Hoi An too. Turns out the Cat Ba Langur is one of the world's 25 most endangered species. With its golden head and salt-water-drinking habit, it definitely stands out among the langurs of the world. Read more about the Cat Ba Langur Conservation Project on their Facebook page here.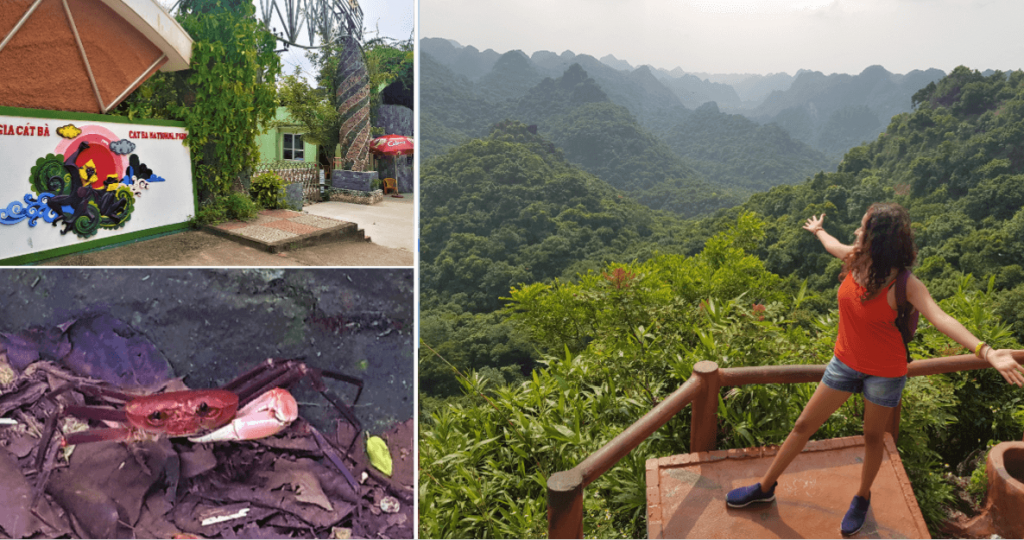 At Ngu Lam Peak, after a 40-minute rocky climb where we saw this not-so-little injured crab make a commendable attempt at camouflage. I've never met a crab on a mountain before! 
LAN HA BAY – WHY I RECOMMEND THIS OVER THE WORLD-FAMOUS HALONG BAY  
In case you're wondering why/what Lan Ha Bay, I'm here to tell you that Lan Ha Bay is Halong Bay's under-the-radar and just-as-gorgeous cousin. Geologically an extension of Halong Bay, Lan Ha Bay has wayyy less visitors and exactly the same breath-taking natural beauty. A day trip into Lan Ha Bay from Cat Ba island in North Vietnam included kayaking, snorkeling and swimming stops, lunch and a beach visit. It cost us 600,000 VND per head (approx 1800 INR or 26 USD). We booked this day trip at Cat Ba Oasis Bungalows, where we also rented our bikes on the other days. Seen here on the left is Ted, our kayaking guide. A 62-year-old Vietnamese man who's into coding and knows the programming languages Java and C. Vietnam never ceases to surprise!  

Lan Ha Bay – The magic of Halong Bay minus the crowds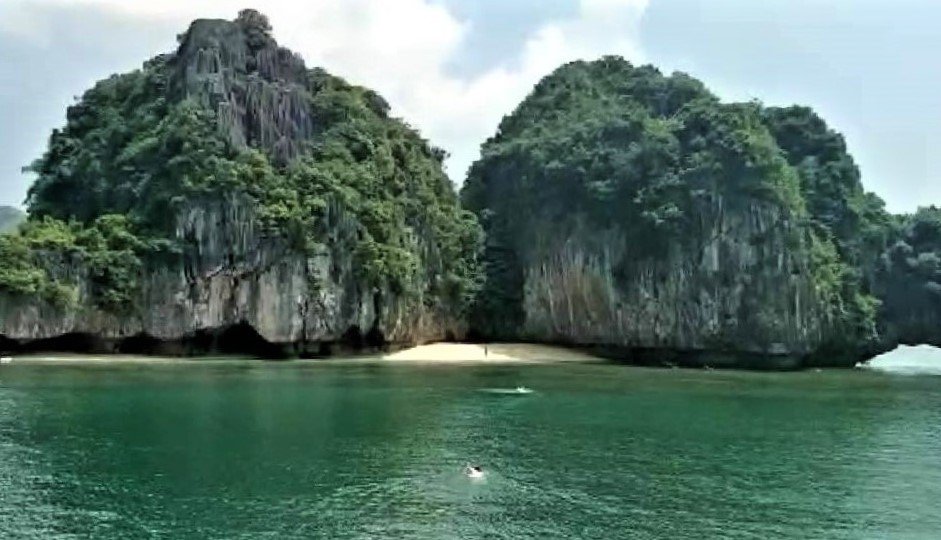 Lan Ha Bay – For those who like their oceans uninterrupted 
THE ITINERARY 
Instead of cramming in every place/activity, we savored Vietnam at a pace that felt active while giving us enough leisure to soak in the beauty of the place. Vietnam's 2 major cities – Ho Chi Minh City (Saigon to locals) in the south and Hanoi in the north. Both great places to land in and hit the ground running – if you're not too jet-lagged. Landing in Saigon, travelers explore the country from the south to the north and landing in Hanoi, from the north to the south. Flights between India and Vietnam cost me 20,000 INR return on AirAsia, which would've been way cheaper if I'd booked months in advance the way I usually do. The 3 internal flights each cost me almost 3000 INR (or 42 USD), all VietJet Air booked on their official website about 10 days before our trip began. Keep in mind the baggage fare on all flights if you exceed their limits. The Grab app came in handy for airport runs, and also the green Mai Linh and Vinasun taxis that you can simply hail on the street the old-fashioned way 🙂 Bike rentals were about 3 USD (200 INR  or 70,000 VND) a day on Cat Ba island. 
Here's what our plan/itinerary looked like: 
DAY 1: Landed in Ho Chi Minh City around noon and spent the day exploring its streets after checking into our hotels in District 1. Check-in time was 2 pm, but my hotel allowed an early check in for an extra 100,000 VND (300 INR or 4 USD).  I stayed at Phung Hoang Golden Hotel. Clean, air-conditioned, basic room with really polite staff made it a good value-for-money deal at 320,000 VND (900 INR or 13 USD) for one night. This hotel stands right in the middle of the backpacker madness in Bui Vien street – so it gets pretty loud until well after midnight. A more luxurious – and more expensive – option would be the Adora Hotel also in District 1, at a 2-minute walk from the Ben Thanh market. Helps that a clutch of spas fill up the street where this hotel stands. Definitely make time for a hot stone massage to chase away all the muscle stiffness that long flights bring. 
DAY 2: A 2-hour evening flight from Saigon to Hai Phong. I stayed in a really neat little hotel called Royal Motel in a quiet, remote neighborhood of Hai Phong. Total contrast from the busy-bee bustle of Bui Vien. Again, really kind and thoughtful staff, despite the language barrier. There wasn't any restaurant close by for dinner so the guy at the reception brought me a big box of instant noodles on a tray with an electric kettle – and a victorious smile. If ever there was a legit excuse for instant noodles from a box late at night! But it was non-vegetarian (like a lot of food in Vietnam), so I dug out my dark-chocolate-laden Yoga Bar muesli and vegan coconut milk powder to satiate me. Glad I was prepared! I could have stepped out, hopped into a cab and found a restaurant but some nights you just want to keep it real simple – a long hot shower and a quick humble dinner was all I needed to crash out in peace. A fancier option to stay in Hai Phong would be the Manois des Art Hotel, which was fully booked out by the time I decided to do this trip. 
DAY 3: Ferry at noon from Ben Binh ferry terminal in Hai Phong to Cat Ba. Took about 1.5 hours including the bus rides to and from the ferry terminals. 
DAY 4 & 5: Stay in Cat Ba island! I had the best accommodation deal OF MY LIFE here LOL. At Galaxy Cat Ba Hotel, which the Vietnamese owner told me was just 3-months old. Just 400 INR a night (130,000 VND & 6 USD) for a big room with 2 double beds (clearly they overestimated me) with breakfast and AC (that I rarely use) and a big clean bathroom – so important! Glad I found this great deal on booking.com where it was listed as Cat Ba Sky View Hotel because both hotels are owned by the same person.  

Day 6: Ferry from Cat Ba to Hai Phong and then to the airport. Evening flight from Hai Phong to Da Nang, 75 minutes. Da Nang to Hoi An was a 30-minute cab ride. 
Day 7, 8, 9: Stay in Hoi An !!! All about Hoi An in the next blogpost, sometime next week!
Day 10:  The return journey begins! Cab from Hoi An to Da Nang. Then a 90-minute flight from Da Nang to Saigon. And the last flight of the trip – Saigon to Bangalore. 
SOME PRACTICAL TIPS
VISA: I applied through this link and paid 25 USD. Got my visa in 3 days, which is the norm from what I've heard.
SIM CARD & ATM: Make good use of the Ho Chi Minh City airport with its ATMs and SIM card shops. I use a forex card to minimize my transaction and ATM fees, but you can also bring in cash in USD and exchange it for Vietnamese Dong. I heard that the exchange rate is actually better at the HCMC airport than outside in the city, which is unusual but there you go!
FOOD: While a lot of the food in Vietnam is non-vegetarian, they often make vegetarian versions if you request in Vietnamese. 'Chay' means vegetarian in Vietnamese so use it! 
WATER: Please carry a refillable water bottle. It was really simple for me to fill up my bottle with filtered water in the mornings at my stay and then to just request for refills at hotels and restaurants as I passed by them through the day. Buying and dumping plastic water bottles everywhere is extremely avoidable.
GETTING AROUND: I'd heard that taxi scams are common in Vietnam, but I stuck to the 2 main trusted cab companies i.e. Mai Linh & Vinasun while hailing cabs on the street, so I was good. The Grab app worked well too though the language barrier can make it tricky sometimes.
TOURIST SCAMS: A really common scam in HCMC is the coconut scam, which my friends walked right into – literally on their way to the hotel from the airport LOL. Here's a list of scams to watch out for in Vietnam: Most Common Scams in Vietnam
INTERNAL FLIGHTS: Another big hassle to be wary of is VietJet Air deciding – unknown to you – to bump you off your flight and onto another. Two of my friends on this trip almost missed their connecting flight back to India because of this, and an early web check-in attempt alerted them to the change in their flight time.
USEFUL APPS FOR VIETNAM TRAVEL: Google Translate, Grab, Taxi Mai Linh, and TripGo & BusMap if you intend to use the bus.
SOME USEFUL VIETNAMESE PHRASES: This YouTube video sorts you out with the main Vietnamese phrases that will get you through the day with minimum language hassle. Cảm ơn!
Hope you enjoyed this post! Next week an entire blogpost dedicated to lovely Hoi An, a city I absolutely adored the 4 days we spent here. Can't wait to share the magic of Hoi An with you! Hit the follow button on the home page and you'll be notified soon as that post is out. Thank you for reading! Connect with me on Instagram @radicallyeverafter 
LIKED THIS POST? PIN IT FOR LATER!