Things to Do in Hoi An, Vietnam
An old riverside town on Vietnam's central coast, Hội An stands about 30 km and a few centuries from the big city bustle of Da Nang. Hội An translates as 'peaceful meeting place'. A name it lives up to, if you pick the right time and pace to explore its many charms. 
Here are my recommendations for 6 fun experiences in Hoi An:
Hoi An Ancient Town:  If you've ever had a thing for old world charm, Hoi An Ancient Town puts the full game on you. And like most things in life, it is best experienced minus the crowds so get here well before 9 am. Hoi An's exceptionally well-preserved Ancient Town on the banks of the Thu Bon River is a picturesque setting for a morning jaunt and is a World Heritage Site for good reason. An international trading port from the 15th century, architectural influences from various parts of the world have mingled into each other on these streets and thankfully the resulting beauty has been preserved through the centuries. If you like places where history comes alive, you're in for a treat. Chinese temples, a Japanese bridge, pagodas, traditional wooden houses, old French colonial buildings and canals studded with boats gliding along – all in one large living museum. And visitors with tripods adding their 2019 flourish to Ancient Town's awash-with-history vibe.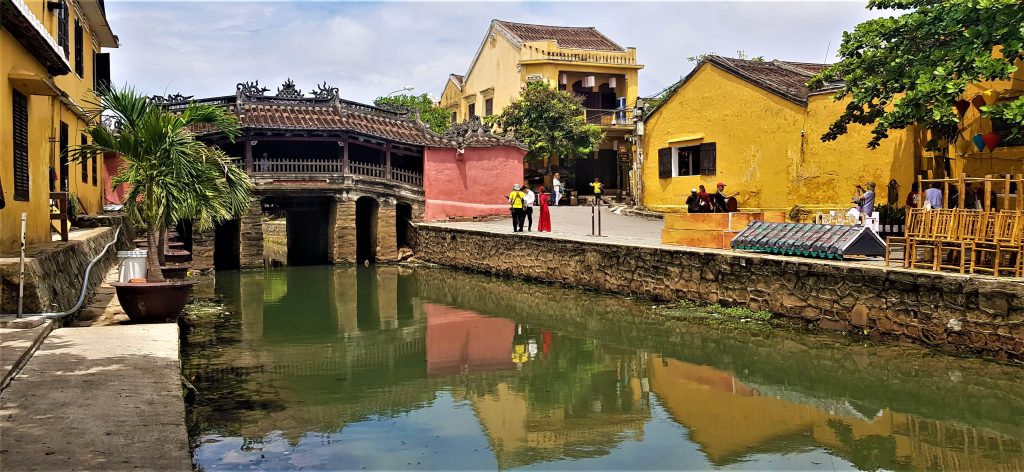 Streets full of mustard-yellow houses, bougainvillea outbursts at every corner, tailor shops, lotus tea stands, lantern-strung trees, leafy cafes, tringing cycles and verbally honking cyclos. Helps that cars and motorbikes are banned from Hội An's centre, so cyclists can reclaim the streets 😀 I was clearly glad about that: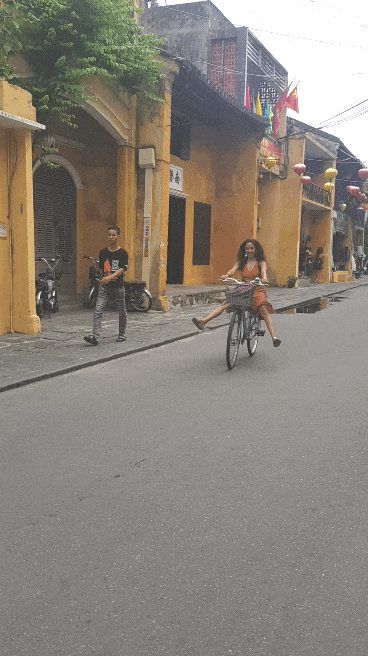 Perks of showing up bright and early at Hoi An's Ancient Town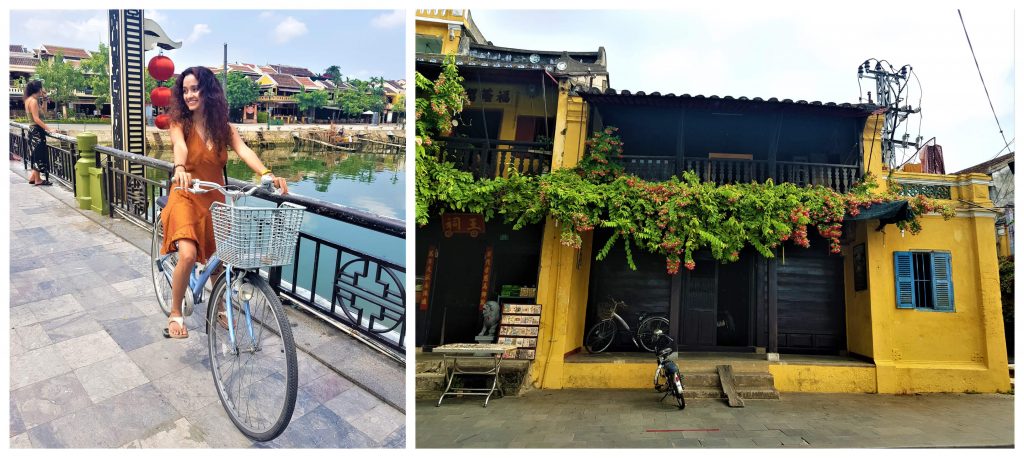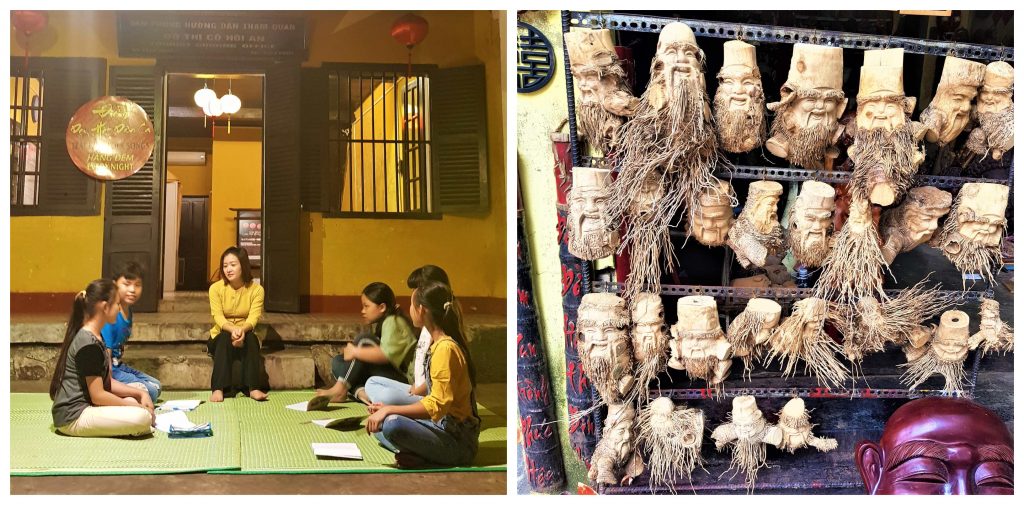 Folk song classes every evening near the Japanese Bridge in Ancient Town. And some intricate and expressive woodwork for sale on the streets. While that pic on the left looks so candid, I did ask for permission before I took that pic. Always recommended! 
2. Trà Quế village: This is Mrs Sim, who at 71 works on these vegetable gardens every single day. She lost most of her family in the American War (or what the rest of the world knows as the Vietnam War) when she was all of 25. She now lives with her grandchildren in this small farming community in Trà Quế. This village stands between the town and An Bang Beach. It started to pour that evening when I visited, so my raincoat came in handy. People kept hunching over the soil in the rain, toiling away in their hats and ponchos regardless of the rain. Reminded me of my 2-week farming stint in Kodaikanal (south India) a few months ago where the rain was our excuse to take a break from exhausting farmwork, but for people who earn a livelihood from farming, breaks don't come that easy and often. If you're at all into vegetable gardens and meeting the locals who grow the food, you will enjoy this visit.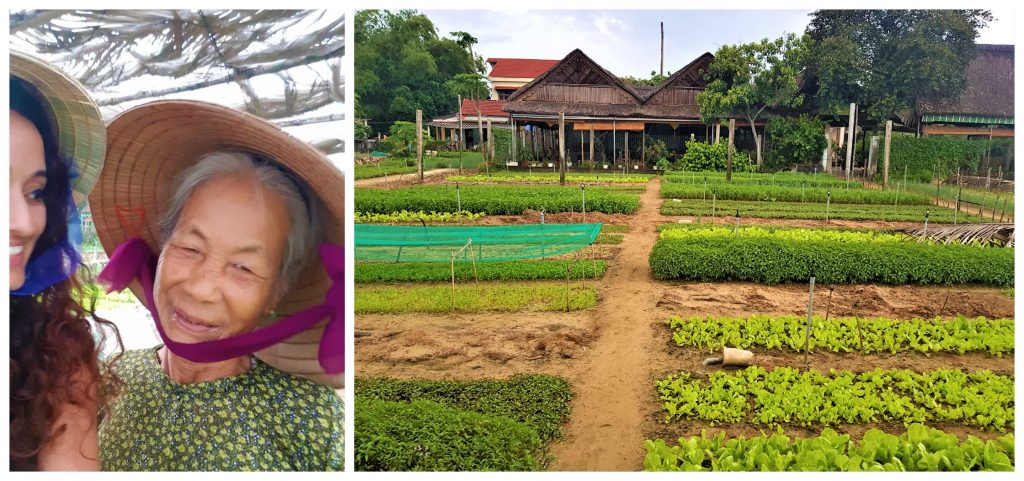 3. Reaching Out Tea House: Run by hearing and speech impaired locals since 2012, this tea house is a traditional wooden house on one end and a full-fledged workshop with several artisans busy at work on the other end facing the Thu Bon River. A leafy area in between the two opens out to the sky and is a perfect sweet spot when you need a break from all the activity in Ancient Town's streets. I loved the oasis of quiet this place is – and my red lantern tea. Pop into the Reaching Out craft shop while you're here, based on fair trade principles and employing about 65 physically challenged artisans. Find them on Instagram at @reachingoutvietnam.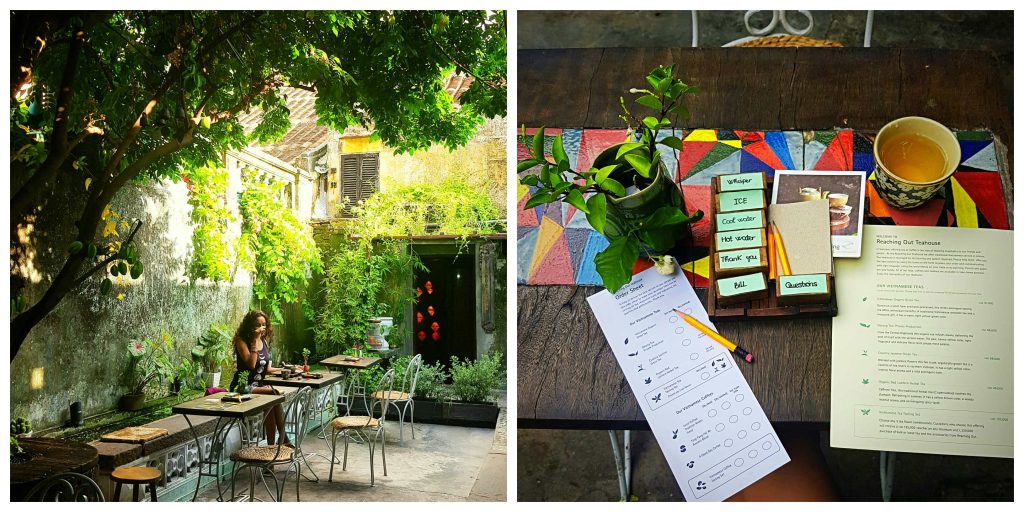 Orders are placed in writing and everyone whispers here, creating a tranquil vibe for the silent appreciation of their herbal teas – also fresh craft-roasted coffee
4. Hoi An Blind Massage: Set up by a visually challenged husband & wife team – Quan & Thu – the massage skills here are among the best I've experienced – and definitely on the stronger side where you really feel your muscles being dug into and any stiffness kneaded away. No fancy ambience, music or the scent of lemongrass to greet you when you walk in here. But the masseurs more than make up for it with their technique, skill levels and attentiveness. Got a superb 30-minute foot massage here for just 80,000 VND (240 INR or 3 USD) which is a very low price. So remember to tip generously while you're here!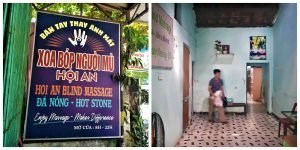 5. Calm Spa: I don't know about you, but I love a super-refreshing massage at a spa somewhere in the middle of rice fields. All the more when the spa offers a free pick-up and drop service. Calm Spa is a wonderful local-run spa in the middle of Hoi An's largest paddy field in An My village. Got a super-refreshing hot stone massage here. 95 minutes and 650,000 VND (2,000 INR, approx 30 USD) for a complete recharge of my energies in the middle of a hot day. Totally recommend!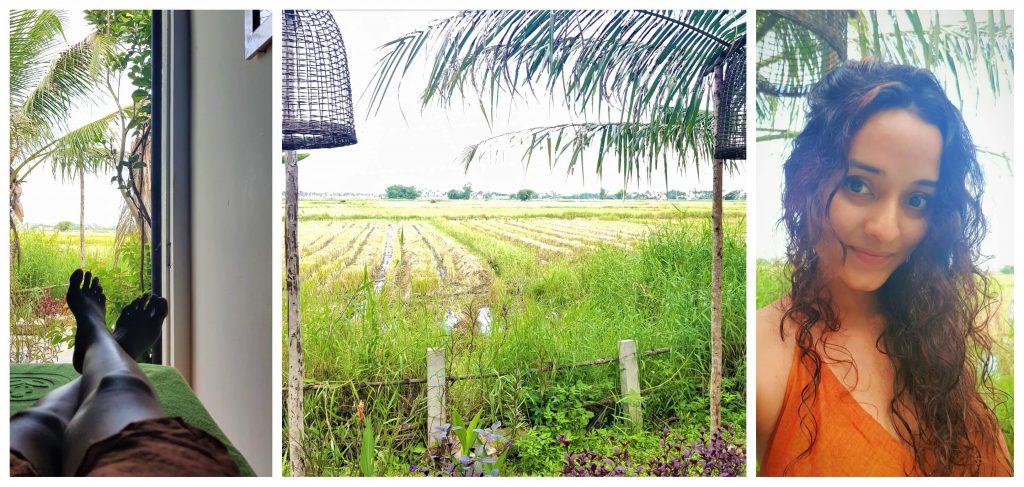 Who doesn't love a super refreshing two hours at the spa and a smug post-spa selfie? 
6. Hoi An by night gets a wee bit more magical:  Thu Bon riverside walks can get crowded in the evenings but if you wander away into the smaller streets, you'll run into corners like these in Ancient Town.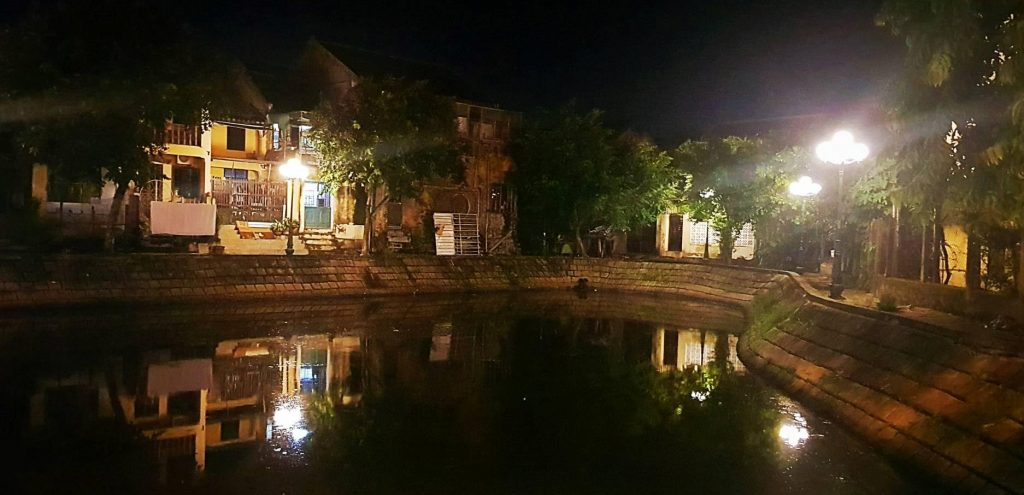 Not that crowds can abate the magic of the Thu Bon Riverside by night…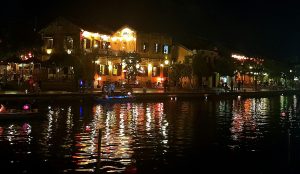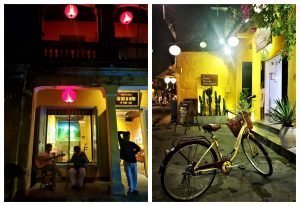 GETTING AROUND: The Vietnamese word for motorbike taxi is Xe om which literally means 'hugging the bike'. These are available in case you don't want to rent a bike for the entire day. As I mentioned in the earlier post on other parts of Vietnam, stick to the two main trusted cab companies i.e. Mai Linh & Vinasun and you're good. The Grab app works too though the language barrier can make it tricky.  
DAY TRIPS FROM HOI AN: The My Son ruins about 50 km from Hoi An and the Marble Caves of Da Nang are two popular day trips from Hoi An. I've heard great things about both though I didn't get around to visiting them. Next time! 
STAY: I stayed at Santori Homestay which was really a local-run Santorini-themed hostel about 4 km from the city center. Got me a private room on the ground floor for 1200 INR per night, booked on Expedia. Beautiful room, free cycle and breakfast. Dorms were good too and way cheaper than private rooms. The same owner also runs Little May Homestay which is closer to the city center and to the rice fields. Also a great place to stay, for the same cost. 
WATER: Please carry a refillable water bottle. It was really simple for me to fill up my bottle with filtered water in the mornings at my stay and then to just request for refills at hotels and restaurants as I passed by them through the day. Buying and dumping plastic water bottles everywhere is extremely avoidable. 
For food, visa, SIM card, ATM, internal flights, useful apps and Vietnamese phrases, check out the last part of my previous blogpost here. 
Hope you enjoyed this post! Thank you for reading and do connect with me on Instagram @radicallyeverafter 
LIKED THIS POST? PIN IT FOR LATER!