A Dip in the Italian Lake District
Off the standard tourist circuit and along the rim of Italy's boot lives its Lake District, named after glacial lakes formed at the end of the last Ice Age. For all the massive tourism and consequent pick-pocketing in its big cities, here lie quiet pockets of Italy the world has yet to pick.
The Lake District spans the regions of Piedmont, Lombardy and the Veneto. The longest of the lakes is Lake Maggiore, sprawling languorously into Switzerland, and the largest is Lake Garda. Pre-alpine mountains, Mediterranean vegetation and the Italian penchant for beauty add up to several postcards-on-steroids moments here. The appeal extends well beyond the visual, however, as anyone who's ever found any speck of solace in nature can imagine. Here's a walk through some of my fondest memories of the place:
 An evening sun stealing through the clouds to warm the Pre-alpine hills
How a 12th century hermitage found its way up this cliff overlooking Lake Maggiore
Meet Santa Caterina del Sasso Ballaro, which translates as Santa Caterina of the Dancing Rock. Hugging the side of a cliff as if carved from it. Founded by a merchant after surviving a capsized boat, who then went on to live as a hermit. The non-indulgence may not be very Italian, but the unpredictability definitely is. Further evidenced by an elevator embedded inside all that rock, for the elderly and the energy-saving ('lazy' is too judgmental a word) among us.
Small-town Italy lends itself seamlessly to slow travel, as long you have the meandering curiosity and sturdy shoes for it. Long train rides, longer bus rides and even longer walks in the woods will lead you to places that seem well worth the trouble. Leave all type A tendencies and frenzied itineraries at home and get used to the feeling of moving through postcards every time you set out on a new exploration.
 At Lago Maggiore – Always a good idea to spread your wings
I never knew rainbows could dance until I watched them swirling at the base of Cascata di Fermona in Ferrera di Varese, a half hour drive from Lago Maggiore.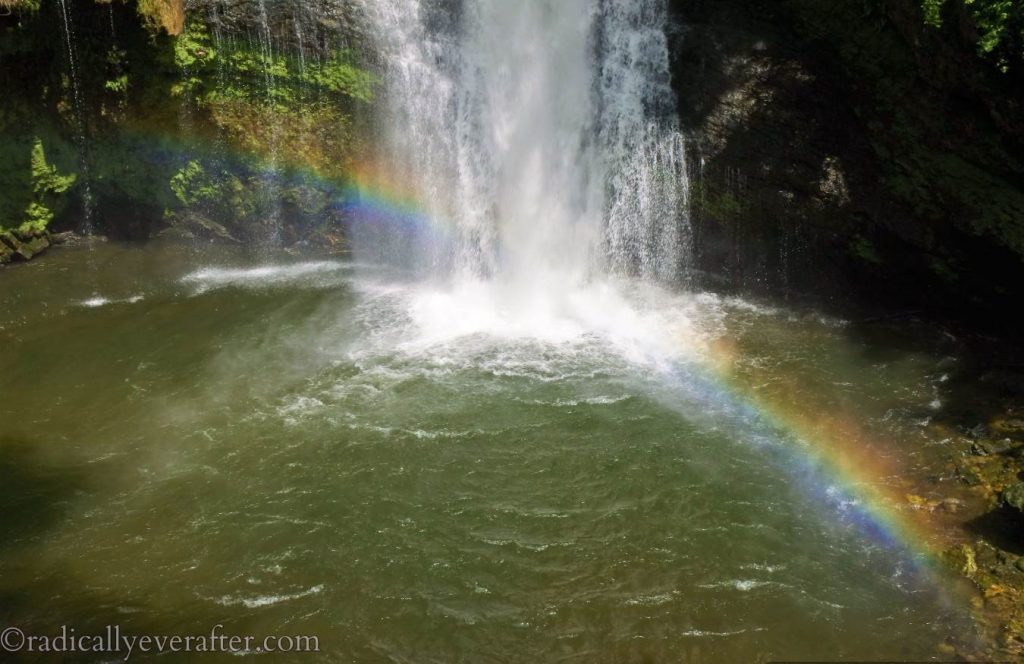 The Big Joys of Small Towns
Towns where three cars seen together amount to rush hour, and a fifteen-minute drive is given the forethought reserved for a long road trip. Where the names seem unpronounceable (Cocquio-Trevisago and Cittiglio for starters) and the views unbeatable. Many of these peculiar corners of the world Google Maps has yet to get wind of, and Trip Advisor has yet to imagine a trip to. A little mystery is good for the soul anyway so I loved having the roads, some obscure signage and my hopeful Italian lead me, instead of a perfectly pinned red balloon on my phone's screen. Who knew 'No routes found' can be the sweetest three words your phone ever shot at you?
 Somewhere between Travails and Trust
A day marked out for island-hopping across Lake Maggiore turned into a day of missed ferries, low batteries, lost translations, bizarre surprises, kind strangers, unexpectable beauty, wind-blown hair, klutzy waiters, raucous laughter, hopeful wandering, bus chasing while Google mapping on 3% battery and 97% hope.
The word 'travel' has its roots in the word 'travail' for good reason, as my many (mis)adventures on the road have shown me. But they've just as well proved that travel is another word for trust. Another word for running into the arms of an unknown slice of life, without the everyday shields of familiarity and routine. Knowing those arms could offer anything from nightmarish airports to cancelled trains from quaint towns, heavenly tiramisu to unintelligible signboards, impossible views to confusing dialects, kind strangers to equally crazy ones.
A speck of a duck glides toward a floating sun at Sesto Calende, where the Ticino River begins to flow toward the Po River. Though you'd be forgiven for forgetting all names with that view ahead.
I'll leave you with this short video of some cascades that embellish the rewarding hike up to the Cittiglio waterfalls. They made a great preview and an energizing one. Loosely translated, their rumbles insisted that journeys are as important as destinations, so don't save all your excitement only for the latter. And every now and then, make the journey the destination.
Hit the follow button for more travel stories from Lake Como, the fishing village of Varenna, the Tuscan town of Chianti, the renaissance town of Pavia, the resort town of Stresa, the lesser known small towns Arona, Ispra, Angera, Taino, Besozzo and the more touristy big cities such as Venice, Florence, Milan and Bologna. Also a dash of Slovenia and Germany 🙂 Do let me know your thoughts in the comments!