One Tractor Away from Self-sustainability: How 243 Disabled Kids are Running a Farm in Rajasthan
How 243 disabled kids went from being homeless in lockdown to self-sustained and thriving. And how you can help.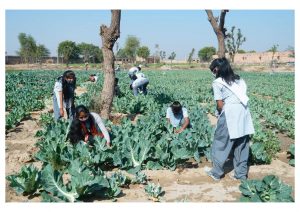 The real work of planet-saving will be small, humble, and humbling, and (insofar as it involves love) pleasing and rewarding. Its jobs will be too many to count, too many to report, too many to be publicly noticed or rewarded, too small to make anyone rich or famous – Wendell Berry, farmer/author. 
Most of us have felt the intense emotional, financial and psychological toll of the pandemic by now. Depending on our particular combination of luck, privilege and resources, we've (I hope) been finding ways to live with it and save our little corners of the planet. Last March, when India went into its first lockdown, the 243 children at SKSN (Sucheta Kriplani Shiksha Niketan), Jodhpur – a residential school for disabled children – found their difficulties multiplied many times over due to the pandemic. Their survival was in question.  Many of these kids had been kicked out of their homes, and none of them had any certainties to hang onto while the lockdowns dragged on one after another. Building a farm project from scratch isn't a predictable response to such a pandemic-induced crisis that would send most people into despair. Even people who have the money, resources and societal acceptance. But that is exactly what these kids did in August 2020. They created for themselves a life-giving possibility when all doors (even their homes) had been slammed shut in their faces.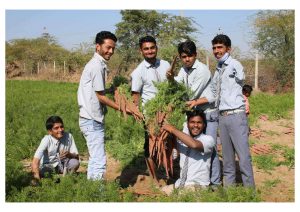 As Sneh explains, "The farm project happened because of the pain and uncertainty we were all going through. Nobody was going to give us much to run the school, when everything and every place was in lockdown. Besides, everybody was slowly falling into the same boat — strapped for cash. So we had to come up with something that was going to be sustainable. Instead of asking for money to feed the kids. We decided to grow and sell food, so that the kids could eat. But they could also sell the surplus, and build up a kitty of funds! But the big question mark was a supply of good palatable water. That's when we struck gold with our new borewell."
I met Sneh Gupta, the founder of Indiability Foundation, in January 2020 at an all-women festival called Utsav Maa in Rajasthan. I had the honor of translating her session where she interviewed children of SKSN, a residential school in Jodhpur for physically disabled children. Indiability is an organization that works for the inclusion of physically challenged children, changing societal attitudes towards people with physical disabilities in India and helping them live full, independent lives.
Sneh says the children do not see themselves as disabled or less capable in any way but society is stuck in its perception of them as incapable and inferior to the rest of us. And that is their biggest obstacle in inclusion. I remember being mind-blown at the level of brightness and self-reliance of these kids while I tried to stay on track as their translator. One of the girls had said disability is of the mind, not the body. And another spoke of how she walked out of a bad marriage and made a name for herself as an athlete winning medals around the world. Even after they've jumped through hoops and demonstrated their capabilities in awe-inspiring ways, society still fails them by not according them basic dignity.  Instead lumping them into a "less than human" category that vastly curtails their chances at employment and affects every aspect of their life.
Forced poverty is a term that comes to mind, given the everyday social exclusion these kids are subjected to on account of their physical disabilities. They are expected to get through their lives without being allowed to participate in society and without being accorded basic dignities. The farm has been a way for them to create a self-sustainable, skill enhancement project to grow their own food and generate an income by selling surplus produce to the markets in Jodhpur. 
A Harvest of 90,000 kilos of vegetables in one season
The kids at SKSN began working on the farming project in August 2020, in partnership with a local farming family. It all began on the school's own 20-acre campus, on any and all unused land on which vegetables could possibly be grown. The harvest of the farm from the winter agricultural season has been massive – a total of 90,000 kilos of vegetables. The hope is that the farm will continue to provide the SKSN student community with low-cost and fresh vegetables. Which can only happen if the farm continues to survive and thrive. 
ONE TRACTOR AWAY FROM SELF-SUSTAINABILITY
What is needed to keep this project afloat is a tractor, and that is where this fundraiser comes in. Buying a second-hand tractor would allow SKSN's little farmers to monetize the tractor's full potential for their own farming program – instead of spending a huge portion of their hard-earned profits on the recurring tractor hire cost of Rs 1,95,000 every year.
Instead of merely lauding them for their resilience against all odds, as mainstream society often does with disabled children, monetarily contributing to their efforts would be a far more effective way to honor their humanity. We need to recognize it as a redistribution of resources and not as charity. If this pandemic hasn't taught us that we are a collective, what will?
HOW YOU CAN HELP
We often underestimate the impact of our contribution towards crowdfunded projects, assuming that whatever amount we contribute will be too small to make a difference. Whereas the way crowdfunding works is by gathering several "small" contributions into a sum that makes a world of difference for the people in need. No contribution is too small and every little bit adds up. The contribution we withhold is worth second-guessing, not the one we make – however big or small the sum.
We hope you will support the possibility of this farm continuing to thrive by pitching in with whatever amount you feel comfortable to contribute. Please feel free to spread the word by sharing this blogpost and the links to the fundraisers below.
Below are the links to 2 fundraisers Sneh Gupta has set up on Milaap and Just Giving. The former accepts only Indian currency, and the latter accepts non-Indian currencies. Contributions made on the Milaap link are eligible for exemption under Sec. 80G of Income Tax Act, and receipts can be generated immediately.

Milaap fundraiser link for contributions in Indian currency INR
JustGiving fundraiser link for anyone outside India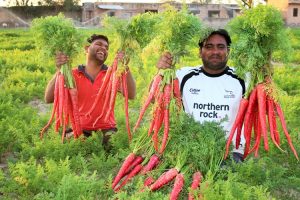 SKSN farm managers, Narendra and Janak Singh are both ex-SKSN students currently employed by SKSN. The farm project has added some serious project management skills to their skill set in the middle of a pandemic. I'd like to leave you with their own words about this farming project:
Narendra: "The lock-down has been very cruel to me. This, and my disability, got me kicked out of my home! I had nowhere to go to. SKSN stood by me yet again, and gave me the chance to work on the SKSN farm project, when everything, everywhere, has been shut down. It feels as though I'm working for our own family concern. I'm in charge of the money, and I keep all the farm accounts, in Excel, on my computer. I've learnt so much during the lockdown — including how to cook! The farm provides our SKSN family with food, livelihoods, and an income from the surplus vegetables we sell to the Jodhpur vegetable market."
Janak Singh: "We love eating the veggies from our farm, because they are so fresh and tasty! And when we are out and about, we love eavesdropping on the villagers. They are always gasping: "look at the incredible crop of vegetables growing in the SKSN disabled kids farm. Wow!" Listening to their remarks, makes us very happy. We promise, we are going to do everything in our power to make the SKSN Disabled Kids Farm a success. We have invested our hearts and minds in this beautiful garden, because it belongs to us!"