Yoga for Creativity: New Online Workshop Announcement. January 17, 2021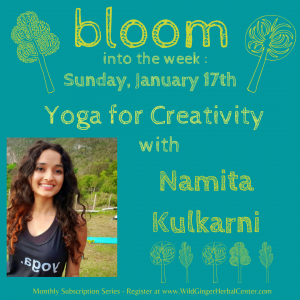 Not to alarm you, but these words from the heretical Gospel of Thomas are an evergreen PSA:
If you bring forth what is within you, what you bring forth will save you. If you do not bring forth what is within you, what you do not bring forth will destroy you.
A whole sermon on the necessity of creativity, if you ask me. 
Join me in an interactive Yoga for Creativity workshop on January 17, 2021, with Wild Ginger Herbal Center, where we will explore the many ways creativity and Yoga intersect and how they fuel each other. How we can let the practice be an exploration of creativity instead of another imposition of patterns. So much of yoga today is taught in terms of replicating movement patterns to make our bodies comply with culturally programmed ideas of health/wellness/beauty. With the breath as an afterthought and rest an omission. How fun (not). What I'm suggesting here – as I do in my regular classes – is that our practice be led by our breath, we move no faster than we can feel, and we stay present with our bodies. And have FUN while we're at it.
If I had a dollar (or bitcoin 🤔?) for every uninspired, boring-ass yoga class I've been to, where the teacher acts as a strict compliance officer for rules and patterns laid down by patriarchal gurus whose authority is never to be questioned, raining "shoulds" like they're getting paid for it (which they are), and generally making people feel inadequate for not being "able" to get into a certain shape or memorize patterns of movement – I'd have an archipelago to my name. Rules are relevant when they serve as the scaffolding to our practice, not when we let them override our intelligence and lived experience. For more of my observations and experiences teaching Yoga for over a decade, read What Teaching Yoga Teaches Me
As you might have noticed, we spend a lot of our lives at the whims of oppressive systems that have a stake in pretty much every area of our lives.
As a liberation-oriented yoga enthusiast, one has to wonder:
Can we let our yoga practice be a space where we return to our sense of sovereignty and autonomy? Where we begin to set aside the pervasive programming and create for ourselves the yoga practice that meets us where we are, as subjects of our own presence. Not objects for others' approval.
Can we orient our practice around the fundamental responsibility of looking after our hearts and rejecting the tyranny of entire industries/economies/algorithms that thrive on us being convinced of our inadequacies? 
The Unpublicized Gifts of Yoga
Of the many gifts of yoga, the one that I most cherish is the way it sparks my creative fire and sets me ablaze with my own aliveness. Fires aren't known to stay put and behave, so what happens on the mat does not stay on the mat. It runs over into how you relish the sun on your face. How you honor the darkness without getting possessed by it. How you look inside the deepest abysses without falling into them. How you find moments of choice where you once saw only compulsion, the choices you invent for yourself and others, the societal programming you reject, the rules you make up as you go along and the ones you break with glee – in short, how you live. 
So what might it mean to approach the mat the way an artist approaches an easel? Not to replicate patterns in order to get somewhere, but to make our own journey to our full humanness. Not looking to "extract" benefits like a good capitalist, but to nourish and be nourished by the regenerative nature of both yoga and creativity. Not relegating yoga and creativity to particular activities done on mats and easels, but seeing them as ways of living and breathing. Doing yoga to live better, not living to do yoga better.
May your Creativity and your Yoga practice collide spectacularly ☀️🌙
Creativity begins with an openness to possibilities – that's her first seduction. Yoga is an always-open invitation into a space of possibilities – some call that space imagination, others see it as embodiment. I'll take both, thank you. Take up that invitation enough times and being closed to possibilities – in any area of life – will feel like a highly avoidable exile. My 2021 wish for you is for your creativity and yoga practice to collide spectacularly. 
Is this workshop "right" for you? 
This workshop is open to all levels of yoga experience. Beginners welcome. For anyone feeling a creativity block in any area of their life or if the Yoga practice has started to lose its allure, this workshop invites you into an expansive relationship with your practice – How we can be more creative and exploratory with our practice, taking it beyond impositions of patterns and rules on the body.
The Details
Head over to Wild Ginger Herbal Center to sign up. This workshop is being offered as part of a monthly subscription series called Bloom. If you subscribe before Dec. 31 2020, USD 11.11 a month gives you 6-8 classes led by various teachers (including this workshop by me), a total of 12-16 hours of classes each month. The full schedule is on the afore-mentioned link. When you sign up, you also gain access to all past Bloom Class recordings. 
Date: January 17, 2021
Time: 9 a.m. EST i.e. 7.30 p.m. India time. Convert your time zone here. 
Duration: 2 hours (with a short break in between). 
Where: Live on Zoom. You will have access to the recording for a limited time.
Bring: A notebook, a pen, a yoga mat. And anything that adds to your comfort on these zoom sessions 🙂 Definitely bring your curiosity. This is meant to be an interactive workshop, so I'd love for you to participate and *preferably* keep your camera on during the workshop. 
If you have any questions about the workshop or my Yoga classes in general, please feel free to write me at namitayoga@gmail.com.
Connect with me on Instagram @radicallyeverafter
Looking forward to meeting you a few Sundays from now 🙂